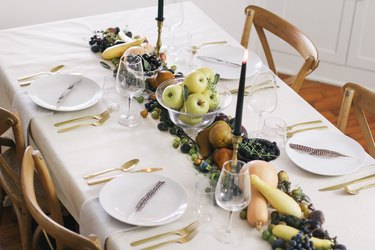 Got the bird, the pie, the loved ones, and a side of gratitude? Then Turkey Day dinner is almost complete. You just need one more thing: a beautiful tablescape, anchored by a Thanksgiving tablecloth.
So, what's your style? Simple and stylish or festive and fun? The options are nearly endless, but here are seven of our favorite holiday table decor ideas that you can whip together in no time.
1. Use cheesecloth instead of linen.
DIYer Erin Francois of Francois et Moi is known for having creative alternatives to everyday design dilemmas, such as, "What's an easy way to elevate the look of a Thanksgiving tablecloth?" How about skipping the linen this year and going for cheesecloth? The light and elegant fabric adds an unexpected texture to the table. Plus, cheesecloth is super affordable!
A simple striped situation — lines going in one direction for the runner and opposite for napkins — creates a cohesive look with very little effort. If you know your way around a sewing machine, this tablescape could be easily DIYed. Top the runner with candles, greenery, and flowers in complementary colors, and voila! Dinner is served.
3. Let your centerpiece shine.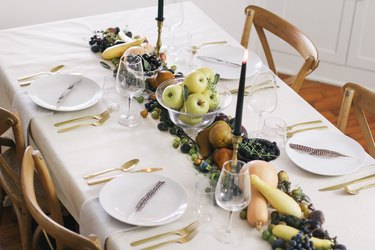 When in doubt, keep it simple. A canvas dropcloth like this one creates a blank slate for a showstopping centerpiece. Floral arrangements are always beautiful, or how about an edible tablescape? The imperfect nature of this crinkled fabric coordinates with the organic feel of the fruits and veggies.
Did you remember to defrost the turkey but not to design a tablescape? No one can blame you. However, this DIY painted runner that Hunker contributor Carrie Waller created is cheap and easy to do. Plus, it can be completed in 20 minutes. Simply have a few products delivered via Amazon, or pop by your local craft store for materials, and then get painting. See the step-by-step instructions here.
5. Explore unexpected color combos.
Instead of the usual fall tones, Erin Heimstra of Apartment 34 chose pops of indigo, black, and gold for this gorgeous and glamorous setup. A long, white linen tablecloth is layered with The Citizenry's Chera napkins, which are durable and machine washable — a Thanksgiving must. The unexpected use of luxe colors creates a dining room view you won't forget.
6. For a kids' table, aim for easy cleanup.
No need to spend hours scrubbing gravy out of your grandma's precious tablecloth. For a kiddo Thanksgiving table, keep cleanup simple. A square of butcher paper will work perfectly, especially because when the little ones get antsy before the turkey's ready, you can pass them crayons and tell them to go wild.
7. Go for hand-drawn table settings.
Your Thanksgiving guests will delight in this freehand tablecloth. If you're not artistically inclined, don't worry — this project is easy. Simply sketch your guests' names and flatware onto a sheet of kraft paper, like Lemon Thistle did. The sheets are inexpensive, so if you mess up, try again. No need to make it perfect though. Embrace the homemade look.