It's no secret that we're obsessed with candles. So the idea of having a beautiful, unique candle crafted by an independent designer arrive at our doorstep every month sounds just perfect. The good news is that a subscription service like this exists — and it's called Burn Box.
"Originally I tried to make my own candles," the Portland, Oregon-based founder of Burn Box, Kristana Fruci, told Hunker. "After multiple failed attempts, I decided to leave candle making to the professionals. We feature a new candle designer every month because there are so many amazing upcoming designers that people should know about."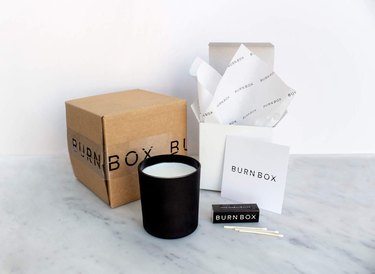 Burn Box has two subscription options to choose from: Receiving a travel-size candle for $17.99 per month or a full-size for $32.99. Shipping is free and every month's scent direction varies — ranging from Norwegian woods to bergamot and basil.
If you want to give Burn Box as a gift (a great idea for the holidays), there are three, six, or 12 month subscription options available at a discounted price. And the best news of all? We have a coupon code for you. Use the code HUNKER10 to receive 10 percent off your first month of any full- or travel-size subscription purchase.
---
Carolin Lehmann is an Associate Editor at Hunker. She's a graduate of the Missouri School of Journalism and has previously written for HuffPost, Seventeen magazine, and a variety of local news outlets. As a studio apartment dweller, she's always on the lookout for new ways to decorate a rental on a budget.
View Work