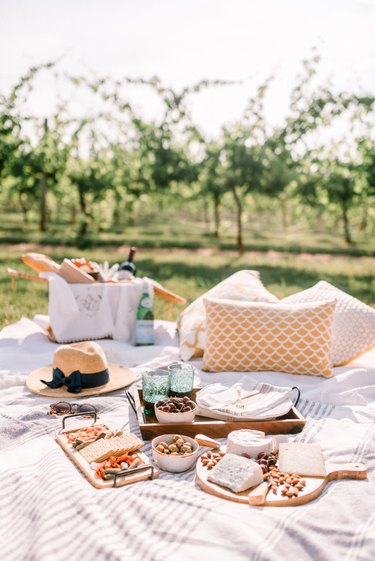 Nothing beats spending an afternoon outdoors. And now that the days are warmer and the sun is out longer, it's the ideal time of year to dine alfresco. So invite your besties to the park and spend an unforgettable day filled with tasty nibbles, refreshing cocktails, and exhilarating lawn games. Here are 12 tips to ensure that your picture-perfect picnic is the event of the season.
1. Every proper picnic must have a blanket.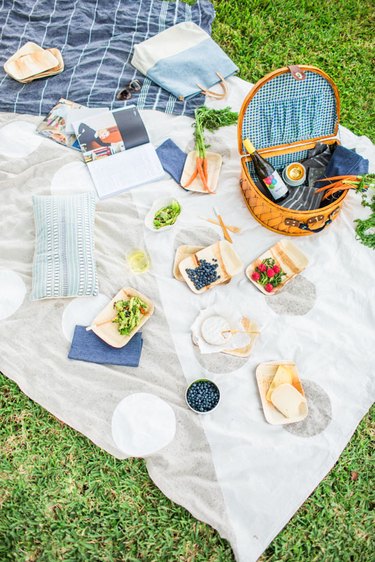 Picnic blankets are essential to having a successful spring picnic. Not only do they set the tone for your outdoor dining room, but they also help protect you and your food from the elements. If you're craving a creative project, try this DIY picnic blanket made from a drop cloth by Brittni from the blog Paper & Stitch. Or, if you are looking for something with a little more heft, Schoolhouse has a wool option ( $179 ) with a waterproof nylon backing.
2. Add comfort — and extra decoration — with pretty pillows.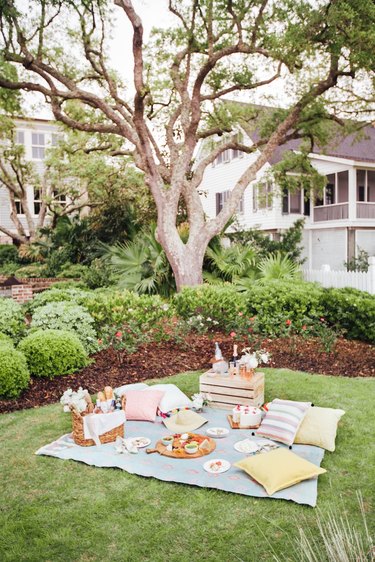 A few weatherproof poufs can go a long way in setting the scene and making your picnic even more relaxing. Whether guests sit on the pillows while eating or lie down on them to gaze at the clouds, you'll be glad you packed extra.
3. Pack wisely with the help of a picnic basket.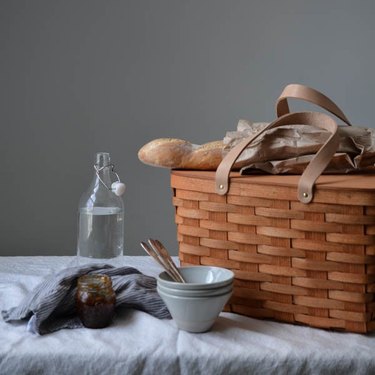 To keep picnics from becoming a drag, pack all of your food and serving items in a roomy wicker picnic basket, like this handcrafted option with leather handles from Mûr ( $119.99 ). Stash your blanket, yard games, and any other essentials in a separate oversize tote.
4. Up the elegance with a bunch of flowers.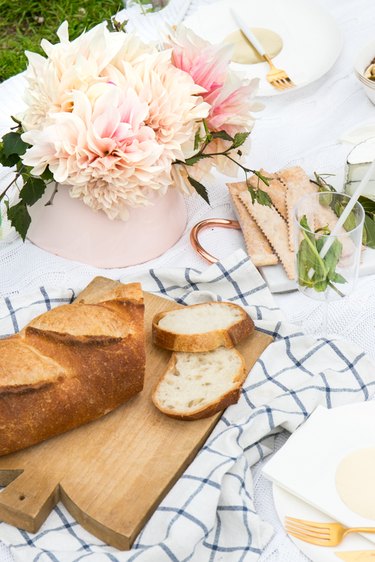 Nothing says "take my photo" like a gorgeous bundle of fresh flowers. Buy a bouquet at the farmer's market on your way to the park, or pick an assortment of wildflowers when you get there. Then, display them in a vase to add a sweet and colorful pop of color.
5. Plan your menu strategically.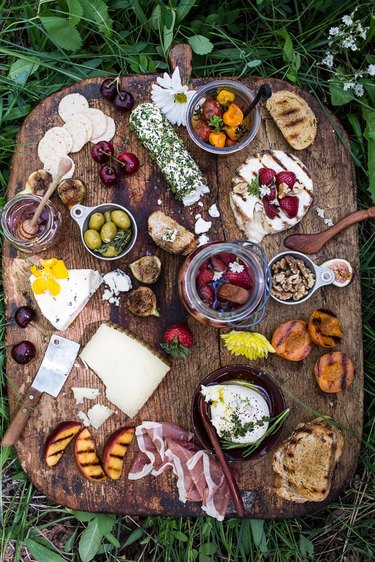 When it comes to selecting the perfect picnic spread, things that are easy to share and eat are key. Think finger foods, fresh vegetables and fruits, and small appetizers. Don't forget to make sure your food is colorful, too. Check out how Tieghan from the blog Half Baked Harvest put together this mouthwatering spread.
6. Get creative with finger foods.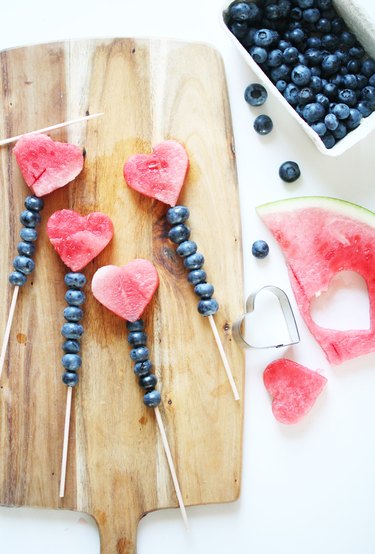 Think outside of the box when planning your menu of easily shareable and snackable items. Try these adorable watermelon and blueberry skewers that Tanja of the blog Frau Zuckerstein made using a heart-shaped cookie cutter.
7. Pick multipurpose serving platters.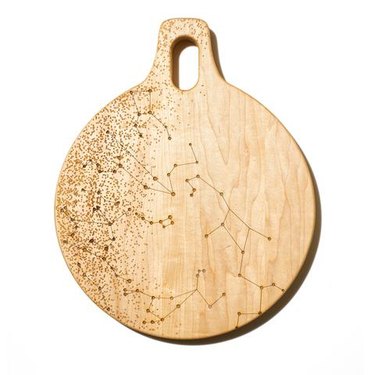 Food presentation counts when it comes to setting up an Insta-worthy picnic. Pack a pretty cutting board like this one from American Heirloom ( $80 ) — that can double as a serving tray — to style your artisan cheese selection, tasty appetizers, and organic fresh fruit.
8. Protect your food the pretty way.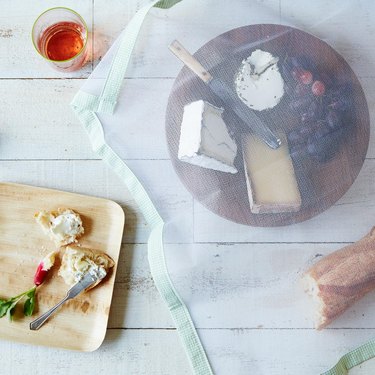 Keep pesky critters from ruining your outdoor feast with these lightweight, net food covers ( $28 ) from Dot and Army. They're a breeze to fold up and toss in your picnic basket, and the weighted corners ensure that they'll stay put while you're beating your friends at bocce ball.
9. Make your cocktails portable — and picture-perfect.
No picnic would be complete without a refreshing apéritif. <ahref="http: luvoinc.com="" blog="" trio-picnic-cocktail-recipes-you-need-try="" "=""> </ahref="http:>Get the recipe here for these fruity cocktails that are splendid for springtime: orange cinnamon gin and tonic; watermelon, mint, and tequila cooler; and kombucha, summer berries, and aquavit shrub. And, prep and packing is made even easier by divvying them up into single serving mason jars.
10. Keep it classy with cloth napkins.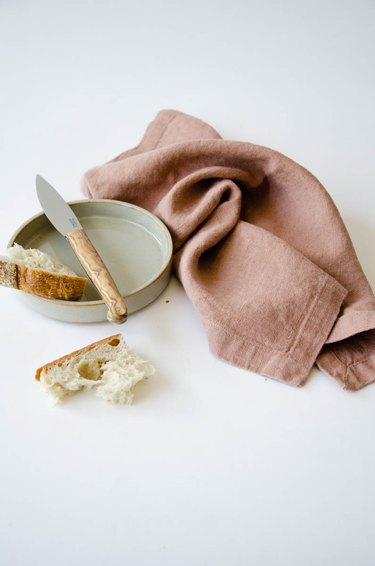 Add an elegant touch to your Pinterest-worthy picnic by using an assortment of cloth napkins, like this lovely linen option — available in an assortment of colors — from Mûr ( set of 2 for $18.99 ). Or if you prefer vintage, browse your local thrift shops for a collection that is just right for your upcoming soiree.
11. Create a lively atmosphere by setting up yard games.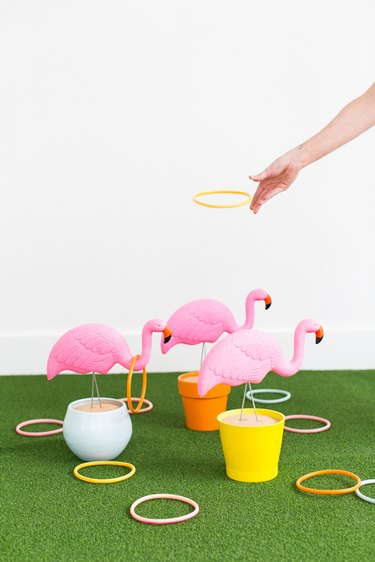 Outdoor activities are a must. Pack a few yard games like a bocce ball set, a kite, or this festive DIY flamingo ring toss game cleverly designed by Ashley from the blog Sugar and Cloth.
12. Light a pretty citronella candle to keep bugs away.