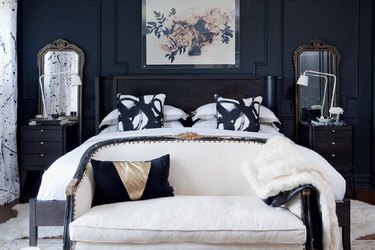 Give 'em the old razzle-dazzle with a black and white bedroom fit for a Hollywood starlet. Encompassing luxury, style, and personality, the Hollywood glam aesthetic is made for those with a penchant for glitz and glamour. Think gold light fixtures, art deco patterns, and classic regency furniture styles. More is more when it comes to the movie star vibe — here's six black and white Hollywood glam bedrooms that Hepburn would feel at home in.
1. Make a statement.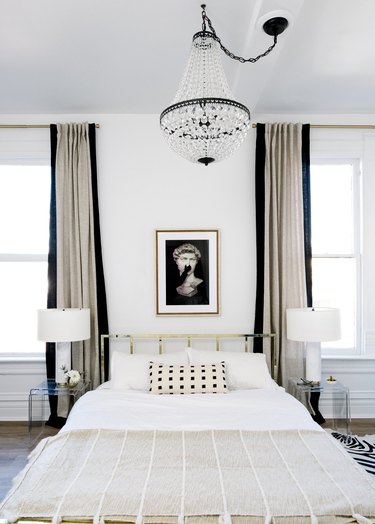 Hollywood glamour isn't exactly known for its simplistic tendencies, but this chic bedroom design by Shelby Girard at Havenly is bringing all the pared back allure — let's call it a modern approach to the 1930s style. With a statement crystal chandelier, fresh white bed linen, and luxe monochrome curtains, the neutral color palette lets the design features do all the talking.
2. Champion vintage design.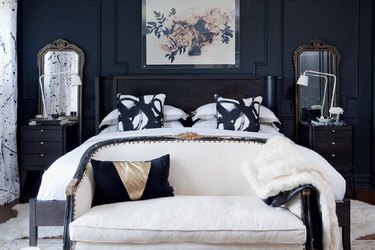 If you can't laze sultrily on every surface in your Hollywood glam bedroom, it simply will not do. More is more when it comes to seating options in a regency-style bedroom, so head to your nearest thrift store and hunt for key vintage items such as a chaise longue. Christine Dovey has brought together whimsical design pieces in this black and white bedroom, mixing antique furniture with high-end soft furnishings.
3. Let it shine.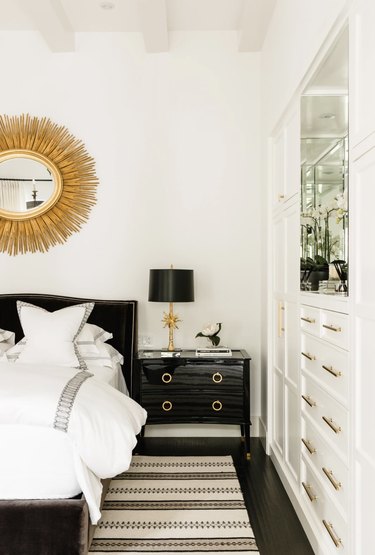 Nothing says Hollywood glamour like a touch of gold, so don't be shy when it comes to accessorizing your boudoir. Think gold mirrors, light fixtures, trays, and furniture pulls. This classic black and white bedroom designed by C. Renea Abbott features just the right amount of gold accents alongside black lacquer furniture and fresh white walls.
4. Bring on the dark side.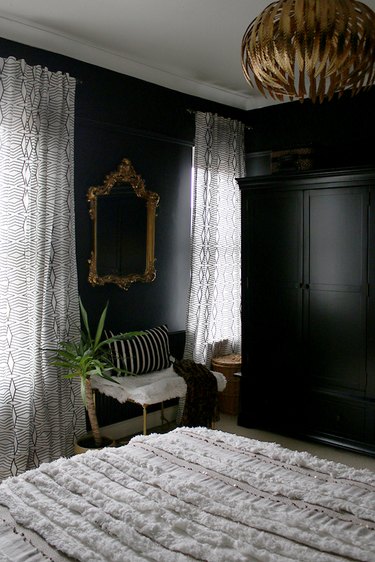 Get the right level of moody for your bedroom with inspiration from Kimberly of Swoon Worthy, who created this sultry black bedroom with a lick of dark paint. The black wardrobe blends into the walls, allowing the brass light fitting and antique mirror to come to the forefront.
5. Think About pattern.
If you really want to champion a Hollywood regency style (and have got the bravado to do so), strong pattern is the way to make a statement. Greek key and trellis patterns, as well as art deco motifs, are all right at home in a glamorous 1930s design scheme — just use them sparingly to keep the look clean.
6. Add texture.
The final touch to your bedroom? Svelte fabrics and lots of different textures such as velvet, silk, suede, and sheepskin will help to luxe up your look, especially over simple black and white bed linen. Hollywood glam style is all about creating a feeling of comfort, just with a sumptuous and luxurious spin. If you're a fan of textured wallpaper and plush carpets, you're in luck. Just ask yourself, what would Marilyn do?
---
Emma Jane Palin is a multi-award-winning blogger and freelance writer with a penchant for design and interiors.
View Work