When we picture the very best things about the holidays, we immediately think about baking cookies, cuddling up in blankets, and opening gifts with our loved ones as wood crackles in the fireplace. And since rustic style is so warm and cozy, it naturally lends itself to festive adornments such as Christmas decor.
Ready to officially transform your home into a cozy winter wonderland? Look no further than these eight rustic Christmas decorations to deck the halls in style.
1. Weave in winter greens.
Don't you want to just sink down into that chair to enjoy a cozy, winter afternoon? Liz Marie of Liz Marie Blog has perfected the art of rustic Christmas decorations, complete with pine boughs and knit stockings that'll remind you of your favorite sweater.
2. Create a natural color palette.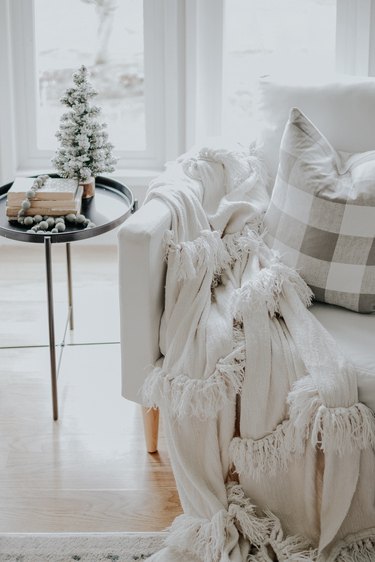 Rustic style often calls to mind outdoor scenes, which is why natural, or neutral, colors fit so well with the aesthetic. When it comes to rustic Christmas decorations, incorporate mini pine trees and snowy white touches into your space, like Jessica Sara Morris did in this pretty white living room.
3. Vintage pieces will give it soul.
Since farmhouse and rustic styles can be intertwined, it makes sense to include vintage treasures in your rustic Christmas setup. You can do this by including antique crocks, tarnished bells, and flea market finds, like a well-loved wood coffee table or mirrors with patina. Heather of Beauty for Ashes represented all of these elements in this holiday scene.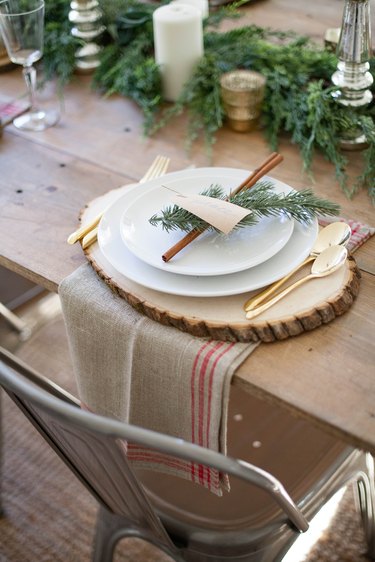 When family and friends come by for the holidays, you can create a festive tablescape with rustic Christmas decorations. Follow the lead of Lauren McBride and dress it up in winter flair with wood slices, seasonal greens, and candles.
5. Consider modern pieces.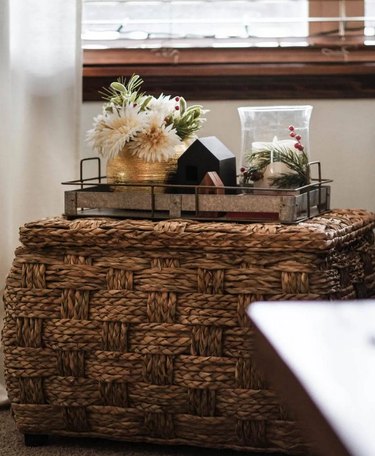 Just because you adore rustic style, that doesn't mean you can't bring in a modern piece here and there. For your rustic Christmas decorations, ponder a gold vase filled with holiday florals, little modern houses, and rustic accents like a galvanized metal tray and woven ottoman. You can get inspired by this vignette created by Ashley and Mike of Joyfully Growing.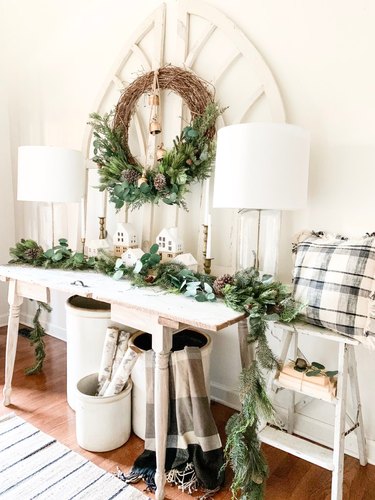 Rustic style really is delightful and charming, especially when it showcases sweet, warm touches like these. Carissa of Bless This Nest used a tiny vintage ladder, ceramic houses, and hanging bells to create a festive entryway that would spread holiday cheer to anyone who entered her home.
7. Focus on wood furniture.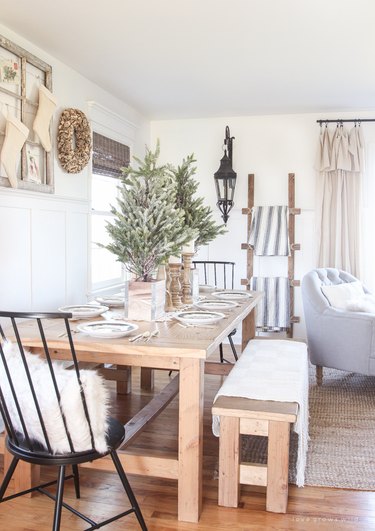 Like we've said before, wood is pretty much essential in any rustic space. It remains just as important when displaying your Christmas decorations. Set the scene by starting with wood furniture, like a table and chairs and a blanket ladder, as seen in this dining area styled by Liz of Love Grows Wild.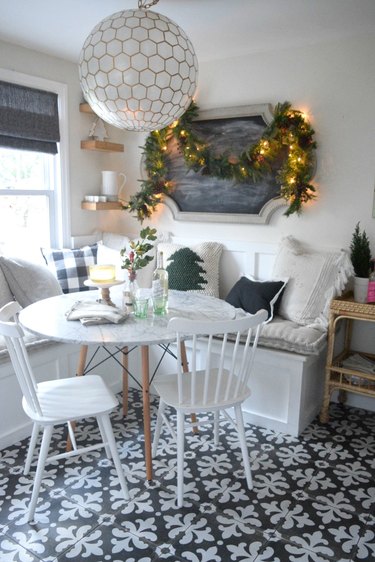 While wood and metal finishes can be considered a bit hard-edged, rustic style can be softened with the help of tons of throw pillows and other cozy touches. Brooke of Nesting with Grace included rustic Christmas decorations in her breakfast nook with the help of wintry pillows and a light color palette.