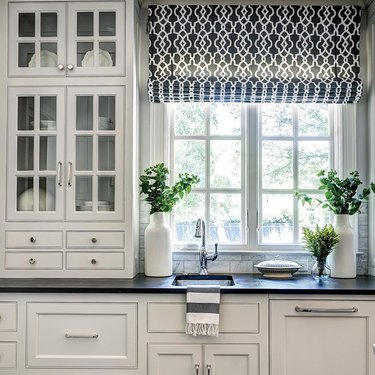 It's no secret that we adore slate here at Hunker, especially when it comes to kitchens. From floors to backsplashes, slate is a type of stone that looks completely natural, and yet, it instantly boosts the drama in any cook space.
So, what do you need to think about before selecting slate countertops for your kitchen? Well, first of all, they have a lot of pros, which include easy cleaning, no required sealing, and slate happens to be naturally stain-resistant and antibacterial, a dream in a kitchen. On the flip side, slate does have some cons. The edges can chip and crack over time if you're not careful. It could get flaky over the years. And you'll be pretty limited with color choices.
Slate is actually fairly affordable. It's less expensive than granite and marble kitchen countertops. Currently, a slab can cost around $77 to $100 per square foot, according to a 2020 HomeAdvisor guide.
As for maintenance, it's reasonably straightforward. Avoid putting hot objects directly on the slate countertops. Don't use traditional countertop cleaners. Instead, use a special slate countertop cleaner. With a little TLC, you can have the slate countertops of your dreams with these tips and inspiration from these slate-clad cook spaces.
1. Match a slate countertop and backsplash.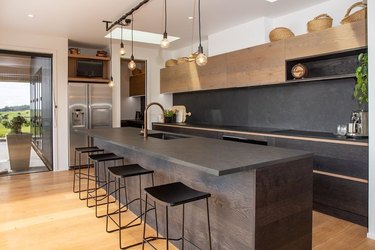 Sometimes, getting matchy-matchy can be a good thing, especially in the case of slate countertops and an accompanying slate backsplash. The look is bold and eye-catching, as proven in this kitchen outfitted in slate from Artedomus.
2. A farmhouse kitchen is perfect for slate countertops.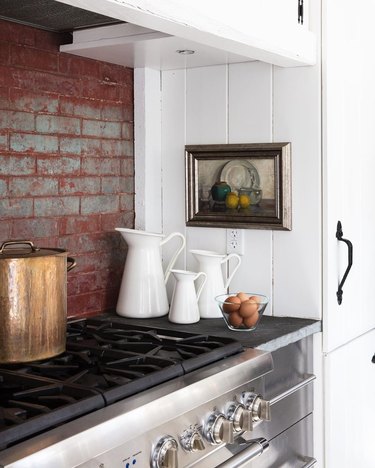 You might think that slate countertops are reserved for only super-modern kitchens, but we think they look amazing in farmhouse kitchens, too. They provide an unexpected accent in a space otherwise filled with white hues and vintage decor. Andrew of Andrew Flesher Interiors brought some contemporary visuals to this farmhouse kitchen with slate countertops.
3. Pair slate with warm wood finishes.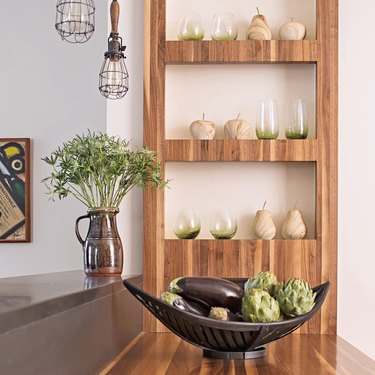 Since slate is a neutral, it can pair with nearly any color you can imagine, but we particularly like it when partnered with natural wood finishes. In the case of this RHG Architecture + Design kitchen, warm, multihued wood looks flawless next to slate countertops.
4. Use slate to create a black and white palette.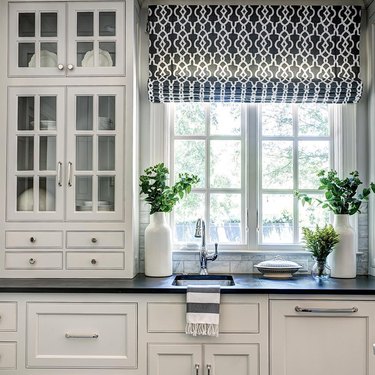 There are so many kitchen countertop ideas that work well in a black and white kitchen, but opting for slate countertops can instantly create that dark-meets-light palette you're hoping for. For example, in this kitchen dreamed up by Katie of Katie Emmons Design, slate countertops set the scene and echo the black seen in the curtains.