Minimalism with children is a tough style to keep in check. However, with clever storage solutions and minimal wall decor, you can have the best of both worlds. Not every wall needs to be pink either. Need more inspiration?
Here are eight minimalist girl bedrooms that you'll even want to sleep in.
1. Stick to muted tones.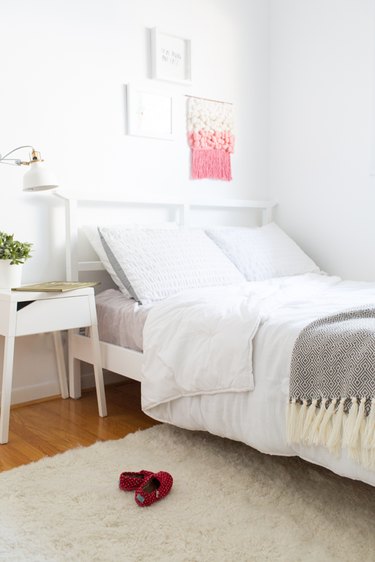 Keeping a minimalist girl bedroom in order won't be easy. But you can at least make it a little easier on your eyes by opting for a neutral color palette on the walls. Chalky white, sophisticated gray, taupe, soft pink and sage green are all muted color choices that will act as a base for any other louder accessories your little one might have in mind. Ashley of Sugar & Cloth opted for a calming white.
2. Keep wall decor simple.
Hands up if you covered every inch of your wall with posters as a little girl. Don't feel like you have to do the same thing for your little one. Make just a few of their favorite images permanent wall fixtures. Michelle of The Design Chaser added simple white picture frames to her daughter's bedroom, alongside some pastel bunting and a bohemian dreamcatcher.
3. Go classic instead of childish.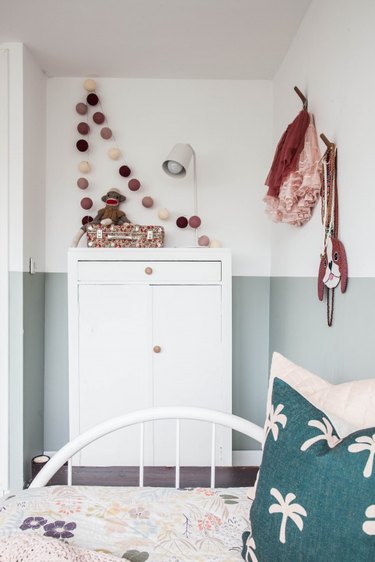 Children grow up quickly, but that doesn't mean their furniture needs to be replaced at every turn. Choose neutral furniture that will grow with them. A white cupboard works beautifully in this minimalist girl bedroom by Avenue Lifestyle, but it will also last until the teenage years.
4. Experiment in your minimalist girl bedroom.
Minimal doesn't have to mean sparse, especially when it comes to creating a welcoming atmosphere for sleeping and playing. British blogger Alice in Scandiland created this Scandi-inspired bedroom for her little girl, using a peg rail for baskets, hats and, most importantly, hula hoops.
5. Style your way.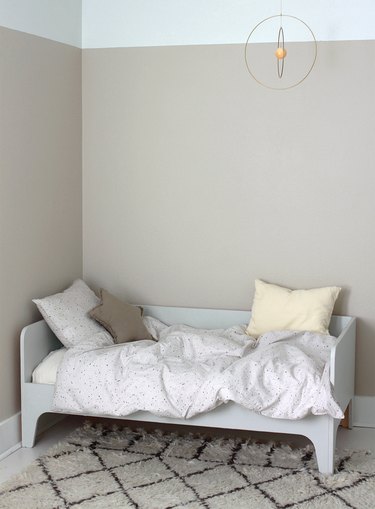 You can ensure that your child's room works with the rest of your decor. Jennifer of A Merry Mishap created a soft and modern bedroom for her little girl, complete with subtly paint-splattered bedding, star-shaped cushions and a super stylish mobile that will see her through the years to come.
6. Invest in storage.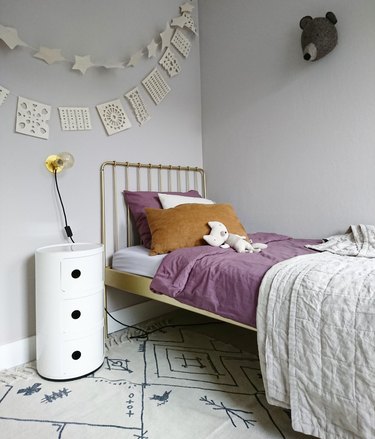 Kids need to store things too. All those craft projects need to go somewhere. And if your style calls for a minimalist approach to art hanging, invest in storage furniture to keep clutter corralled. We like this sleek nightstand option. And why not make use of wall lights to keep surfaces clear, too?
7. Think beyond bedtime.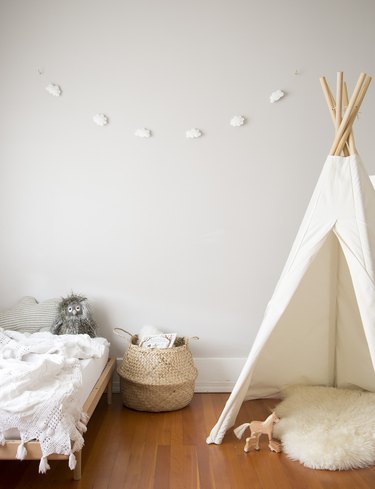 It's not always possible to have a separate playroom for storing toys and dress-up bins. The bedroom often has to act as a place to sleep, play, and learn. So get creative with minimal ways to offer your child a playful escape. This neutral bedroom by Melissa Barling makes use of a simple white fort and a minimal cloud garland with endless possibilities for adventure.
8. Make room for two.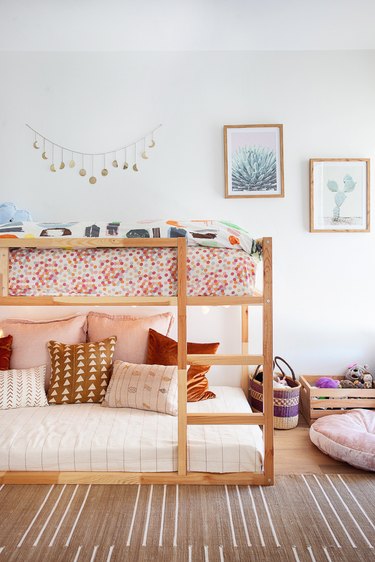 If you need a space to work for more than one little kid, opt for minimal bunk beds. You can even hack a bunk bed to get the perfect style. This minimalist girl bedroom by Veneer Designs combines slightly midcentury elements with a pink, brown, and tan color scheme, and we love it.