Not everyone can spot the differences between all the shades of white. But those with a keen eye for color and detail know that being able to pinpoint ivory and match it to other hues can make all the difference in home design, fashion and art. Understanding the subtleties of ivory can help you determine which colors it's most compatible with and nail whatever ivory project you're working on.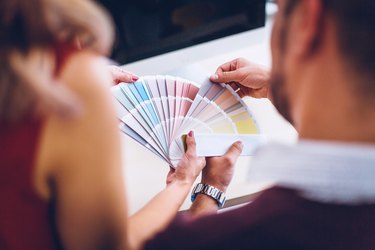 Ivory Color Description
The color ivory gets its name from the natural substance it resembles. In nature, ivory is most often found in the tusks of animals like elephants and walruses. Elephant tusk home decor was once incredibly popular, and the material was also used in the making of items like piano keys, jewelry and billiard balls. Now, however, the sale of elephant ivory tusks is illegal in many parts of the world.
But the color ivory remains as popular as ever. Often labeled as an off-white, it has the brightness of white with a hint of yellow that makes it more calming and peaceful than a blinding white.
Matching Ivory in Home Design
Ivory is a great color to incorporate into home design and decor. Its earthy warmth instantly puts people at ease. Plus, its fairly neutral tone makes it compatible with a wide variety of colors. One of the most striking ways to use ivory is to contrast it with another rich color but one in a bolder tone, such as a deep navy or emerald green. The freshness of ivory helps make the navy or emerald even more vivid without making a room too dark and foreboding.
The color is also great for kids rooms or sunrooms where you want to create an atmosphere of fun and happy calmness. There, you might pair ivory pillows or lamps with walls that are bright shades of purple, mint or turquoise to help add a sophisticated flair to the room.
Many people also want to match their ivory or beige Hampton Bay ceiling fan replacement parts or ceiling fan to the wall, a question that they might not find an answer to in the Hampton Bay ceiling fans manual. Ivory is a great color for a ceiling fan since it's neutral and peaceful. If you don't find a coat of paint that exactly matches the fan, look for off-whites with hints of yellow or light, earthy browns in them to best match the ivory fan.
Ivory in Fashion
Thanks to its light creaminess, ivory is a popular color to wear, especially for people shopping for wedding gowns. Some brides prefer not to wear a bright white dress, finding that a more rich and earthy ivory tone suits their skin tone or overall look better. While many brides opt for an all-white or all-ivory ensemble on their big day, some prefer to add a little color to their outfit. For instance, many wear an ivory gown but pick accessories like shoes, jewelry, purses or headpieces that add a fun pop.
Some prefer just a subtle hint of color, in which case it's best to match an ivory gown with light shades of pink or blush, particularly shades that are tinged with yellows or browns. For instance, a pair of blush shoes with an ivory wedding dress or a veil trimmed with rose gold-colored pearls adds beautiful hints of color to a wedding look.
Ivory is also compatible with a bolder pop of color, such as a pair of navy or royal blue heels for the bride's "something blue." If you're in doubt, simply play around with different colors to find the pairings that are right for you, and rest assured that many colors bring out the earthy charm of ivory.
---
Rachelle Dragani is a freelance writer based in Brooklyn with extensive experience covering the lifestyle space. Her work on topics including smart home technology, pest control, living green, budget home repair and helpful household tips have appeared in publications including Bob Vila, Esquire, Popular Mechanics, Gizmodo and Yahoo.