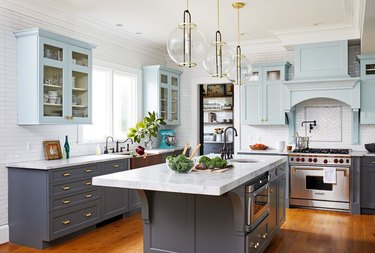 Who knew that picking the type of stove and oven you want for your kitchen could be so controversial? Apparently, there's an entire population of die-hard stove debaters working overtime, convincing home cooks to stay far away from electric stoves in favor of gas cooktops. And don't even get us started on the heated conversations that pop up around the traditional wood-burning ovens and whether the quaint, cozy vibes they bring to a home outweigh the risks of owning one.
Ultimately, the stove and oven combo you choose is up to you, but let these seven ideas light the path to your ideal appliance pick.
1. Mix colors and textures.
Take a look at the wood backsplash, marble accents, and silver range hood complementing the stove and oven, and you'll understand why we love the details in this Barlow & Barlow kitchen. The open concept space feels warm and masculine, thanks to the deep blue wall paint, gold accents, and various textures.
This lovely glass top stove and oven combo caught our eye because of the simple, sleek design and glamorous gold hardware. And honestly, it would be hard not to feel a bit fancy maneuvering around a kitchen this gorgeous. We love how the hints of brass carry throughout the space.
3. Stick to stainless steel.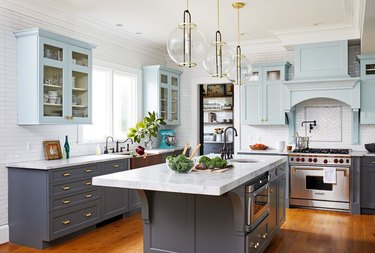 If you're wondering how stainless steel appliances can be integrated into a kitchen without making the space feel cold and detached, look no further than this delightful space from Zoë Feldman Design. Instead of taking away from the cozy vibe, the metal stove and oven combo fits right in with the contrasting blue and gray tuxedo cabinets.
4. Get creative with the details.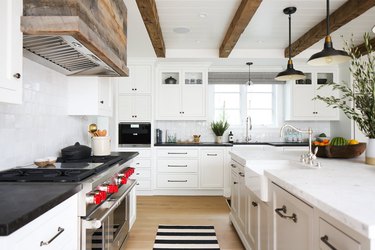 There are a ton of refreshing design elements in this white and black farmhouse kitchen from Kelly Nutt, but the creativity in the details clearly shines through. The range hood is cleverly concealed in wood, while the bright red stove knobs stand out in the best way. Plus, the metal cabinet hardware, sleek black countertops, and natural wood flooring are so timeless. Mimic this look in your own home by sticking to a classic color scheme and making your stove and oven the center of attention.
Anyone who requires tons of capacity for their cooking space — we're talking holiday hosts and large-scale entertainers — would be elated to prepare elaborate meals in this Chango & Co. kitchen. Despite the classic color scheme, all the components in this prep space are bold. The black double oven with silver trim forms a beautiful contrast against the white cabinets and brick wall, while silver trim accentuates the room's obvious focal point — a large ductless range hood.
6. Take the sleek route with a glass top oven.
Blink and you'll miss the black glass top stove and oven in this spacious modern-meets-Scandinavian kitchen from Deroseesa. Installed snugly between white minimalist cabinetry, the appliances add a sleekness to the bright space. And don't get us started on the skylights and natural wood. For a similar effect, skip the cabinet hardware and allow the stove to have its own moment.
7. Double your ovens and your counter space.
Mel Bean put a spin on the classic double oven arrangement with a simple addition: She separated the appliances with a tiny bit of counter and cabinet space. If you want your double stove and oven setup to elicit a double-take, or if you simply want more food prep space, this unique side-by-side pairing will do the trick.