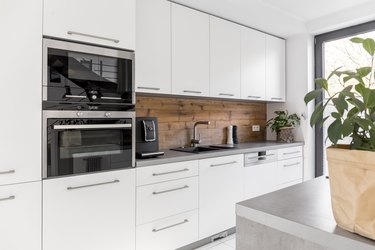 Think back to a time when a family member or friend was preparing a dish, and they just couldn't maneuver the pans to fit in the oven. As an adult, whether you're an everyday home chef or a novice baker, there are many pros and cons of double oven units. Gone are the days where you're shuffling around dishes, miscalculating the temperature and burning some recipes while undercooking others.
What Is a Double Oven?
There are many pros and cons of double oven units. Double ovens are built to allow home chefs the capability to simultaneously cook different dishes at different temperatures. In most ovens, you would have to do this separately, but in a double oven, both recipes can be cooked at the same time.
If you're considering purchasing a double oven, one of the main draws is that they have plenty of space to cook big meals. Another is baking in a double oven can be superior to other units. For instance, if you're baking a cake in a double oven, you'll have more than enough space instead of moving different pans in and out of the oven.
Pros of the Double Oven
There are many pros and cons of having a double oven, but before you become hypnotized by all of the advantages, you should know a major drawback. First off, according to Consumer Reports, double ovens are not inexpensive whatsoever. If you're looking to save on a big-ticket item, the double oven won't be an option. Most top-of-the-line double oven appliances on the market will cost $1,200 and up, but you do get what you pay for when buying this oven, so it's up to you where that lies on your pros and cons of double oven list.
Besides the ample amount of space, the double oven is also favored because it doesn't take long to preheat. Whether you're in a rush to get dinner on the table or you're baking in a double oven for a small scale event at your home, you won't have to wait that long for the oven to get warm. In addition to the oven not taking a long time to preheat, according to The Neff Kitchen, the temperature can be evenly controlled. Both the upper and lower parts of the oven give off an even distribution of heat.
A drawback of regular oven models is that sometimes the temperature isn't appropriately distributed throughout the unit, and an item on the top rack can get burned. If you have two separate dishes in a double oven, the top one won't get more heat than the bottom dish because of the even distribution of heat.
Double Oven Electric Range Reviews
Depending on the type of unit you have, your double oven could also have precise air convection capabilities. According to GE Appliances, electric dual oven models have a rear oven fan that is surrounded by a 2,500-watt, double-looping element. Many double oven electric range reviews rave about this feature because it creates a superior cooking experience. Every 70 seconds, this double-looping element reverses direction to aid in circulating hot air in the oven. This allows a more even distribution of heat throughout the entire oven.