With farmhouse style's rise in popularity, we've noticed that many people are starting to blend it with other design approaches. The most common being modern farmhouse style, which combines farmhouse classics with contemporary visuals. Bohemian farmhouse design is a more relaxed, carefree way of achieving the country aesthetic.
But these days, we're loving Scandinavian farmhouse style in particular. It might not be your first instinct to combine the two, but they actually work quite well together and have a lot in common. They both favor natural light, warm wood finishes, varied textures, and meaningful, intentional decor, including vintage finds. Since these design styles have so much in common, it was only a matter of time until they partnered up.
To achieve this dreamy look in your own home, look no further than these 10 Scandinavian farmhouse interiors for guidance and inspiration.
1. Embrace clean lines.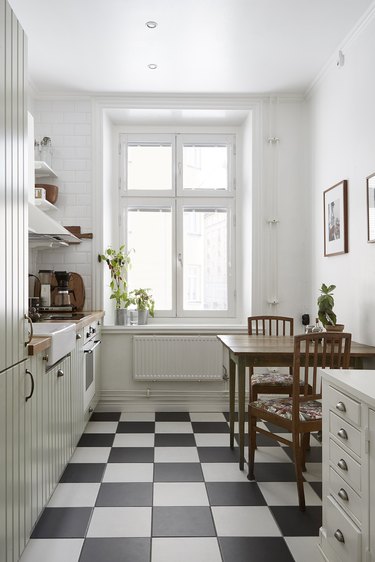 2. Make it all about wood finishes.
Although many Scandinavian interiors are all about white walls and cool palettes, to push things in more of a farmhouse direction, we recommend opting for dark, well-loved wood finishes. Reminiscent of a country cottage, this bedroom by Mainstreet Stockholm combines the best of both worlds.
3. Include a clever mix of furniture.
4. Shiplap works everywhere.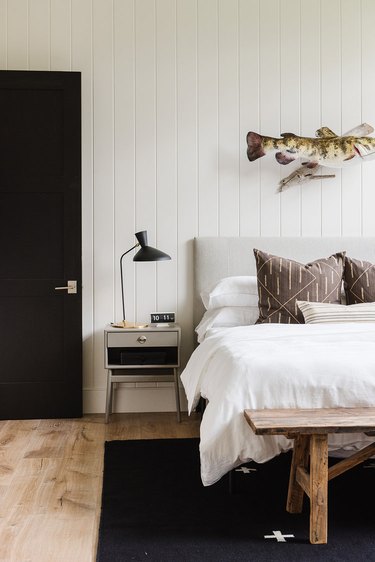 5. Focus on thoughtful details.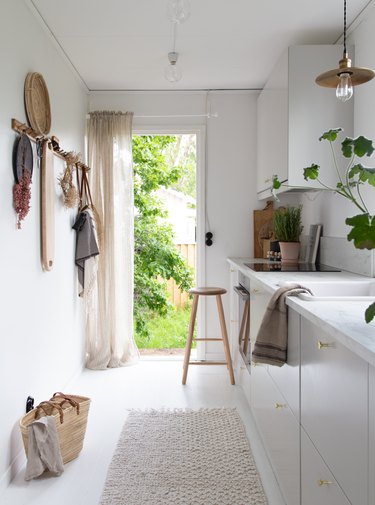 Farmhouse and Scandinavian design have one thing in common: both aesthetics are warm, thoughtful, and well-curated. The two combined result in a look that's far from cold and detached, thanks to woven baskets, floral arrangements, and textiles that are both cherished and useful. In this kitchen belonging to Niki of My Scandinavian Home, woven bags, dried flowers, and tea towels serve a purpose and add to the farmhouse-meets-Scandinavian vibe.
6. Go for a wintry palette.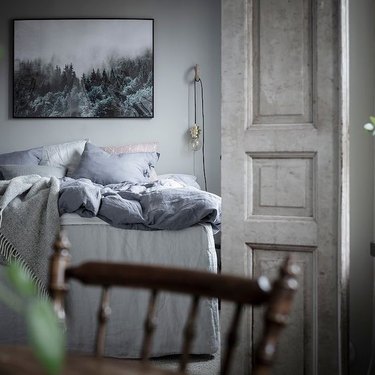 It's only natural that Scandinavian design gravitate toward interiors that nod to their long, snowy winters. As a culture that embraces hygge, Scandinavian spaces are often filled with whites, creams, and light woods, a look that also lends itself to farmhouse style. This bedroom designed by the team at Entrance Makleri has a wintry color palette but looks quintessentially farmhouse with a weathered door, industrial lighting, and nature-inspired artwork hanging above the bed.
7. Weave in lots and lots of texture.
Scandinavian farmhouse design is big on texture, as proven by this bedroom from Vintage House Daylesford. Follow the lead of designer Kali Cavanagh to amp up the cozy factor in your home by varying your textiles, adding beadboard wainscoting, hanging vintage wooden shutters, and incorporating a few vases of dried florals.
8. Simplify.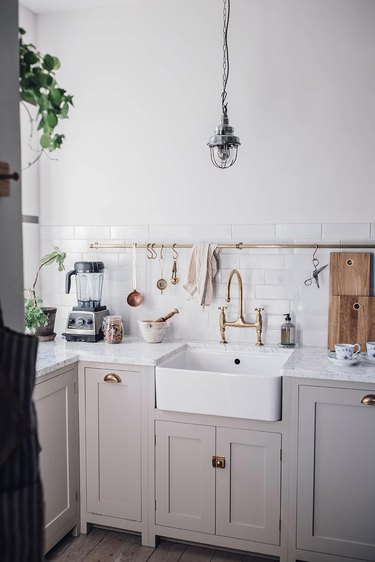 If you're looking for an easy, minimal take on farmhouse style, skip the layering of vintage treasures and collections and instead opt for simplicity, something that's prevalent in Scandinavian design. The look can be witnessed in this cook space belonging to Laura and Nora of Our Food Stories. Every element seen is useful, uncomplicated, and beautiful.
9. Let nature inspire you.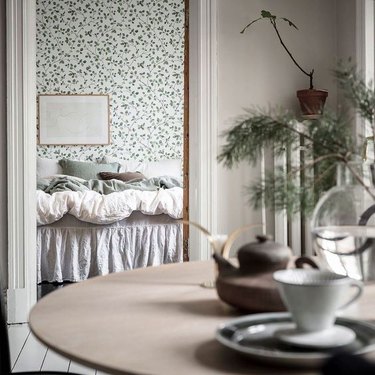 Scandinavian farmhouse style is all about pulling inspiration from the outdoors. Think sprigs of greenery picked from the backyard, well-loved wood finishes of vintage furniture, and floral prints and patterns à la this bedroom from Alvhem. The rumpled linens and ruffled bed skirt complete the relaxed look.
10. Embrace imperfection.
With its warmth and authenticity, Scandinavian farmhouse style frequently lends itself to pieces that aren't quite perfect, marked by patina and evidence of being well-loved. For instance, in this dining room by Mainstreet Stockholm, mismatched wood chairs and a wrinkled linen tablecloth make a perfectly imperfect pair, alongside a round frameless mirror and patterned area rug.