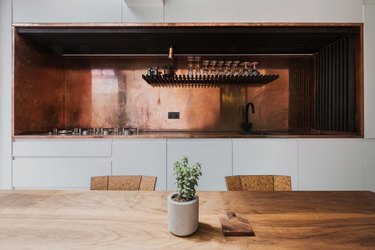 If you're looking to make your kitchen truly unique, consider adding a copper backsplash. After all, what's the harm in a little bit of sparkle, eh? The warm finish and the beautiful natural patina will definitely stand out and make your cook space look and feel one-of-a-kind. Copper will not only add something special to your everyday routine, but it'll also blend well with other metallic finishes in your space, too.
And while you might think that a copper backsplash sounds like a nightmare, they're actually very easy to clean and will provide great protection from splashes. It is not porous like many natural stone options and is therefore easily wipeable with a cloth.
Nevertheless, every material has its disadvantages, and a copper backsplash is no exception. It can easily become damaged with dents or scratches, and natural oxidation will eventually result in a green patina. You'll need to polish it regularly if you want to maintain that shiny warm glow. Or, you can always choose to embrace the patina, too.
Here are nine copper kitchen backsplash ideas to inspire you to say goodbye to white subway tile.
1. Make it a feature.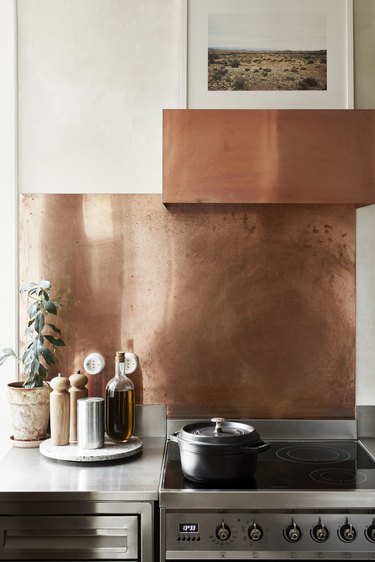 Mixing metals is not the easiest of avenues to go down, but if carefully considered, it can make a statement in a simple design scheme. This kitchen by Justine Bell incorporates a variety of surfaces including plaster, copper, and stainless steel for a chic finish.
2. Match your countertops.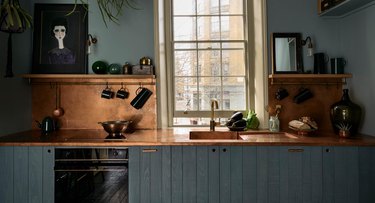 Using copper for both your backsplash and your countertops will make even more of a statement in your kitchen, especially if you go with a dark color scheme for the remainder of the room á la this sultry blue cook space by deVOL Kitchens.
3. Use it as an accent.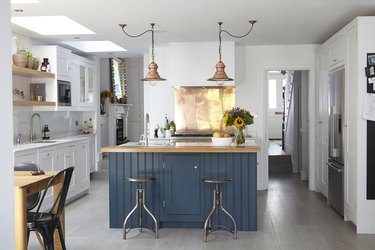 4. Pair complementary tones.
Consider a copper backsplash as a way to add color to your kitchen; just be sure to double-check that it will blend well with the rest of your palette before you commit. This sophisticated space by Rebel Designs incorporates rose-tinted copper tile with mint green cabinetry, and the finished result is quite simply a match made in heaven.
5. Keep everything else simple.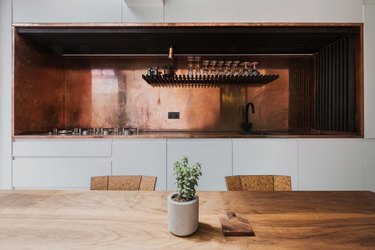 A copper backsplash will provide you with a beautiful focal point in the kitchen, so there's no real need to go overboard with any other part of your design. This cook space by Studio 304 is a real showstopper contrasted with white cabinetry and walnut details.
6. Opt for tile.
If the idea of using a large sheet of copper has you worried, try tile instead. We love this large-format glass tile from Original Style — it has a metallic backing that will shine. Plus, you can cover a large area and you don't have to worry about replacing the entire backsplash if one piece gets damaged.
7. Luxe it up with a high-gloss finish.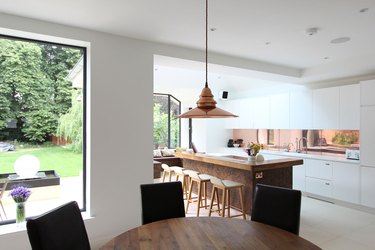 A high-gloss copper backsplash can add a touch of glamour to a modern kitchen, especially if you've kept the rest of the design super sleek. This culinary space by Phillips Design Studio consists of discreet white cabinetry and a walnut island, coordinating the backsplash with a copper pendant.
8. Bring the industrial vibes.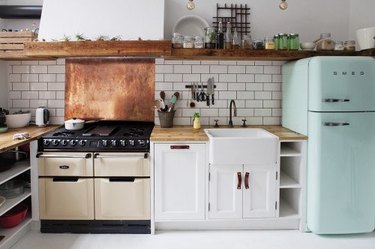 A copper backsplash is surprisingly versatile, but we have to admit that it translates best in an industrial design. Bricks Studio has perfectly paired the stove backsplash in this cook space with wood countertops, white subway tile, an AGA cooker, and a SMEG refrigerator for the ultimate charming setup.
9. Find a penny, pick it up!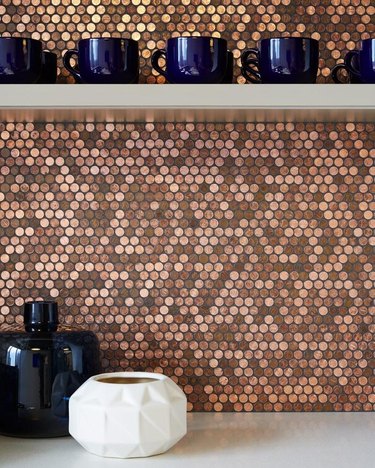 To push the boundaries with an eclectic kitchen design, why not opt for a copper kitchen backsplash in penny tile? This fresh round mosaic tile by Modwalls features real US Mint pennies adhered onto mesh backing for easy installation. Now tell us that's not a story for the dinner table.