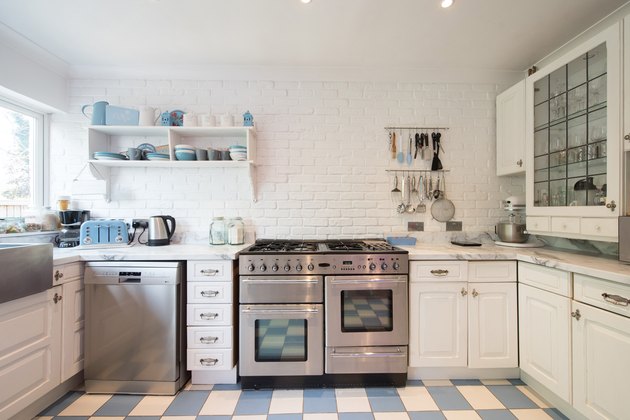 Homeowners spend an average of $23,865 on kitchen remodels. That figure may make your $1,000 remodel budget seem impossible, but you can spruce up your kitchen on a budget and make a big impact with the results. When you're limited on money, reusing what you have is the best way to stretch the budget. Giving cabinets and other elements a new look without replacing them makes your kitchen look like a new room.
Prioritize Your Projects
With only $1,000 to spend, you can't complete everything on your kitchen wish list. New appliances, cabinetry and other big-ticket items are off the table. Prioritizing the problem areas in your kitchen helps you spend your money wisely.
Consider what doesn't work well in your current kitchen. Think about the most outdated features in the room that you want to refresh. Cabinets, countertops and flooring get a lot of attention since they take up so much space, so focus your energy there unless you have more pressing issues.
A small-budget kitchen remodel usually means you'll need to keep your existing layout. Moving plumbing and electrical outlets requires you to hire a professional and bumps up the project cost significantly.
Do the Work Yourself
Labor for remodeling professionals typically eats up 15 to 25 percent of the budget. When you're working with only $1,000, you don't have room in the budget to pay a professional. Since most of the jobs are cosmetic, you can typically handle them yourself.
You can also call in a favor from a friend or relative who works in the industry. Or maybe someone you know is just naturally handy and can help you on the renovations. Skipping professional contractors helps you get more out of your budget.
Shop Around
Specialty kitchen design stores come with a high price tag. Shop home improvement stores, discount stores and online stores to comparison shop. IKEA kitchen components are known for being affordable, for example. You may find the same or similar items for much less when you shop around.
Buy Secondhand Items
If your existing kitchen fixtures need to be replaced, buying them secondhand can save you significantly over buying retail. Habitat for Humanity ReStore locations offer a wide selection of home improvement materials that are donated by other people. The stores sometimes have new materials, too.
Another source for finding secondhand items is from individuals selling their items online. Look on Facebook groups, Craigslist and local swap or social sites to connect with sellers. Many of the items are in very good condition, and you'll pay very little for them. With a little cleaning and refinishing, they're ready to install in your home.
Refresh Kitchen Cabinets
Cabinetry takes up a large chunk of the average kitchen remodel, often 30 to 35 percent. With a kitchen remodel under $1,000, new cabinets aren't an option, but you can refresh your existing cabinets.
The cheapest and easiest way to give kitchen cabinets a new look is by adding hardware or replacing the existing hardware. That simple swap changes the look of the cabinets and drawers. It's an easy project to do on your own. Look for statement drawer pulls or knobs that stand out and have a decorative look.
If your cabinets look worn or outdated, refinishing them updates the look. Proper refinishing requires cleaning and sanding before you apply new stain or paint. Apply thin, even layers to get smooth, professional results.
For cabinet doors that have an outdated shape or design, replacements are available. By keeping the cabinets and only replacing the doors, you save a significant amount of money. You can buy unfinished cabinet doors at home improvement stores, or you can ditch the doors completely and let your cabinets take on an open shelving style.
One more option for updated cabinetry is adding trim or molding along the top. It adds depth and a decorative touch to your kitchen cabinets. It can also draw eyes away from other features in the room that you want guests to ignore.
Install Upper Shelves
If your upper cabinets are beyond saving, rip them out and replace them with open shelving. Shelves are much more affordable than kitchen cabinetry. You can choose your shelving brackets and install boards on them to make custom shelves for less.
Open shelving above your countertops creates a contemporary look. It leaves items easily accessible and lends your kitchen an open, airy look that can make it feel larger.
Add New Paint
Over time, kitchen walls can become worn and splattered with grease and other cooking debris. Or maybe you haven't painted in several years and the last color you chose is no longer in style. Rolling on a new coat of paint yourself is an inexpensive way to give your kitchen a new look. Because the walls are such a large surface, the new color makes a big impact.
Satin or semi-gloss paint is best for kitchen walls. Both options are easier to clean than flat, matte or eggshell finishes. Being able to clean the walls is important in the kitchen where food remnants may get stuck on them.
Install or Update a Backsplash
A simple tile backsplash adds a big impact in your kitchen. You can easily install tile yourself. Choose cheaper tiles to make your kitchen budget stretch.
You can paint inexpensive tile, either an existing backsplash or a new installation, to make it look custom and high end. Look for tile stencils to find unique patterns and designs that work well on backsplashes.
Replace the Sink
A new kitchen sink is another inexpensive update you can make that gives the entire area a fresh look. This project makes the most impact if your current sink is scratched, dented or otherwise damaged. Stainless steel, composite and solid surface sinks are usually the most affordable options. If your sink is still in good condition, save that money and put it toward something else.
Another update option is swapping out the faucet. Opt for a gooseneck kitchen faucet with a pull-down sprayer for a contemporary look.
Add Updated Lighting
A brighter space leaves your kitchen feeling fresher and larger. Installing new light fixtures can increase the brightness of the space. The fixture also adds a decorative touch to the room. Look for a fixture with clear glass shades to maximize the illumination in the room.
Under-cabinet lighting adds an upscale look to your kitchen and makes your work space more functional. You can get DIY under cabinet lighting strips for easy installation without hiring an electrician.
Install Architectural Features
Splurge on an architectural feature to draw the eye when people enter your kitchen. The feature can overshadow a boring countertop or cabinets that aren't the style you want. It sets the tone for the kitchen because it's so noticeable.
Your kitchen island is a good place for the feature. Add beadboard paneling, stacked stone, decorative corbels or molding on the island for a decorative touch. Framing around your refrigerator and adding molding around the kitchen ceiling are two other options.
---
Shelley Frost combines her love of DIY and writing in her freelance career. She has first-hand experience with tiling, painting, refinishing hardwood floors, installing lighting, roofing and many other home improvement projects. She keeps her DIY skills fresh with regular projects around the house and extensive writing work on the topic.
View Work