Our bedrooms are more than a respite from daily life. They're where we turn for solace, a place to recharge after a long day, and a landing spot for Sunday mornings spent reading in bed. Creating such a soothing environment trickles down to every element — from the lighting to the furnishings to the palette.
Whether we opt for an inspired shade for the walls, or decide to leave them bare allowing the decor to take center stage, color is one element that can have a major impact on your space. This year, the most popular bedroom colors are all about channeling R&R and creating a mini oasis, right in the comfort of your own home. Read on to see what shades are topping everyone's wish list right now.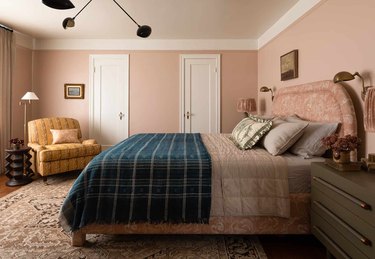 Pulling off pink walls in an adult space takes a bit of finesse but luckily, Heidi Caillier Design knows just what to do to make it work. First things first, it's all about taking a muted approach with the backdrop and the decorative accents — such as the ochre armchair and the sage green nightstand — to yield an earthy note. Plus, grounding the rosy shade with beige and off-white also downplays the color's saturation.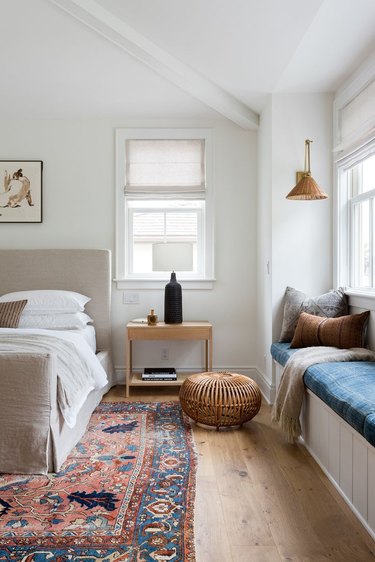 When it comes to bedroom colors, a serene shade of white will always be a classic choice, and this dreamy setup by Katie Hodges Design is all the proof we need. The key to making this one feel fresh, and not dated, is to bring in accent pieces that will inform the secondary palette. Case in point: the colorful, patterned rug, beige bed, navy window bench, terra cotta pillows, and warm rattan ottoman keep this space interesting.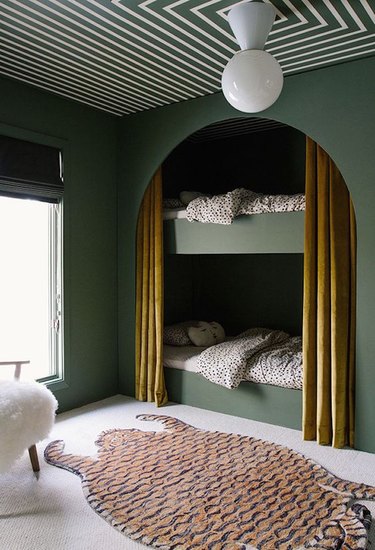 When it came to picking out bedroom colors for her little ones, Sarah Sherman Samuel went with deep green for a truly statement-worthy finish. By extending the hue to the window treatments, patterned ceiling, and built-in bunks, the designer was able to create a monochrome look without overwhelming the space. She balanced it out with an equal dose of white and a splash of ochre for effect.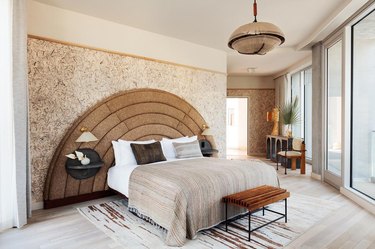 Consider this a step up from the typical all-white bedroom. Avenue Design Studio's Rotterdam Terrace project showcases just how elegant and refined a layered gray scheme can be. To replicate this look, use cool blues, sand tones, and even soft blush shades to invite a subtle yet lively element to the space.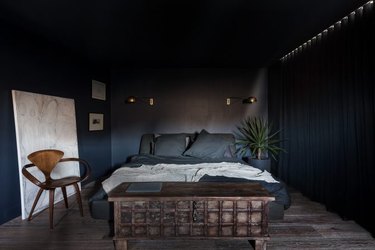 A bold navy is one of the trending bedroom colors we're loving this year and the creatives over at Alexander & Co. prove just how sensational it can be. Allowing the bed (upholstery and linens) to match the walls establishes a cohesive tone-on-tone look. Complementary window treatments further the effect while a handful of contrasting accents — think art, throws, or an area rug — help accentuate the details of the room.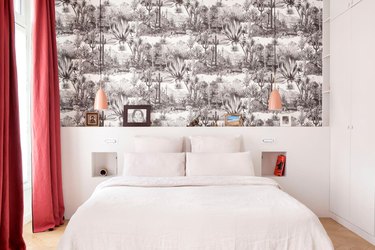 Black and white never goes out of style, but every once in awhile we welcome a twist featuring a vibrant burst of color that can steal the spotlight. Cue this Parisian bedroom, where ruby red curtains and dusty pink pendants offer a chromatic splash that defines the high-contrast space, adding depth and character.
---
Anna is a New York-based writer and editor with a penchant for travel, design, and interiors.