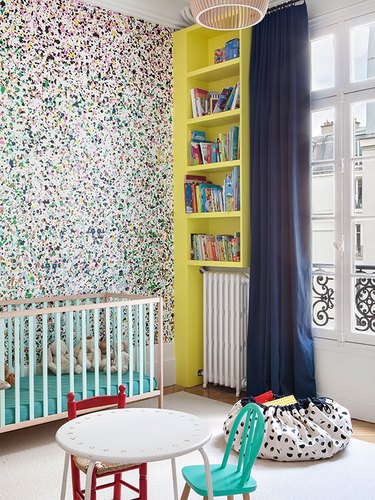 Paris's 7th arrondissement is sleepy and classy with large blocks of those old, historic, typically Parisian residential buildings. The neighborhood's exteriors may be traditional; but that doesn't the interiors have to be stodgy. So when architect Camille Hermand was hired by a couple with two small children to add some life to their apartment in a Haussmannian building, she erred on the lighthearted side. "The owners have a traditional, yet quirky and original style which was fun to work with," she says.
Hermand retained the original features — like parquet flooring, moldings, fireplaces — and brought in an up-to-date color palette with bold hues. "We worked on a mood board with the client to explore different colors and atmospheres," says Hermand. "We wanted something warm and light, with punctuated contrasts to add a subtle contemporary edge to the design." The end result is the perfect balance of old and new, making this family home both fashionable and fun.
---
Elizabeth Stamp is a freelance writer in Los Angeles. Her work has appeared in Architectural Digest, Elle Decor, and CNN Style.