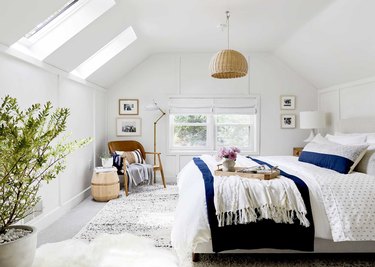 Hunker may earn compensation through affiliate links in this story. Learn more about our affiliate and product review process
here
.
Before you begin, enlist the help of a professional or contractor to assess if your attic is up to code and able to hold the weight of furnishings and built-ins. Once you have the green light, it's time to get creative. Think about how the space would best serve your needs, whether that's an extra bedroom or a hangout for the little ones. It's also worth designing around the restrictions, or unique features, of the area itself — like low ceilings or a lack of windows. Scroll on for 10 finished attic ideas that you'll find it hard to stop thinking about.
1. Create a patterned focal point.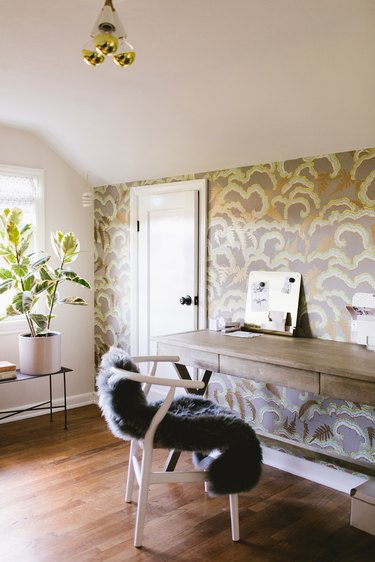 When Lark & Linen founder Cassandra Lavalle decided to turn her attic into a home office, an accent wall featuring a vivid wallpaper print went without saying. While the ceiling errs on the lower side, it's just tall enough to accommodate a proper desk setup and a mood board display. The graphic wallpaper not only adds a burst of color to the space, but provides a nice focal point to look at when working.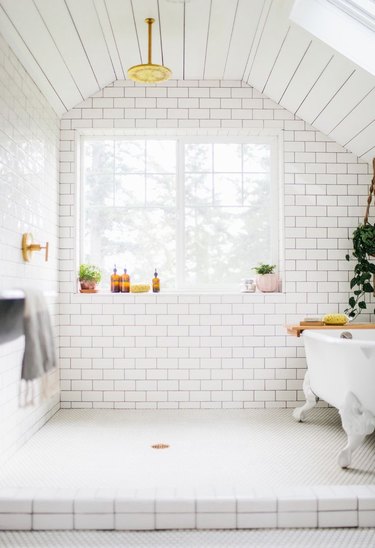 This finished attic idea by Sara Parsons may have included a full-on master bedroom suite complete with a dressing area, but it was the bathroom that stole the show. The photographer decided to go with an all-white scheme featuring a dynamic combination of surfaces, comprised of subway tile, hexagon floor tile, and shiplap ceilings. A clawfoot tub coupled with a rain showerhead turn the room into a certifiable oasis.
3. Double down on whimsy.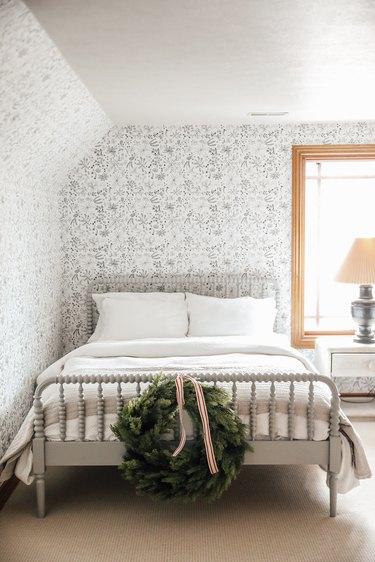 Little ones and attics don't always go hand-in-hand, but reimagine the space with some color and pattern and it can easily become their favorite hangout. The creative duo over at Chris Loves Julia gave this space a fresh, kid-friendly makeover with the help of whimsical wallpaper that instantly brightened up the room and new, neutral-toned carpet.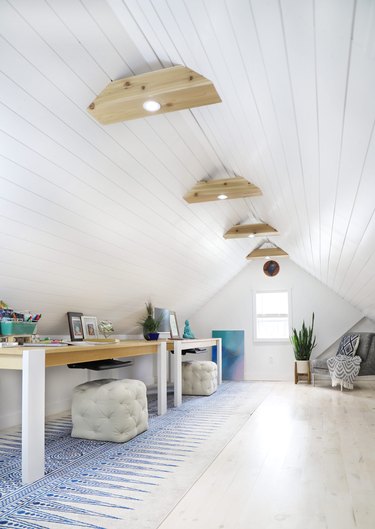 Here's a finished attic idea we can get behind: Rather than using the kitchen table or your sofa as a workspace, convert the empty room upstairs into a home office. Chris and Melissa of Renovation Semi-Pros did just that, transforming the A-frame layout into a totally functional area complete with two large desks and a corner for lounging. In order to complement the architecture, the duo used white paneling and cedar beams for contrast.
5. Carve out a nook just for you.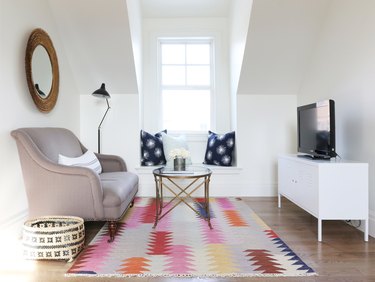 When designing an attic, consider what you have to work with and how best to utilize it. If you're short on square footage, rather than squeezing in a bed just for the sake of it, go for a quaint hideaway you can escape to for a little R & R. In Studio McGee's revamp of the Midway House loft, the design team paired the small finished attic with a loveseat, coffee table, and a compact cabinet to house the TV — which resulted in the perfect bonus media room.
6. Install a functional divider.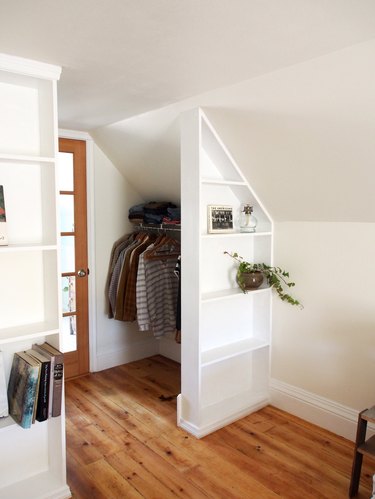 Regardless of where you're living, extra storage is always appreciated if not necessary. Transforming an open space into a closet with a built-in bookcase, à la Kristi of Windy Peak Vintage, is the kind of finished attic idea we love. After carving out an opening for a bed on one side and a bathroom on the other, she added two closet rods and flanked the ends with built-ins as the ultimate divider.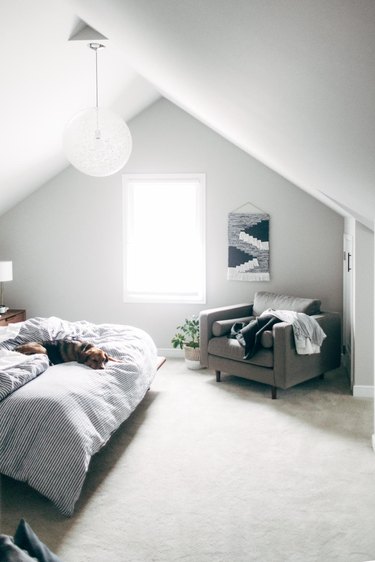 Converting an attic into a livable space takes a lot of thought and preparation. Ensuring that the area is properly insulated is the first step; securing working electricity, and tackling the floors and walls are next on the list. Once you have the essentials down pat, it's all about making it as comfortable as possible. Lindsay of A Pinch of Yum outfitted her finished attic with wall-to-wall carpeting, for a soft landing pad, and decorated the room in a palette of dreamy neutrals and low-set furniture to complement the ceiling height.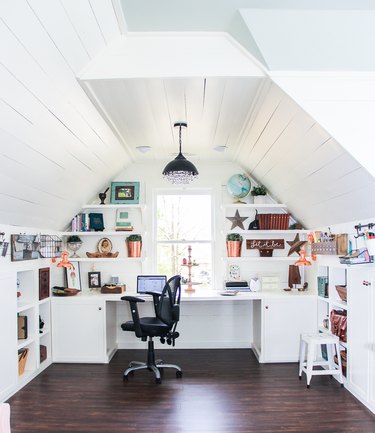 Dreaming of finished attic ideas that are prime for productivity? Look no further than this clever makeover from Unskinny Boppy, which entails a perfectly positioned desk with a view, a reading nook, and custom cubbies that offer enough storage to keep the floor clear of clutter. The multipurpose zone, which doubles as an office and playroom for the little ones, features a combination of open and closed shelving to keep essentials on display and the more unsightly items (all the toys!) hidden.
9. Incorporate clever storage.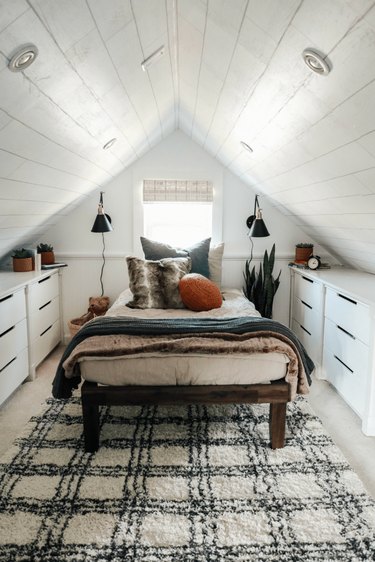 Not all finished attic ideas are created equal and if you're working with a particularly compact space, the challenges can be plenty. Lack of storage is a common pain point, especially if the area is supposed to double as a bedroom. The workaround? Built-ins (like the ones spotted in this remodel by Nesting With Grace) span the length of the walls, providing ample storage and negating the need for a closet altogether.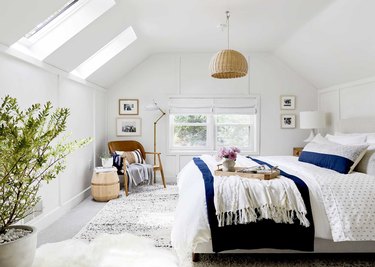 An attic with natural light is great, but an attic with multiple sources of it is even better. When revamping a top-floor bedroom, designer Emily Henderson decided to install a pair of skylights directly across from the bed to invite a wealth of sunlight to an otherwise dim space. A fresh coat of white paint and layers of subtly patterned textiles complete the bright scene.