For many of us, the mere mention of an attic prompts visions of a stuffy, abandoned space with cobwebs and loose floorboards. In reality, though, the upper level can hold great potential, particularly when it comes to increasing the value of your home. Of all the transformations one can do to this space, an attic closet redo is among the most appealing. It'll liven things up and provide a great place to store clothes when the seasons change. Also, there's no shame in using an attic closet as a private dressing room where you model your latest looks or take stock of which items need to go in the giveaway box.
What you choose to do in your dressing area is totally up to you, but here are six attic closet ideas to help get you started.
1. Make ample room for shoes.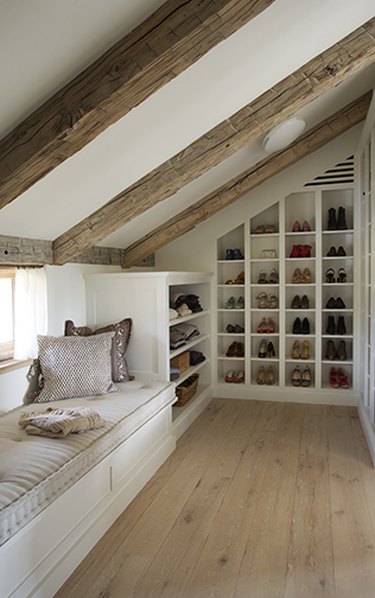 A closet without ample space for shoe storage is a closet in need of an immediate upgrade, and this farmhouse attic closet idea by Kathleen Walsh shows us how it should be done. A built-in footwear cubbie maximizes the space beneath a sloped ceiling while an adjacent shelf provides an easy, neat solution for sweaters.
2. Maximize space with storage baskets.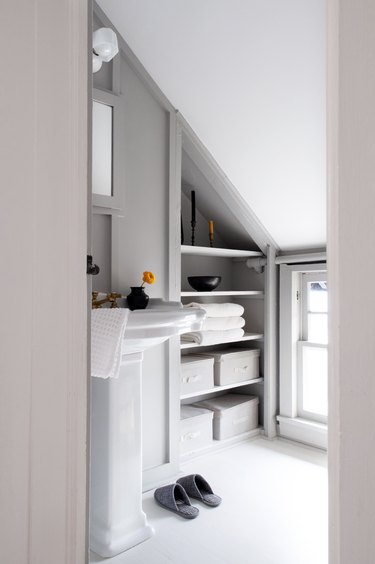 Here's another way to take advantage of corner attic space. This built-in bathroom shelf idea holds decorative items and towels. But it also leaves enough room for stylish storage baskets for miscellaneous items.
3. Create a closet within a closet.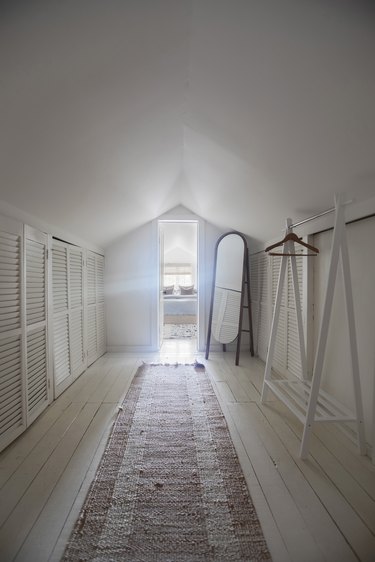 When it comes to closet dimensions, this walk-in design offers a relatively generous amount of space. In addition to a clothes rack and a standing full-length mirror, both sides of the attic have additional closet space with louver doors.
4. Make the most of built-in shelving.
5. Substitute an armoire for a closet.
If the attic you're working with doesn't have an actual closet, and you're not into the idea of building one, consider placing an armoire in the space. It's a multi-functional solution that will hide the fussy stuff. Plus, you can stack shoes or storage boxes on top of the furniture piece and place shelves or racks on either side, as seen in this bohemian-inspired room.
6. Work with bi-fold closets.
This particular attic space contains a bedroom and a closet with bi-fold doors. The storage area is tucked off to the side, but it manages to match the decor and remain functional. Even the doorknobs serve an additional purpose — they hang (and show off!) those beautiful bags, while the rest of the room remains neatly organized and open.