Things You'll Need
Digital camera with fash

Wooden plank

Measuring tape

Building codes

Structural engineering report

Graph paper or floor plan software

Wiring plan

Lighting analysis

Heating/cooling plan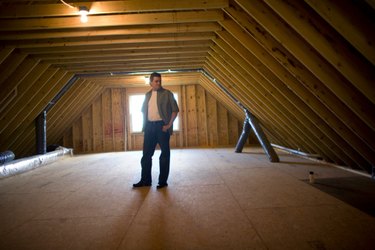 Turning an attic into a room can add value to your home and additional living space for your family. Many older homes were built with steep pitched roofs and plenty of available height that makes attic conversion easy and inexpensive. There are many things to consider before undertaking the work. Building codes may make permits impossible to get if certain safety and structural requirements are not met. Roof design, structural integrity and support, accessibility, light sources, headroom, comfort and safety are all issues of paramount importance. All of these things must be considered before your conversion begins.
Step 1
Enter the attic to assess its condition and suitability for conversion. If your attic has joists, but no flooring, take a wooden plank with you to enable you to walk around and take pictures and measurements.
Step 2
Snap a photo of the rafters you see along the sides of the roof. If your rafters are heavy beams without the addition of supports linking them to the floor joists, you probably have an attic that is good for conversion. Supports indicate truss framing that may involve expensive roof raising to allow for attic conversion.
Step 3
Measure the headroom in your attic using your measuring tape. An attic room must measure 10.5-foot at the ridge line and at least 50 percent of the finished space must be 7.5-foot tall or more.
Step 4
Measure your joists. If the joists are 2x4s or 2x6s, they will need to be reinforced to carry the load of flooring and furniture. Photos should be taken here for reference as well.
Step 5
Measure the size and examine the condition of existing windows. Windows need to be well insulated and equal at least 10 percent of the total floor space. Your conversion may need to include a skylight to meet this criteria.
Step 6
Measure your existing attic access area. Many building codes require a permanent, safe staircase leading to an attic living space. Stairs must measure at least 3-feet wide and 13-feet tall and rise at a 30 to 35 degree angle.
Step 7
Hire a building inspector or structural engineer to check the foundation and supporting walls of your home to ascertain if they can handle the additional weight of an attic conversion.
Step 8
Plan for an exit strategy in case of fire. A fire escape leading out to the roof as well as safe access down the attic stairs is a must.
Step 9
Hire electrician, plumber, and heating and air conditioning specialists to advise you what must be done to upgrade wiring, provide plumbing and outfit your space for heating and cooling, insulation and ventilation.
Step 10
Contact your local building authority to acquire a building permit and arrange for regular inspections to ensure your work is up to code.
Step 11
Draw a floor plan to show a hired contractor or to follow yourself should you choose to proceed on your own.
Tip
Tradesmen may be hired in an advisory capacity should you choose to do the actual work yourself.
Warning
Do not proceed without a building permit and structural analysis. Your safety and house insurance coverage could be placed in jeopardy without proper authorization.
---
Kevin Ann Reinhart, a retired teacher-librarian, has written professionally since 1976. Reinhart first published in "Writers' Undercover" Cambridge Writers Collective II. She has a bachelor's degree in English and religious studies from the University of Waterloo and a librarian specialist certificate from Queen's University and the University of Toronto.