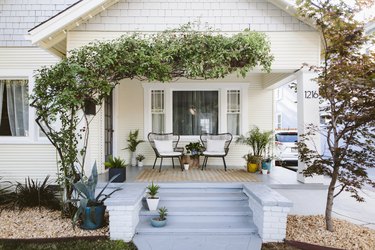 If you're thinking about buying a fixer-upper, looking to remodel a room, or just love to binge home-improvement shows, you know one thing for sure: Renovation is a big-budget endeavor, especially in the current housing market. All the tiny details and (not-so-tiny) expenses can start to feel a bit overwhelming — but fortunately, embarking on a home project doesn't have to break the bank.
To find out how, we asked a banking executive and an interior designer for their expert tips on budgeting for a home renovation. The consistent theme from both of them? You can make a wallet-friendly renovation happen with just a bit of financial planning and a dose of creativity — starting by making sure your banking institution is giving you the most bang for your buck.
"It's important to find a financial institution that fits your unique needs and will grow with you as your financial goals change," says Chris Curtin, social media and rewards executive at Bank of America. "For example, members of Bank of America's Preferred Rewards program have access to a number of rewards and benefits across their full financial relationship with us that can be used for everyday spending or bigger-budget projects like remodeling your home."
How exactly does that help make your renovation dreams come true? Basically, you're set up to be rewarded at every step of the financial process. For example, when you use the Customized Cash Rewards credit card on supplies for your renovation, you can choose to get cash back from your preferred spending category (i.e. online shopping or home improvement), which can also be changed on a month-by-month basis, Curtin says.
"On top of that, as a Preferred Rewards member, clients receive a credit card rewards bonus that boosts cash-back earnings even higher, which definitely comes in handy if you're saving for any big-cost home items."
Sounds like a no-brainer, right? Keep reading for more intel from the experts on how to make every dollar stretch when planning a home renovation.
1. Keep and transform, when you can.
Interior designer Megan Hopp also relies on a few finance-forward pieces of wisdom to meet her clients' design dreams while sticking within their budgets. She recommends starting by looking around your space and determining which elements need to be retired, and which might stand the test of time (or be candidates for a redesign).
"The more that stays in place, the less money you will spend," Hopp says, and the more you'll be able to save for high-cost items. And pairing "before" elements with newly renovated features — from floors to furniture — helps elevate the whole aesthetic. "I will forever be a proponent of mixing high and low in renovation and design," she says.
2. Save for style moments.
"For me, it's the design details and decisions that make or break the success of a renovation," Hopp says. "It's the biggest bummer at the end of a project when one opts to skip the wallpaper or picture-frame molding because the cost wasn't considered from the start."
Her advice? Save on simple materials, like white paint and marble tile, so you can spend on style statements. Additionally, making sure your savings account is supporting your savings goals can help you maximize the money you're setting aside — like the savings interest rate booster that Bank of America Preferred Rewards members earn based on their combined balances. So you can finally spring for that zellige backsplash you've had bookmarked.
3. Set aside an "uh-oh" fund.
Truth is, there's no hard and fast rule to financing home projects. Contractors and designers can't predict the future or what's behind your walls… literally and figuratively. "The initial bid reflects a perfect world where nothing will go wrong. However, as one pulls apart a home, surprises will reveal themselves, and often there is no way around it, which means another line item," Hopp says. "It's a discovery of a shifting scope along the way."
To prepare for this, Hopp recommends setting aside an "uh-oh fund," consisting of 20% of your initial bid. Tapping into it won't affect your Preferred Rewards status for at least a full year after enrolling, Curtin says. "Members don't need to worry if their balances occasionally drop; they'll still be able to earn the rewards they expect."
And best case scenario? You don't end up using your uh-oh fund at all, the pot continues growing, and you bump your benefits status. "Balances are reviewed monthly to see if you qualify for a higher tier in Preferred Rewards," Curtin says. "And if you do, you'll automatically qualify for the next level of rewards."
4. Be patient and purposeful.
Most importantly, Hopp recommends moving slowly and intentionally. "Do not spread your budget too thin," she says, and don't take on more than you can handle financially. "Spending more in fewer spaces and tackling the work over time is always a smarter way to go. I fully understand that this requires a huge amount of patience, but cutting corners in a rush to cover everything ultimately leaves you with money down the drain."
Instead, take things one step at a time — and know that your finances will benefit. Consolidating your funds is an easy way to organize your assets and ensure support in big-budget moments.
"The more you do with Bank of America, the greater the rewards you receive in return, helping you achieve the home you envision," Curtin says. Consider it the first step in living out those home improvement show dreams.
‌Merrill Lynch, Pierce, Fenner & Smith Incorporated is a registered broker-dealer, registered investment adviser, and Member SIPC. Bank of America, N.A., Member FDIC. MLPF&S and Bank of America, N.A. are wholly owned subsidiaries of Bank of America Corporation.‌