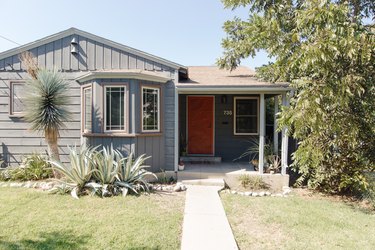 Whether scrolling through listings is your favorite "maybe-one-day" hobby or you've had your pad for years, you know that homeownership comes with a hefty price tag. But did you know that your bank can give you a solid assist on those expenses?
Yep, you can get major financial support, from mortgages to interest rates to benefits on credit card purchases, through programs like Bank of America's relationship-based Preferred Rewards. You get personalized financial guidance when you join — plus benefits from investing with Merrill, mortgages, exclusive discounts on lending products, and tons of cash-back deals.
And it's easy to opt in. "Our Preferred Rewards program is the first of its kind to reward clients based on their combined deposit relationship with Bank of America and investment relationship with Merrill, not just their credit card spending," says Chris Curtin, social media and rewards executive at Bank of America. "Any eligible Bank of America client can enroll in the program and start receiving benefits."
To enroll, you need an active and eligible Bank of America checking account and a three-month combined average daily balance of at least $20,000 in either deposit accounts with Bank of America or investment accounts with Merrill (or both).
Bottom line: The more you consolidate your finances with Bank of America and Merrill, the more benefits and rewards you earn to help support spending on your home. Check out how a few of these perks work, and get moving on manifesting your dream digs.
1. You can get help reducing your mortgage origination fee.
When you're on the road to homeownership, closing costs are one of the last stops before you're handed the keys. These often include your down payment, a credit check, and various fees, mortgage origination included. Not sure what that means? Typically, your bank charges you a rate — usually between 0.5% and 1% of your total mortgage amount — in exchange for processing the loan.
You probably won't avoid a mortgage origination fee altogether, but you can lean on your bank to reduce the dough a bit. "Find out the perks and benefits available to you through your bank that can help you achieve your goals. For instance, Bank of America Preferred Rewards members have access to a variety of exclusive financial rewards that can help them buy a home or save for a down payment," Curtin says. "The program offers members a reduction on their mortgage origination fee, providing a discount on the expenses of a new purchase or a refinanced mortgage."
That could be hundreds of dollars saved, depending on the benefits tier you qualify for: Gold, Platinum, Platinum Honors, Diamond, or Diamond Honors. And yes, the more you stash in your account, the more Preferred Rewards you get. Win, win.
2. You can get a discounted home equity loan rate.
Whether it's a newly purchased spot or your decades-old nest, you're building equity the longer you live in your home. (Quick refresher: That's the share of your home you own outright versus what you owe on your mortgage.)
If you're itching to get started on a home improvement project — or just want to consolidate any debt at a slightly lower interest rate — it might make sense to consider a home equity loan, which leverages the equity you've built as a way to borrow money, sometimes called a "second mortgage." When you opt into Bank of America's Preferred Rewards program, you can get a discount on that rate, varying in degree based on your tier. Think of it as more wiggle room for that kitchen remodel you've been daydreaming about.
3. You can score rewards on big-cost home items.
Speaking of wiggle room for renovations, you'll get seriously rewarded when you make big purchases as a Preferred Rewards member. Each time you make a purchase with a Bank of America credit card that earns points or cash rewards, your rewards bonus — which could be as high as 75% of your cash rewards, depending on your tier — is applied, and substantial costs feel a bit more palatable.
Are one-of-a-kind flea market finds or antiques more your speed when it comes to at-home splurges? Members at the Platinum Honors tier or higher can withdraw funds at any ATM (Bank of America or not) with no transaction fees, so cash purchases won't cost you extra fees. With a few financial perks in your back pocket, you'll be well-equipped for a big-budget buy every once in a while.
‌Merrill Lynch, Pierce, Fenner & Smith Incorporated is a registered broker-dealer, registered investment adviser, and Member SIPC. Bank of America, N.A., Member FDIC. MLPF&S and Bank of America, N.A. are wholly owned subsidiaries of Bank of America Corporation.‌