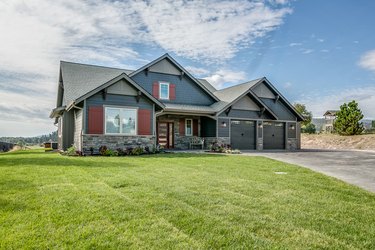 Purchasing your first home is a major investment, and diving into the process can feel intimidating to the point of never feeling ‌quite‌ ready to make the plunge (especially in today's market).
But if you're anxious to put your renting days behind you, or you're just hoping to feel a little more prepared before you make your purchase, there are a few things that can help move the home-buying process along faster, namely joining the Bank of America Preferred Rewards Program.
According to Chris Curtin, social media and rewards executive at Bank of America, this no-fee program rewards members based on their entire relationship across Bank of America and Merrill so you earn perks based on your deposit and investment balances. The program even offers benefits that will help you on your homeownership journey, from an interest rate boost on your savings account to lower mortgage-associated costs.
"Bank of America Preferred Rewards members have access to extensive rewards and benefits for all of their financial needs," Curtin says. "The program allows you to get discounts and cash back on the spending you're already doing. It's an easy way to be rewarded on your everyday expenses and reinvest those rewards into your goals — like owning a home."
Plus, as you hit your financial goals and grow your savings with Bank of America and investments with Merrill, you're able to move up through the tiered system — earning even more rewards along the way, making your path to homeownership that much shorter.
To get even more insight on how you can best prepare for buying a house, we tapped Curtin alongside Megan Hopp — founder of Megan Hopp Design — to share their expert tips and tricks so you can feel confident about hitting your home-owning goals.
1. Create a designated home fund.
Building up your savings account for a down payment, along with other unexpected costs associated with owning a home that could come down the pipeline, is a necessary part of the planning-for-a-home process.
"Upkeep in a home is really important. The more you let something go, the pricier the problem becomes," Hopp says. "As a renter you are paying for someone else to manage all of that, but as a homeowner you can count on the fact that you will continuously need to invest money into your home to maintain its value — all of that requires some savings, so it goes without saying it's crucial to have savings on the forefront of your mind."
With the Bank of America Preferred Rewards program, members can earn a savings booster that increases your interest rate anywhere between 5% to 20%, and that can help increase your savings for a down payment or grow your emergency fund for after move-in.
2. Get creative with your savings methods.
Cutting expenses where you can over a long period of time is definitely one way to save up for your dream property. However, Hopp took a more creative savings route that ended up paying off big time.
She and her husband looked at their finances and determined what they could comfortably afford to pay in rent each month — and then opted for signing a lease at a place that cost less than half that amount. "It was definitely not the most comfortable at times," she says. "However, knowing that it was a defined period of time made it a lot easier, and seeing how much we were saving month to month made the whole thing feel wildly productive."
Giving yourself impactful-yet-tangible goals is a practice that can help you build momentum on your path to homeownership, even if you're not able to replicate Hopp's method. Remember: You're on your own personal home-buying journey and nobody else's.
3. Make the most of your interest rate.
Another key element of the process is locking in a mortgage rate that will keep your overall investment as low as possible. It's no secret that rates have been climbing lately, which is why ensuring you're making the most of yours is so important.
According to Curtin, the Preferred Rewards program also offers a reduction on your mortgage origination fee. "This is great for those looking to put a little more money toward other expenses," Curtin says. "The money our clients save on the fee reduction can be put toward home projects or maintenance costs."
Not only that, but the program also offers an interest rate discount on a new home equity line of credit along with a rewards bonus on eligible credit cards that boosts cash back earnings even higher.
4. Be realistic about your budget.
One of Hopp's biggest pieces of advice is to not go overboard on your budget, so that you'll actually have funds left once you're all moved in.
"To me the heart of homeownership is taking the house you buy and personalizing it to become your home," she says. "That can mean complex home renovations or simple interior design upgrades, but no matter the scope, it all costs money." Note to self: Owning a home doesn't stop with the purchase of said house.
‌Merrill Lynch, Pierce, Fenner & Smith Incorporated is a registered broker-dealer, registered investment adviser, and Member SIPC. Bank of America, N.A., Member FDIC. MLPF&S and Bank of America, N.A. are wholly owned subsidiaries of Bank of America Corporation.‌