So say farewell to those dark, dreary rooms. Read on for seven attic space skylight ideas that are the perfect combo of sunny and stylish.
1. Consider solar-powered blinds that are dark enough for sleeping.
You can almost forget this bedroom is in an attic because of the luminescence coming from the skylights. The room has all the elements of a warm and cozy space: layers of coordinating bedding, a large floor plant, a nubby rug, and plenty of brightness from the Velux skylights. The added solar-powered blackout curtains are a bedroom-must because they regulate the glare.
2. Add a disco ball for an instant party.
A disco ball distributes sunlight from Hannah Lagom's skylight all around her Berlin apartment, making the space feel magical. The entire space is goals, but this corner is particularly copycat-worthy because the skylight gives her collection of plants and abstract art a sunny home. A pile of floor pillows near the wall ensures that no square foot is wasted — even with pitched ceilings, you can arrange a reading corner.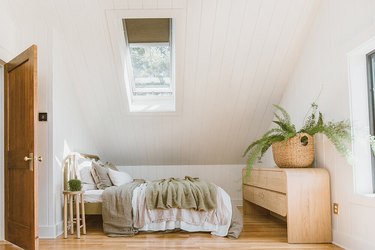 Christine Higgs of For the Home considers skylights her secret weapon for creating a light-filled home, and we can see why. She used the Solar Powered Fresh Air Skylight from Velux, and it's beautiful and smart. Higgs controls the elevated window with a phone app. And best yet, it's equipped with a rain sensor, so if bad weather suddenly hits, the skylight closes immediately.
4. Incorporate one in an attic nursery.
Think an attic space is too dark for a cheerful nursery? Add a skylight, then think again. This Chango & Co. baby's room includes playful watermelon wallpaper that coordinates with a mod pink crib and a fuzzy bubblegum-colored rug. A sweet rocking chair can create a cuddle spot.
5. Don't be afraid of wallpaper.
Matching your wallpaper to your bedding may sound like a dated idea, but this Cameron Ruppert Interiors space proves that notion wrong. What's old is new again in this attic bedroom, thanks to the skylights. They brighten up the chintz-covered sleeping quarters, and a built-in bookcase adds a sleek spot for storing decor.
6. Install as many skylights as space will allow.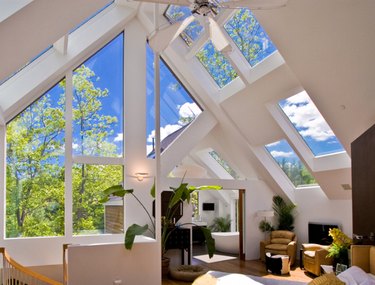 Why settle for one or two skylights when the entire ceiling could be made of glass? Deer Path Farms, a collection of energy-efficient custom townhomes in Massachusetts, utilizes skylights — a lot of them — to take advantage of solar architecture. In doing so, the structures use less power for heating and cooling. As a bonus, if you go this route, you'll get the best view of the landscape from season to season.
7. Don't forget the bathroom.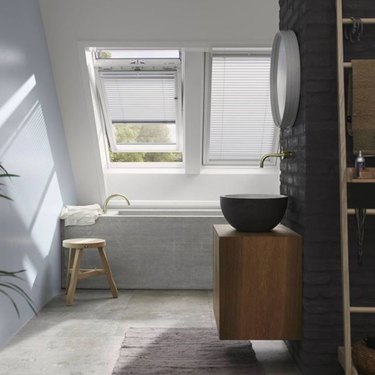 Attics can lack light and so can bathrooms, but this washroom is bright and airy with two skylights over the tub. Picture this: It's early on a Sunday, and you want to start your day right. Draw a bath under the morning sun to enjoy the natural light and privacy.