What's the first thing you notice when you walk into a really gorgeous home? No, it's not the sofa, or the carpets, or even the statement walls painted in contrasting colors. The amount of natural light is one of the main aesthetic elements that give an average house wow-factor. (Don't believe us? Take a quick search on a real estate website to see how many listings herald "bathed in natural light" as a main selling point.)
As Hunker's head of product, Brett Woitunski knows the impact lighting can make in a space, which is why he was keen to amp up the illumination of his farmhouse-style Los Alamos home. His place was already a piece of art in terms of the interior decor, but since it was built in the 90's, he and his family were ready for a brightened update.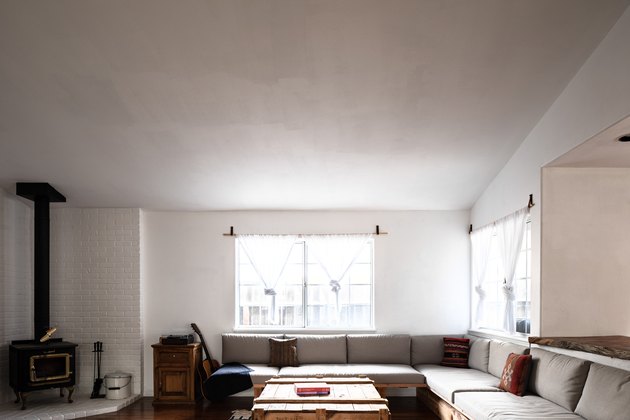 "The living room was a somewhat darker space at different times during the day and we wanted a way to add more natural light," Woitunski says. "Additionally one side of the vaulted ceiling was a large spanse of drywall, and we were looking for a way to break it up and make it more architecturally interesting."
"I moved to California from the East Coast about 12 years ago, and was surprised by how much the regularity of sunny days improved my overall mood," Woitunski says. "The skylights, of course, improve the quality of light on sunny days, but we also noticed that they make a really big difference on gray days as well."
Plus, the skylights are easily opened with a remote or smartphone app, allowing fresh air to breeze through to naturally ventilate the home — and what's more Cali than that?
As the living room is the first room guests walk through when coming over, Woitunski immediately noticed the impact the VELUX Skylights made on first impressions of his home.
The skylights include remote-controlled, light-filtering shades that are solar powered like the skylight, so that Woitunski can control the amount of light that enters the room. "We were really amazed at just how much they transformed the look and feel of the space," he says.
Plus, the skylights include the VELUX ACTIVE with NETATMO system that analyzes data from an indoor climate sensor and an online weather station to decide when to open for fresh air or when to close the shades to decrease the sunlight coming in. Talk about high tech.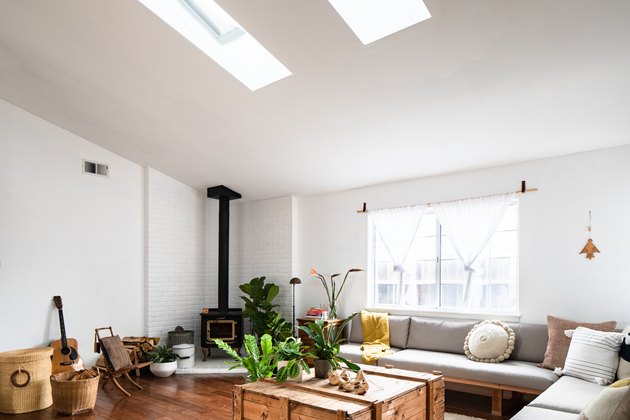 Before Woitunski added this statement piece, he struggled with darker corners in the living room. "It was hard to find a place to sit and read during the day since the windows weren't always letting in enough light," he says. "Now even the far corners have enough light for plants and a comfortable reading chair."
"This time of year it's a little cooler in Los Alamos, but we've opened the skylights on a few of the warmer days and we were amazed at how quickly they created a breeze that removed stuffy air," Woitunski says.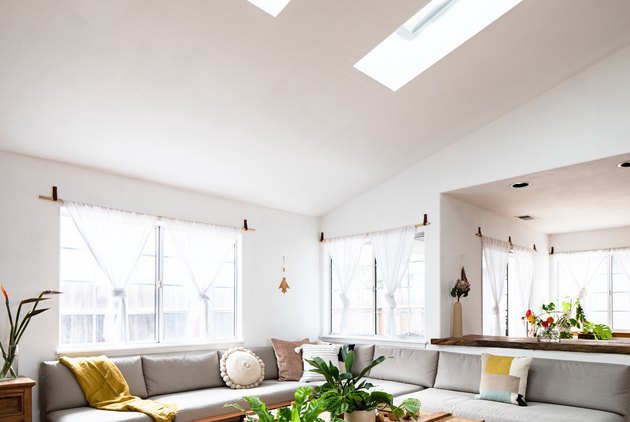 And the final benefit of adding skylights that amplify the power of natural light and fresh air by bringing it through the roof? The installation process. "I would assume most people would expect the project to be disruptive and take a lot of time (we did), but the team completed everything in just two days, and with no disruption at all," Woitunski says.
Zero distractions to your everyday life, an instant boost to your design aesthetic, and a natural light and fresh air source that helps your mood? Woitunski agrees — skylights are the design move to bring pockets of sunshine to any home.