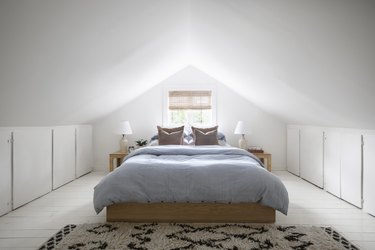 When we're lucky enough to live in a home with even a semi-functional attic space, a few different decor plans come to mind. And, yes, usually these crafty small attic ideas involve storage, storage, and (you guessed it) even more storage. Attics tend to be places where memorabilia, holiday decorations, and old furniture that we swear we will repurpose go to collect delicate layers of dust that quickly become overpowering.
But what if there were a way to convert even the tiniest upper levels into functional and, dare we say, inviting spaces perfect for lazy afternoons? Whether you're working with a low roof or some particularly sharp architectural angles, you're in luck.
We put together a collection of small attic ideas that will help you take your space from drab and dusty to dang near delightful. (And, while you're at it, why not refinish that old antique table? Your future oasis will thank you.)
1. Embrace a bold wallpaper pattern.
It can feel risky to really follow your heart and embrace bold patterns — particularly in your most lived-in spaces. But one of the benefits of decorating a small attic is you can finally let your inner interior designer loose. So, grab a bold wallpaper with a light base color that calls out to you, and commit to it from floor-to-ceiling. If you want an extra pop, consider adding patterned tile with a similar (but quieter) pattern on the floor.
2. Dream up a little bed nook.
When it comes to attic ceiling heights, it often seems like they're either super tall and narrow or bump-your-head-on-a-rafter low and wide. So, if you find yourself with an attic that sports some extra headroom (but space for little else) consider slipping a simple mattress and bedframe up there and creating a makeshift sleeping nook that's perfect for naps or last-minute guests.
3. Lead with an accent wall.
Just because you're decorating an attic space doesn't mean all the design tips and tricks you know should go out the window. Accent walls can bring attention to the more interesting parts of your space while also making the room feel a bit bigger. Adding a bold blue color to a windowed wall, for instance, will help emphasize the gorgeous view rather than the low ceiling.
4. Combine a guest room with storage space.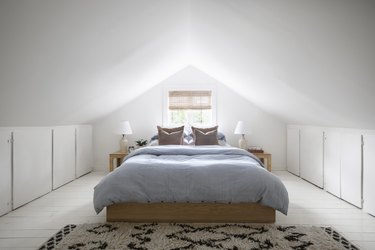 Sometimes you can design your attic in a way that gives you the best of both worlds: a livable space and adequate storage. Consider adding custom wall cabinets for all of your childhood knickknacks. Then you'll still have the perfect space in the middle of the room for a modest guest area. Bonus tip: If you're working with an attic that has limited lighting and a low roof, embracing a bright paint color will help bounce light around.
5. Create a book hideaway.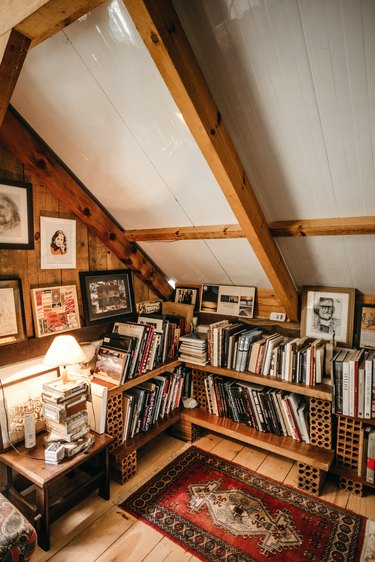 Storage doesn't always have to mean putting all of your favorite things away into boxes. If you're a bookworm, or simply a collector of anything that takes up a significant amount of space, create a book hideaway (or, you know, a display area for your favorite knickknacks, vinyl albums, porcelain Lladró figurines — whatever you please). Just be sure there's some sort of temperature control so your favorite things won't get damaged if the climate suddenly changes.
6. Put together an attic playroom.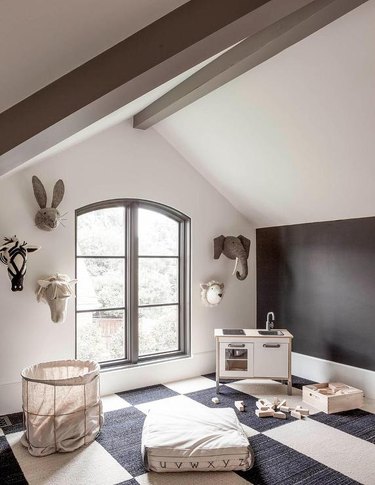 Anyone with kids knows how important it is to give them enough space to play and explore on their own. And since attics already come with their own mysterious, forbidden allure, why not convert the elevated space into the perfect kids' playroom? Little ones will never complain about the lack of vertical height, and you can avoid tripping over toys in the rest of the house (in theory, at least). Just be sure to make the entrance or stairwell kid-safe!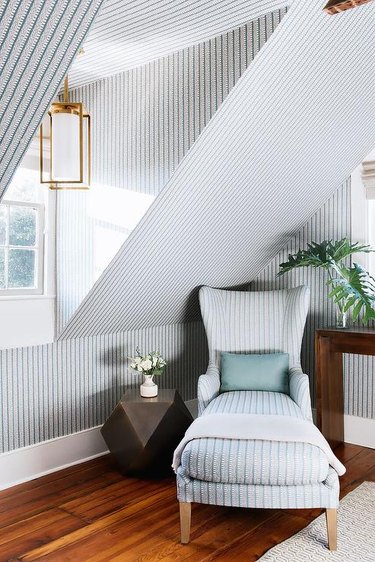 If you're working with a particularly small attic, create the illusion of height with the help of vertical lines. And when you don't have a lot of room for tall furniture, the next best way to bring some vertical lines into your space is with wallpaper. Find a delicate stripe pattern for height in even the most cramped areas.
8. Make sharp angles work for you.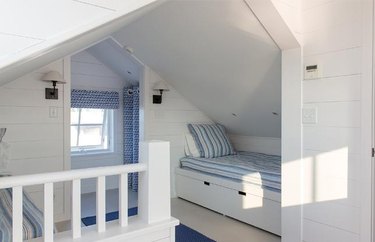 At first glance, small attics with a lot of architectural complexity (i.e. jutting walls and sharp corners) don't seem to be the best candidates for livable spaces. But fear not! There are ways to make the extra angles work for you. Just reconsider the way they divide up the space. Maybe one area is the perfect shape for a built-in bookshelf, while another could be just the right size for a small bed. Reimagine your space, and embrace it from every angle!
9. Try a rustic wood look.
With their old wooden floorboards and exposed rafters, some attics just want to be attics. So why not take a cue from the space, and decorate with natural wood from floor-to-ceiling? Then add a few pops of soft color with the help of cozy accent furniture, and you'll find yourself with a lovely, rustic small attic worth cozying up in.