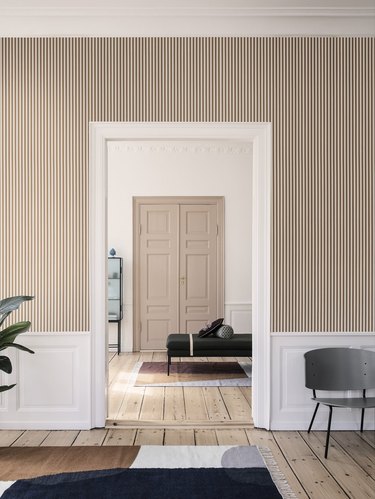 Let's face it: Stripes will never go out of style. But there are always subtle changes — whether in relation to style or color or form — that can make stripes feel new again. Our most recent obsession is with vertical striped wallpaper, which is rooted in traditional design, but is starting to feel fresh again when used unexpectedly in contemporary interiors. Take a look:
Varying stripe width is a great way to make the motif feel more avant-garde:
A bold cabana-like stripe wallpaper might fit in with its art deco surroundings here, but we could definitely see this inspiration translate to a dining room or hallway:
Loving this thin-stripe wallpaper? It's by Danish design company Ferm Living:
Don't feel like your striped wallpaper has to be the star — it's also a great background to gallery walls:
Matching trim to the color of your stripes can really amplify the look:
---
Leonora Epstein is Hunker's Senior Director of Content. She has previously served as Executive Editor at HelloGiggles and as BuzzFeed's Deputy Editorial Director. She is the co-author of "X vs. Y: A Culture War, a Love Story" (Abrams, 2014). Feel free to reach out at leonora@hunker.com.