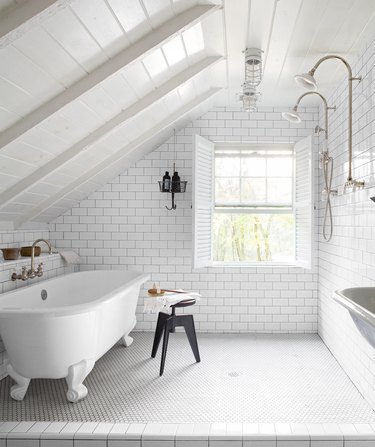 We know a home remodel is no small undertaking, and it's far from cheap. Plus, you usually have to consider which updates will increase the overall value of your property. But that's where attic bathrooms come in. Not only will adding one give your partner, children, or guests their own private space, it will also make sure the upper level is more than just a dinky storage zone.
Some of our favorite designers took on the attic bathroom design challenge (with great results), and here's how to bring their expertise to your own reno.
1. Pick the boldest wallpaper you can find.
You didn't think you needed banana leaf wallpaper in your attic bathroom, but you obviously do. Here, Chango and Co. shows us how it's done. And even though this space is small it doesn't lack one inch of personality. Green board and batten lines the lower half of the room, and a mounted toilet graces the wall too, because why not?
2. Install light wood floors.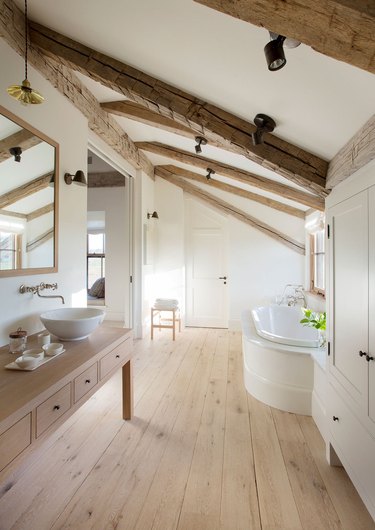 3. Add complementary colors.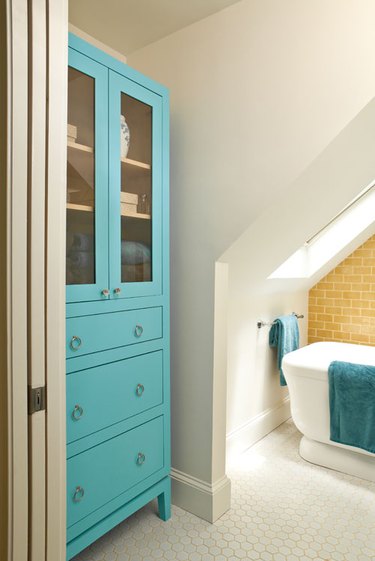 4. Turn the whole thing into a wet room.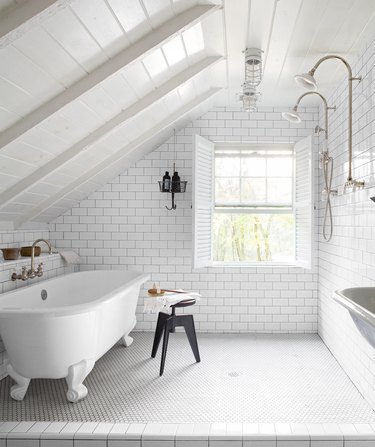 This bathroom is from Leanne Ford's very first interior design project, but she nailed it. Most of the surfaces here are tiled (and what a great use of subway on the walls), making the entire space waterproof. If you have the square footage and the budget to turn your entire attic into a wet room, go for it.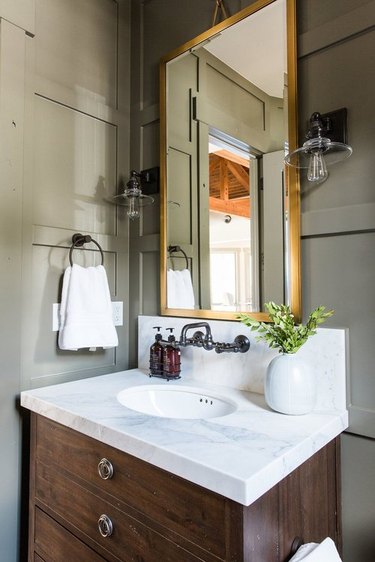 Powder rooms can stand to have a good heap of character. Case in point: this moody space from Studio McGee. There's a sprinkle of brass, a vintage-style vanity, and olive green paneled walls to end all walls. Test the decorating waters by adding only one or two of these elements in your attic remodel, or layer them all.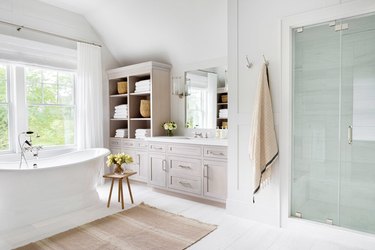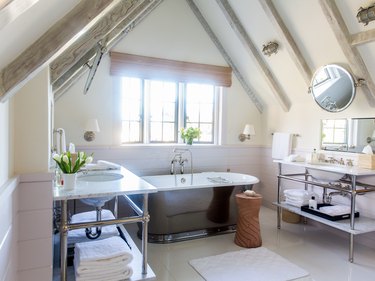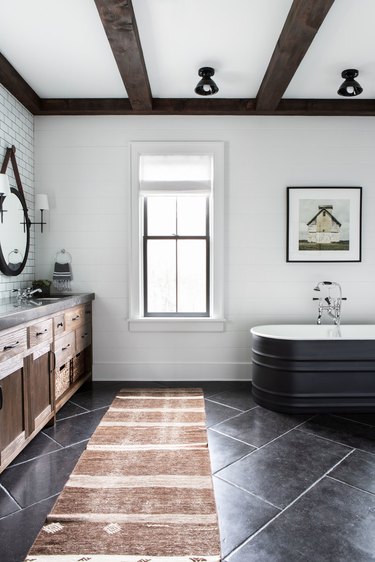 Crisp white walls, a rustic wood vanity, and huge black floor tiles create the perfect balance in this bathroom. The color palette is limited but not boring. If you're a fan of monochromatic spaces, try replicating this look. Just don't forget to add texture with a jute or vintage rug and maybe greenery.