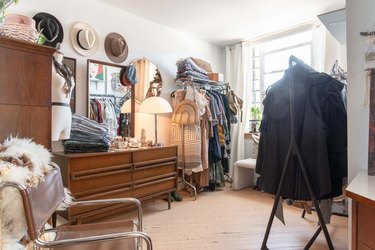 That was more than five years ago. Now based in Los Angeles, California, Ramos sells the building blocks of such design — industrial pipe, steel fixtures, and wood shelves — for custom projects for everyone from homeowners to retailers.
"Everything's really functional, and it's not plasticy," Ramos says, of the appeal of industrial fixtures. "But it doesn't go with every style. You have to embrace that industrial raw look."
For people who are trying to create a functional closet in an open loft space, or who just gravitate to the style, industrial fixtures make it an easy and affordable DIY.
Here are seven industrial closet ideas that can work in almost any space.
1. Be sure to balance hard and soft.
DIY Cartel sells pipe and steel hardware for whatever industrial closet ideas you have in mind. The rough, raw aspects of the black pipe in this space are softened by the gallery wall of baskets, on-trend copper hangers, and the clothes themselves. It's the juxtaposition of masculine and feminine that makes it all work.
2. Use the flexibility of industrial pipe to your advantage.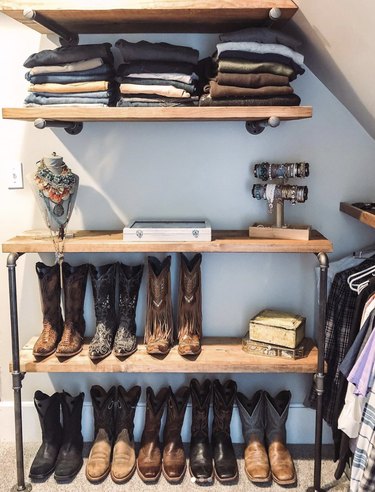 Karrah Smith didn't have a master closet in her house until her husband built this one for her. "The layout of the walls made it tricky, but I told him what I liked and wanted and he made it all work," she said on Instagram. This DIY storage space highlights the versatility and functionality of industrial style — the pipes and reclaimed wood combine in any number of ways.
3. Create a closet almost anywhere.
4. Consider other industrial materials.
Not every industrial closet idea involves iron plumbing. In this uber-chic Parisian apartment, oriented strand board (OSB) is the primary material used throughout for the kitchen cabinets, flooring, the bed frame, and even here, in the closet. For a material that's usually hidden away in the structure of a home, the OSB really shines. It adds a nice industrial counterpoint to the unique, 19th-century space.
5. Maximize limited space.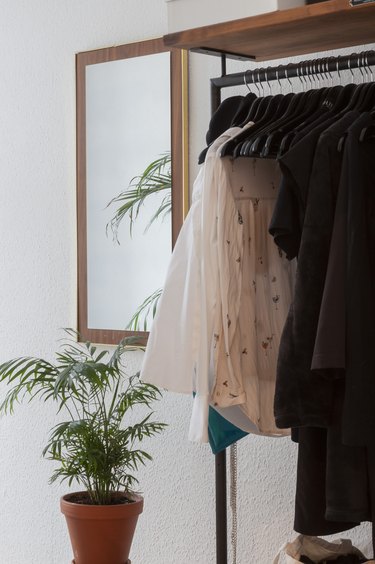 In this adorable one-bedroom walk-up in Central Berlin, space is at a premium. There are narrow high shelves and low profile storage solutions throughout — including in the small sleeping space. The steel and wood shelving is sleek, giving the industrial closet a more refined feel.
6. Use industrial elements sparingly.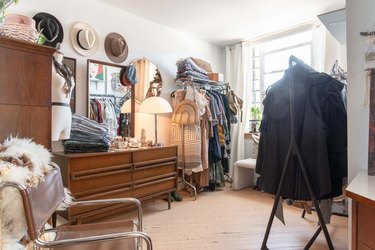 In this modern-eclectic loft in Philadelphia, Pennsylvania, Liz Sparacio had to make the space work for her needs. That meant a lot of standalone pieces — like garment racks — and having her wardrobe on full display to sneak more storage into the bedroom. You can also DIY a closet with copper pipe yourself. In fun, colorful spaces like this one, the look totally works.