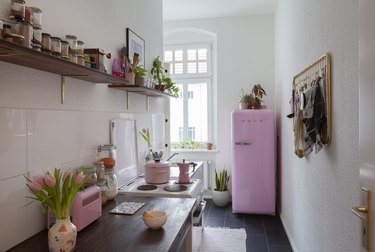 Who: Camille Darroux
Where: Neukölln, Berlin, Germany
Style: Midcentury meets flea market chic
When Camille Darroux recalls seeing her cozy Berlin apartment for the first time, she doesn't remember much. "To be perfectly honest, the rental market in Berlin is extremely saturated. This was the first apartment where my application got approved. I hadn't even taken pictures when I first looked at it because I didn't think I would get it!" But as luck would have it, she signed a lease and it quickly became the perfect home for herself and Gucci, her rescue pup from Hungary who's a true Berliner now just like her. There was one catch: "I definitely had trouble walking up four flights of stairs, but you do get used to it, thankfully!"
Originally from Paris, Darroux works as a social media consultant, writer, translator, and DJ. And like her career, her spacious one-bedroom apartment reflects an eclectic mix of sensibilities.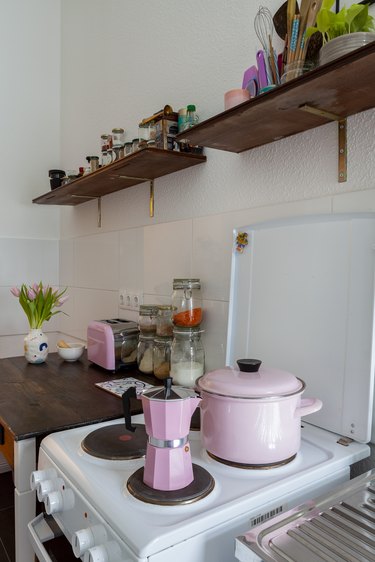 In terms of her approach to decorating the space, "I had a fairly precise idea of how I wanted it to look," she says. "However, I owned no furniture apart from one table that used to be my childhood desk." She asked a woodworker to create new legs for it and now uses it in her kitchen.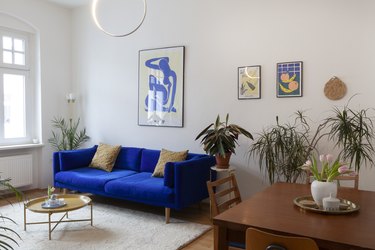 As for focal pieces, she went bold. "Neutral-colored couches never appealed to me. One of my closest friends had a blue velvet couch in her apartment in Brussels and I really wanted to get one too. I feel like it's such a stand-out piece to have in a living room."
The couch, from FormelA, was the one thing she really splurged on, while hunting for vintage finds on eBay or at local flea markets and even picking up accessories at H&M Home.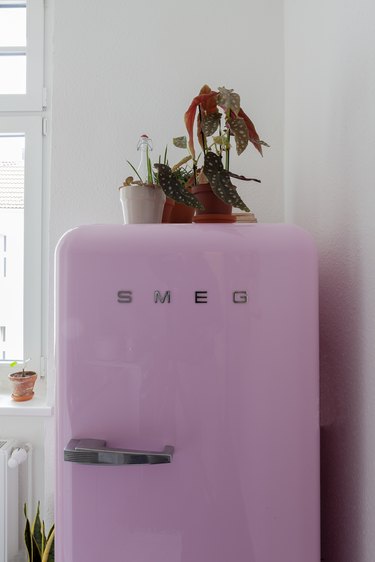 Darroux's other favorite find is her standout SMEG refrigerator. "I have a weakness for baby pink and I've allowed myself to express it unapologetically in the kitchen."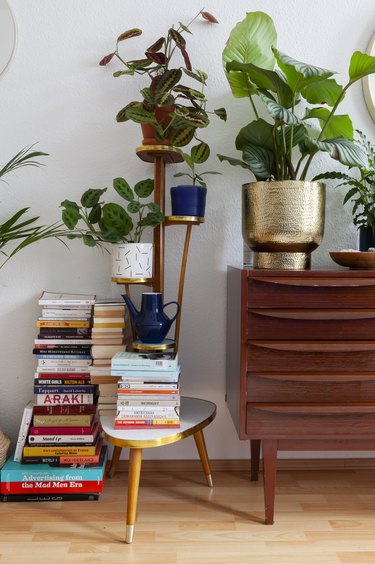 Overall, her love of midcentury furniture and art brings balance to the classic old-world lines of her apartment. The pops of blue, gold, and pink, along with the focus on shapes and textures, add a lively and unexpected vibe throughout.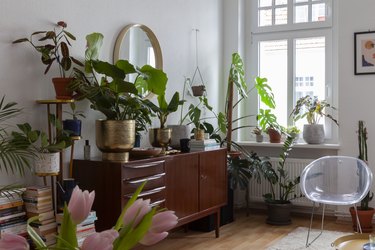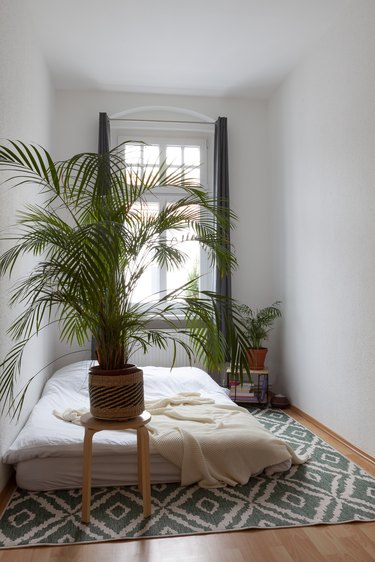 And to top it off, her love of plants is on clear display everywhere you look. "I tried to make it as cozy and inviting as possible," she says.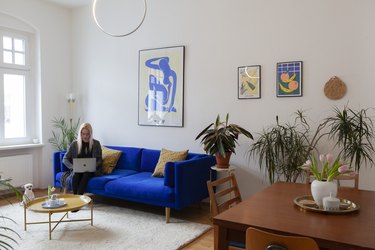 "My favorite part is my living room, where most of my plants live and where I spend most of my time working from home," says Darroux, who prefers working from the comfort of her gorgeous couch and admits, "I don't like working at a desk." All she needs is a well-stocked kitchen with enough supplies to cook or bake, and most importantly, Gucci: "It feels so empty when he's not here."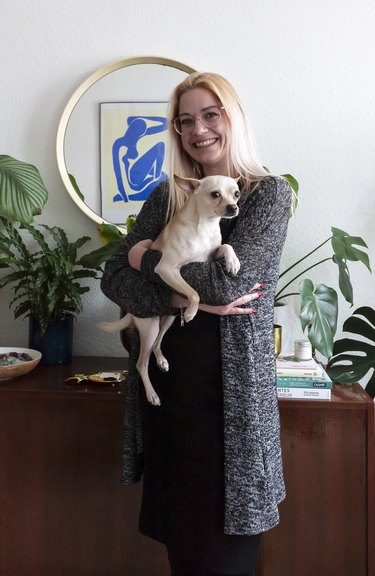 So, the apartment she barely saw before moving in became the home that reflects exactly who Darroux is now. "I've been interested in interior design and decoration for many years, but this is the first time I'm able to showcase that interest in real life. I actually had a friend message me when I started posting pictures of my place and said, 'Wow, I didn't know you had such good taste,' which was so funny."
Locals Know Best: Camille's Berlin Faves:
"My absolute favorite building in Berlin is the Lokdepot. It's where Kreuzberg and Schöneberg meet. I would love to live there!"
Boxhagener flea market on Sundays in Friedrichshain. "I'm always practicing my haggling skills there and enjoy finding vintage tableware."
Trödelhallen (thrift stores) across the city for pretty vintage vases, glasses etc.
Marsano Vintage. "I am obsessed with their flower shop next door. Such beauty!"
"I like the Saturday farmers market at Südstern in Kreuzberg (I used to live close by). It's small but has everything you need. I love getting an Aperol Spritz from the Italian food stand on sunny days!"
"Happy hour isn't really a thing here, to be honest, but I do go out in bars a lot!"
Gaststätte W. Prassnik – no fuss, home-brewed beer
CHEAP AND CHEERFUL RESTAURANT:
"Wok Show to feast on vegetarian dumplings!"
"I am addicted to flat whites with oat milk, and I think Companion makes the best one."
"Hamburger Bahnhof always has great exhibitions."
"I love watching performances at HAU hebbel-am-ufer.de."
"One of my friends also often takes me on gallery tours around Charlottenburg or exhibition openings in Mitte and it's always a great way to discover new artists!"
---
As an Emmy Award winning creative director, writer and producer I have worked on content for brands like Disney, BravoTV, TBS, Universal, E! and MTV. But I mostly love rearranging furniture and repotting plants at home.