An at-home watering hole is about as luxurious as it gets — especially when you can turn it into a certifiable design moment. Making a statement means taking a risk and what better way to do that than with an industrial style bar?
Utility may be at the forefront of the aesthetic, but don't confuse that with a compromise on style. Industrial design is established around a high-contrast scheme where raw materials (such as exposed brick and concrete) are juxtaposed with materials that are more polished (like stainless or galvanized steel). Distressed details are par for the course, so naturally, it's all about championing the beauty of imperfections.
When it comes to a home bar, channeling these elements into the design means rethinking the usual suspects — bar stools, backsplashes, and even the shelving. Ahead you'll find six fresh and clever industrial bar ideas that are currently inspiring us.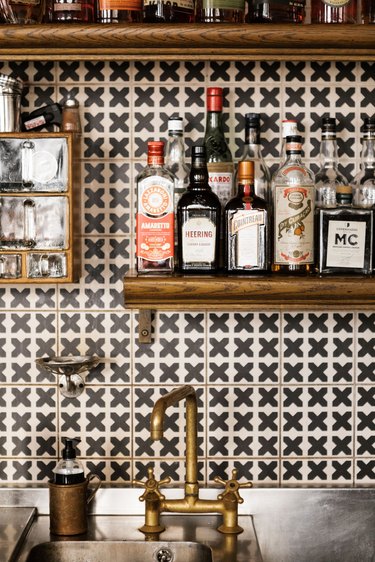 2. Contrast the expected.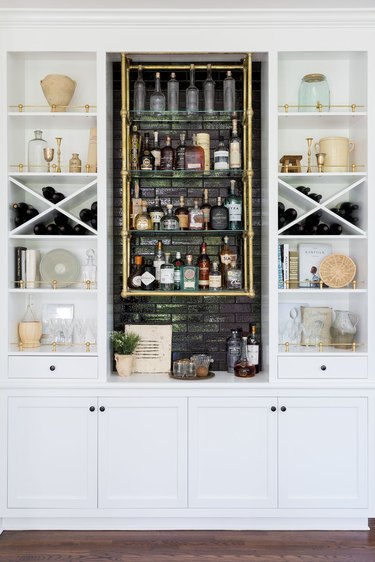 While exposed brick is a staple of industrial style, this glam spot designed by JDP Interiors offers a refreshing twist on it with a semi-gloss tile. The brass piping that comprises the bar is an ode to a signature element of the aesthetic, offering a subtle pop of contrast against the black backdrop.
The break-down of industrial style is relatively straightforward: It's often built from a mix of raw materials, like concrete and steel. Given its inception in the early 20th century, vintage accents go without saying. This setup, spotted on Restoration Hardware, beautifully illustrates the delicate balance between rough and sleek, with glassware and delicate metal accents on top of a sturdy wood and iron cart.
4. Play to your surroundings.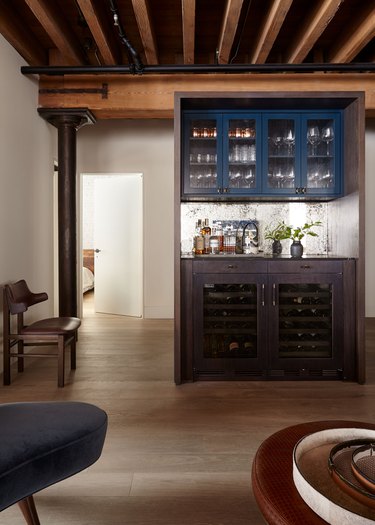 Instead of setting up a bar in the den or living room, go down to the basement where you're more likely to find the coveted elements of industrial style. Use exposed pipes or wood beams to your advantage and allow them to establish the scene. For the actual bar itself, work with materials such as wood, recycled steel, or stone. Take Dean Fine Building's lead and go for a moody mix of materials — a mercury glass mirror backsplash included — to further accentuate the vibe.
Lighting, specifically a statement-worthy fixture, tops our list of favorites when it comes to industrial bar ideas. More often than not, you'll find a home bar paired with oversize metallic shades, and chunky chains. But the tapered, stainless steel pendants in this Beverly Hills home by Katie Hodges Design defy that expectation, delivering a sleek and proportionate alternative that pairs beautifully with the exposed wood beams and wrought iron shelving.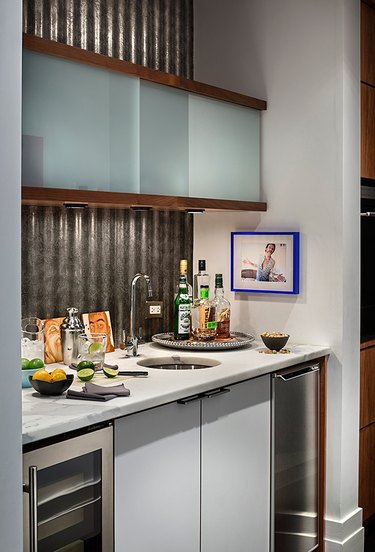 The combination of wood and metal is an unwavering staple found in pretty much every industrial bar idea. And while translating that look to a home bar can take on a variety of forms, this streamlined version from CWB Architects' Boreum Hill project hits all the right notes. The thin sliver of wood outlining the upper, glass cabinets lend a modern touch while the corrugated steel backsplash invites a dynamic and unexpected finish.