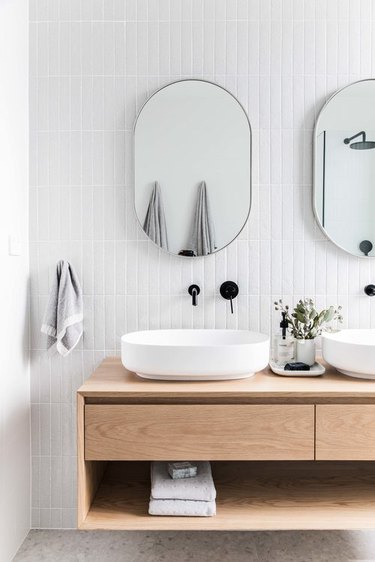 When many of us imagine a spa-like bathroom retreat, we often find inspiration in the jungle. We buy bamboo bath mats, or line our shower wall with river rock. And, while these bathrooms are indeed beautiful and relaxing, sometimes simplicity deserves the starring role. To inspire your next remodel with their minimal palettes, clean lines, and modern designs, here are 10 Scandinavian bathroom ideas that prove sometimes less really is more.
1. Stick with a neutral palette.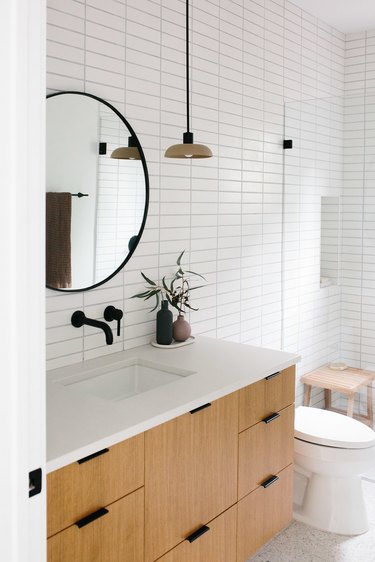 2. Flood your space with plants.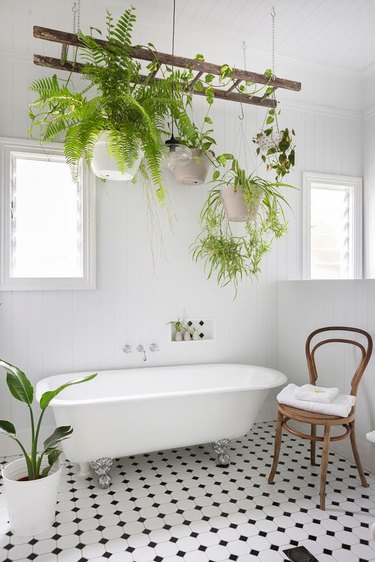 For a region that spends half the year freezing, Scandinavians sure do love their plants. So embrace your love of greenery in style like interior designer Katie Day, and hang your leafy friends from a wooden ladder above your freestanding bathtub. Select plants with interesting leaves for a unique display.
3. Balance with a hint of glam.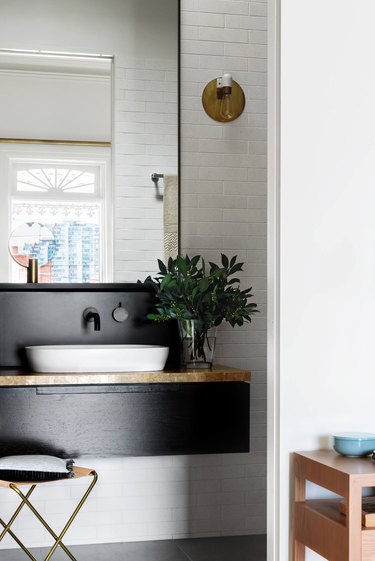 A space that's too stark doesn't suit anyone, striking a balance is key. And interior designer Fiona Lynch did just that in this Australian abode by infusing a little glamour. Brass wall sconces and a black floating vanity transform this bathroom into a Scandinavian-chic refuge.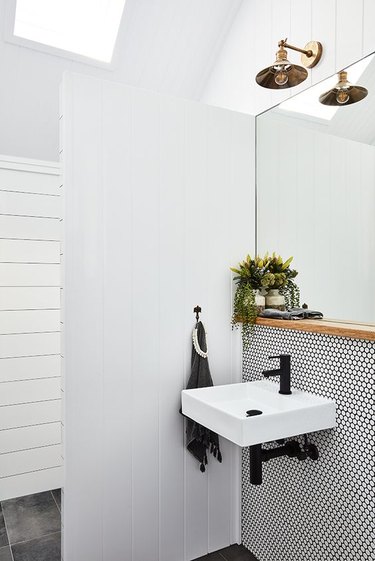 Black-and-white palettes define Scandinavian cool. But before you paint everything, there's an easier way to pull off the contrasting look: Use dark grout to offset your white tile. Ben Mathews and the team from BAM Construction used black grout with white round penny tile to create a striking backsplash.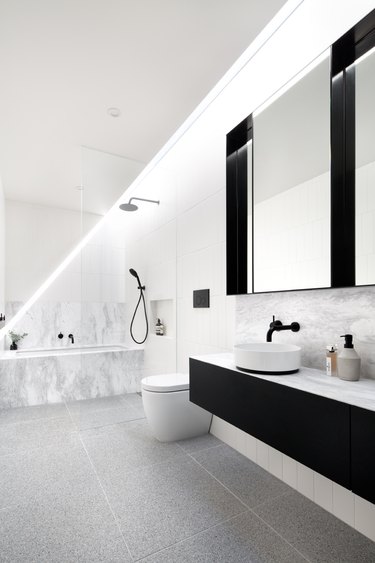 To amp up the contrast, work ​only​ in black, white, and gray like this Australian bathroom designed by Cera Stribley Architects. Don't forget to play with light and shadow, too.
It may seem bold, but millennial pink tile is a fun way to add a punch of color to a Nordic-inspired bathroom. Just keep the rest of the palette simple like the bathroom in this home that features a rosy-hued, patterned floor tile. This sweet shade also pairs beautifully with brass fixtures.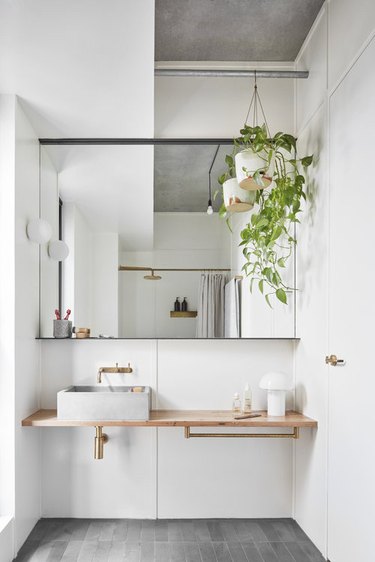 Don't overstuff your home. Look for opportunities to pare down when designing each space. For example, this Scandinavian bathroom designed by Breathe Architecture went with an elegant floating counter instead of a bulky vanity cabinet for a sleek, minimal aesthetic.
8. Opt for nontraditional.
One way to keep a minimal palette interesting is by using materials in interesting ways. This Scandi-inspired bathroom designed by the Australian firm The Stables may be mostly white, but the gorgeous gray herringbone tile accent wall adds loads of drama and texture.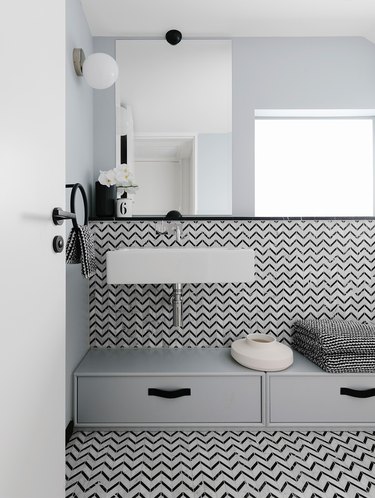 Scandinavian designers love quirky, out-of-the-ordinary tile placement — and integrating this trend into your bathroom is a surefire way to get the Nordic-chic look. Herringbone and chevron are classic patterns, which design firm Arent & Pyke made brilliant use of for the floor and backsplash in this stylish bath.
10. Take advantage of natural light.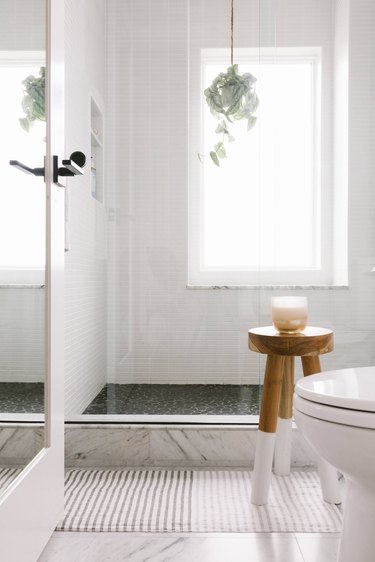 The secret to any beautiful Scandinavian space? Natural light, and lots of it. It seems to have worked for interior designer Samantha Gluck, who transformed what used to be '80s block glass in her master bathroom into a beautiful window. She covered half of it in opaque film so as to not block out any light, but still have privacy.