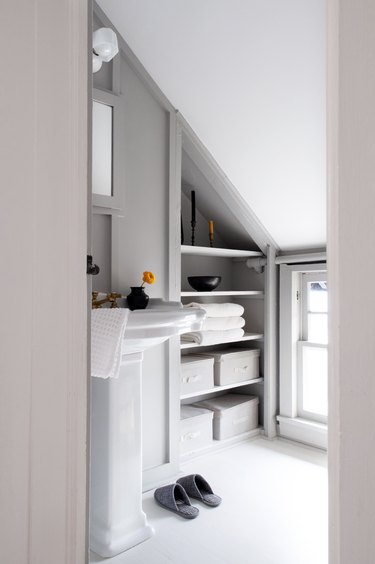 When you're sharing your home with family or roomies, keeping the bathroom, vanity, and storage cabinets tidy is an ongoing challenge. Especially if your bath isn't exactly spacious. But that's when Nordic interior design and styling comes in. Both cozy and minimalist, Scandinavian bathroom storage will keep things feeling functional, uncluttered, and even a little spa-like.
Here are some of our favorite Scandinavian bathroom storage ideas to get your sink, shower, and toilet area in tip-top shape. And don't worry — no medicine cabinet, no problem.
1. Don't worry if your countertop is small.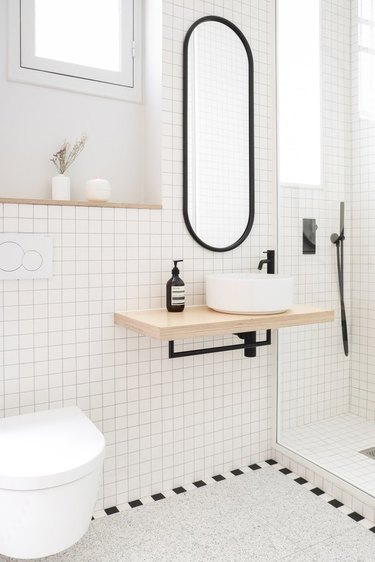 Nothing says Nordic more than the light wood, white walls, and simple mosaic tiles in this bathroom. The sleek vessel sink sits on a minimalist slab, creating a vanity area for soap and trinkets. And we're also loving the wood shelf (which could be a DIY) that fits right above the tile.
2. Open up a linen closet in your bathroom design.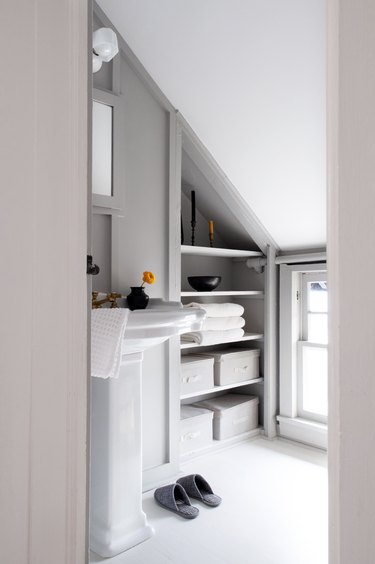 In older homes, linen cupboards and closets were often built inside bathrooms. If you have one of these retro design features don't hide your toiletries behind a door. Open things up, and paint the shelves a cool shade of white or gray to tie into the rest of the room's color palette. Storage bins on the lower levels can hide cleaning supplies, while upper shelves hold towels, trinkets, and a bit of greenery.
3. Float shelving above the toilet in a small bathroom.
The space above a toilet can be a prime spot for a little extra storage. Keep things minimal with a few neutral colors and simple wood shelves that are deep enough for towels and some self-care treats.
4. Make things work with a shower caddy that has a Danish edge.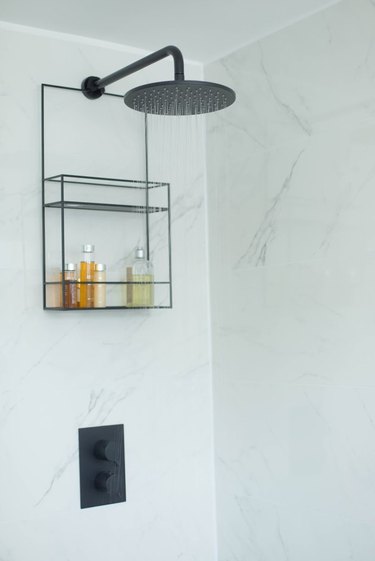 Shower caddies are the perfect solution when you need to store shampoos and soaps in a tight space. We like how this one embraces minimalism and complements the black fixtures simultaneously.
5. Hide your stuff in a stylish floating vanity.
A floating vanity will up the ante when it comes to Scandinavian style storage. We love how this wood option skips drawer handles and pulls for a sleek look. But it can still hide everything from toilet paper to face wash.
6. Toss the towel rack, and go for a Scandi ladder.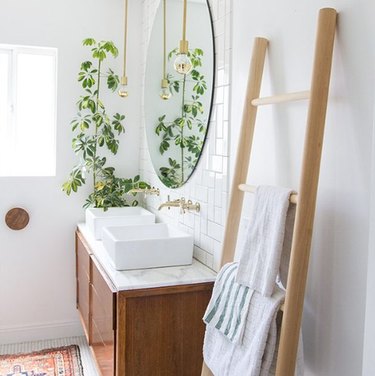 Stick to the Scandinavian theme of using natural and simple materials, and toss out your towel rack. In its place, add a wood ladder for extra storage space. It will create a cozy feel and won't eat up any precious square footage.