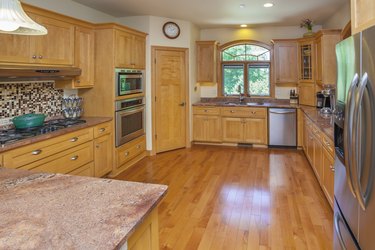 A bank of maple cabinets in a kitchen add warmth, texture and natural beauty to this busy room in the home. It also serves as an excellent canvas for pops of color, a draping of printed fabrics and rich swaths of paint on the walls.
From knowing the best paint colors that go with natural wood to the most attractive prints and that highlight its natural beauty, there are a few décor dos and don'ts to keep in mind when decorating this popular gathering space.
Tip
When choosing a base color, consider the dominant hue within the wood fixtures, trim or built-in bookcases.
Wood for Living Spaces
Wood paneling or cabinets that are newer have a different patina than older woods, which have had time to acquire a rich patina, as well as more complexity and depth.
Whether it's oak, maple, cherry or walnut, natural wood has a color tone that can be enhanced by paint color or patterns on fabric. The overall color tone of a bank of wood kitchen cabinets can range from rich, dark reddish or bluish and gray-based browns to brighter yellows or muted orange hues.
Consider if you would prefer a high-contrast color or fabric to pair with the shade of dark brown or if you would rather allow the wood itself to be the centerpiece of the room. But don't be afraid to mix woods in one room, such as a smoky mahogany with a buttery oak. The mixed woods can create a casually comfortable style.
Understanding the Color Wheel
Although many consider wood to be natural, it has a color. When choosing colors for a space filled with wood fixtures, from the carpet to the paint and fabrics on the walls, you need to decide if the wood is yellow based or blue based. Yellow based is cool, while blue based is warm.
From there, you can decide to contrast the wood with opposite colors or highlight the wood's base color with hues from that side of the color wheel. For instance, a maple with yellow highlights would work well with any shade from the sunnier side of the color wheel. To contrast a maple with yellow highlights, a color from the warmer blue side of the wheel will offer a bold style.
Colors that Go with Maple Wood
Paint colors that go with maple cabinets are abundant. Choosing the right kitchen paint colors with oak cabinets or maple cupboards will highlight the tone of the wood, according to Better Homes and Gardens.
To bring out the toasty notes in maple wood, consider a mild taupe, rich mushroom or bamboo hue for the walls or fabrics. Textured and heavy fabrics will also bring out the warmth of the wood.
For a country or farmhouse style, Country Living suggests lighter fabrics with checkered or tartan prints. Floral fabrics will instantly add a touch of country charm to a kitchen decked in maple wood cabinetry.
Paint Colors for Dark Woods
For a high contrast, paint colors that go with dark natural wood tend to be lighter and from the sunnier side of the color wheel. Ideas for contrasting paint colors for dark wood include pale or lively greens, light blue, deep or pale grays, bright oranges and muted yellows.
---
Kimberley McGee is an award-winning journalist with 20+ years of experience writing for a variety of clients, including The New York Times, Las Vegas Review-Journal Home section and other national publications. As a professional writer she has researched, interviewed sources and written about home improvement, interior design and related business trends. She earned a B.A. in Journalism from the University of Nevada, Las Vegas. Her full bio and clips can be viewed at www.vegaswriter.com.
View Work