Now that you've added maple cabinets to your kitchen, you'll want to complete the remodel by adding paint colors, cabinet handles and accessories in colors that accentuate the beautiful wood tones. The shade of maple wood you've selected for the cabinets will help determine which hues work best in your kitchen space and bring attention to the fine craftsmanship of your cabinets.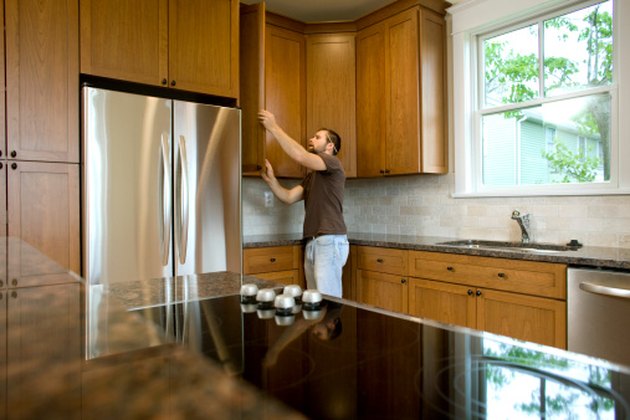 Dark maple in chocolate tones, or the shade of maple tree bark, creates a warm and cozy kitchen space. You can give the kitchen a monochromatic look by painting the walls in a slightly lighter shade of brown, such as cinnamon. A cooler shade like navy blue or eggplant will complement the dark maple and is a receding color, which can make the kitchen look a little more spacious. Cabinet handles painted in these shades will also add a sophisticated pop of color to the kitchen without being too overpowering.
Maple cabinets that are tinged with red are a welcome addition to the kitchen because red has the ability to stimulate the appetite. Cherry red cabinet handles or knobs will complement other red appliances in the kitchen like the blender or toaster, and a muted red color on the walls will bring attention to the inviting maple color. Terracotta-colored wall paint also enhances the red maple cabinets; this color looks good with handle-less cabinets and complements white or tan appliances and kitchen counters.
Medium colored maple, such as wood in a chestnut color, is visually appealing when paired with hues that are cool or nearly pastel. For example, sea foam green complements chestnut-colored maple and actually makes the cabinets look slightly darker. Lemon yellow walls, as well as yellow cabinet handles, add life to the kitchen; the shade can also increase metabolism.
Pastels, as well as neutral shades like tan or variations of white, are the ideal choice for light maple cabinets. Wheat-colored cabinets look good with cream-colored or ivory walls but will also stand out against lilac and soft pink shades. To combine shades of brown, surround the light wood with nutmeg-colored paint to bring more attention to the cabinets. If the counters are a pastel shade like light blue or pistachio, painting the cabinet lining with these hues is ideal. Classic white works well with wheat-colored maple and can also be used for the cabinet handles and kitchen counters; it also pairs nicely with stainless steel appliances.