Our passageways often get overlooked when it comes to interior design and decorating ideas. But making a statement in a modern hallway should be a must. In fact, adding a chic style moment and home decor to this small space won't even require a lot of money or time.
From incorporating a little console with hallway storage space and shelving to creating a whole mood with a gallery wall and dramatic paint colors, here's all the modern hall inspiration to help you up the ante whether you rent or own, in a small entrance or a large one.
1. Go bold with a modern-style accent wall.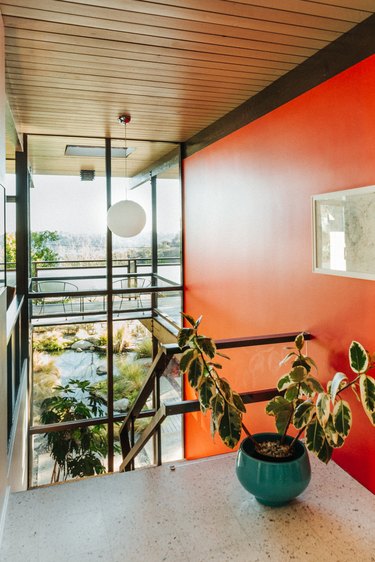 Want a quick hallway renovation idea? Paint a bold color on an accent wall to keep things modern. And even if you favor a minimalist decor look, choose something bright like this burnt orange to bring some pow to your passageway. If you have natural light in your entrance hall, the hue will pop even more.
2. Pick a vibrant runner.
To make a splash in your hallway without spending too much, incorporate a colorful runner. We're loving how the geometric orange tones of this one create a super cool contrast to the teal walls.
3. Try an unexpected wallpaper.
Tired of white walls and want to grab peoples' attention when they come through your front door? How about hanging some wallpaper in the hallway to really turn things up? This soft pattern seems to bring the outside in with a beautifully neutral palette.
4. Keep things simple with a focal point.
If you want an all-white look in your modern hallway, consider adding a simple focal point with a piece of art or a textured wall. Take a look at how this simple addition just makes the entire space way more interesting.
5. Create a little library.
If your hallway has the space, hang some simple shelving from floor to ceiling to create a lovely bookcase look. Track lighting will keep things illuminated when you stop to flip through a few pages.
6. Go moody with dramatic paint.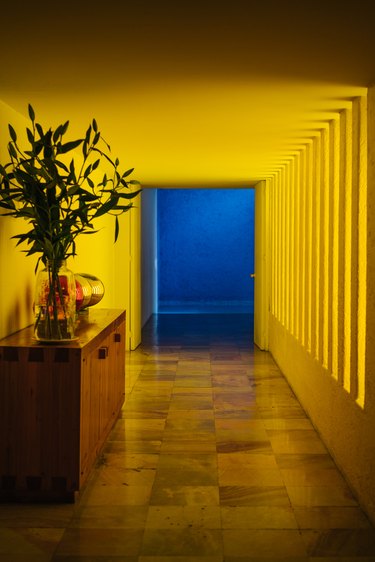 Feel like your hallway is just blah? For an easy design idea, paint the walls and ceiling with an on-trend color to turn the space into a whole mood. This golden yellow walk-through will warm up your spirit in seconds. And you can mount coat hooks to make things practical.
7. Try mixing in texture.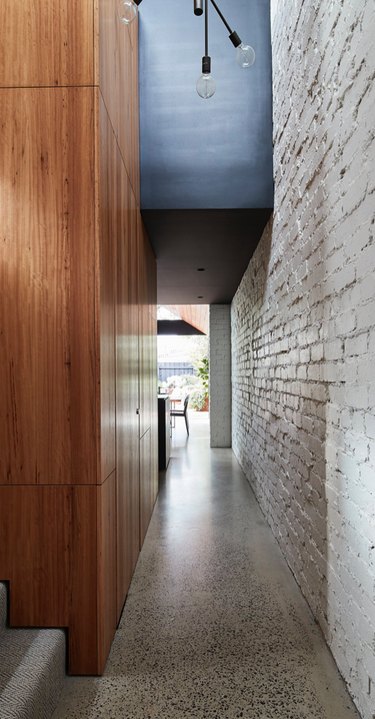 Do you live in a loft with concrete floors or brick walls? If so, cherish that texture. If you're not so lucky, add texture in other ways. We love the look of shiplap or wainscotting on one or all your hallway walls. You can also take a DIY approach and add terrazzo tiles to your floors for a makeover that won't break the bank.
8. Make a console table the centerpiece.
Adding a gorgeous console table like this one to your hallway will bring everything together. Mount a mirror above, and it'll become the perfect pit stop for last looks before you head out. The slim table will also add a subtle centerpiece to the place you constantly pass through.
9. Add a pendant light or chandelier.
Whether you live in a traditional or modern home, installing hallway lighting will make things feel both timeless and fresh. Go for a chic black pendant like this one to turn a neutral hall into a black and white runway. Who's ready to strut their stuff?