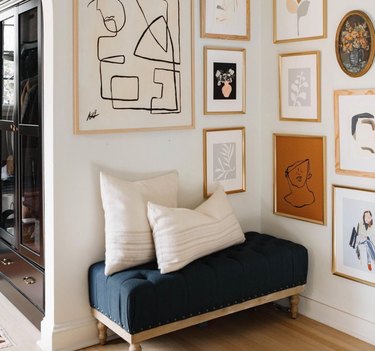 Have a hallway in your home that you've been wanting to makeover? Well, how about creating a cohesive focal point that features photos, art prints, and paintings? There are plenty of ways to approach hallway gallery ideas, from mixing black frames with brass, incorporating minimalist accents and photos from your travels, and even hanging kids' artwork for a personal touch. But where do you start so you wind up with an entire wall that wows?
1. Keep it cohesive with a single style.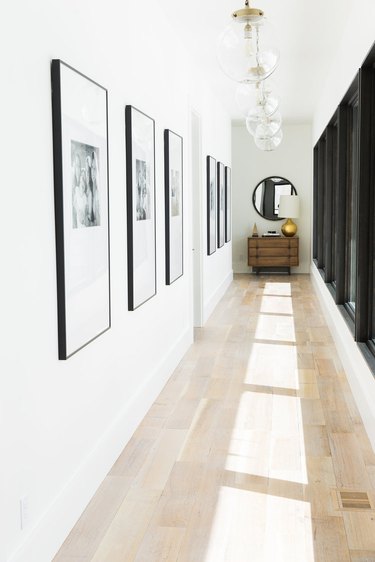 Got some family photos or snapshots you really love? Places like Shutterfly offer easy editing tools so you can get printable versions of your faves in black and white. Hang them in matching frames for a beautiful gallery wall moment that will rival the one in this Studio McGee hall. You might even be tempted to host an art show to show off the hallway gallery wall.
2. Source a collection of prints online.
Need to jumpstart your art collection on a budget? If you just moved into a new pad and your decorating dollars have dwindled, Etsy is a great place to get a ready-made print collection. It'll look super sophisticated, and you won't have to overspend. Go with affordable wood picture frames from IKEA, and no one will know your hallway wall art was curated with a couple of clicks.
3. Turn a landing into a place for lingering.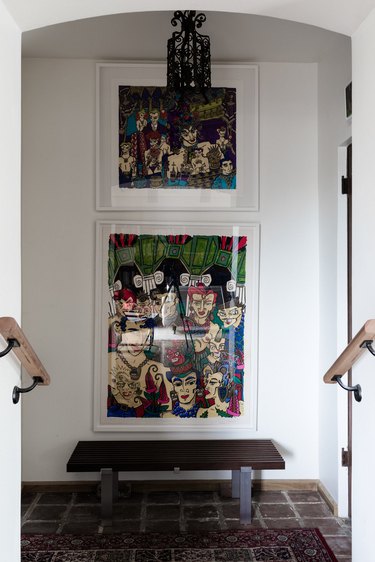 When your hallway or entryway includes a staircase landing, you've got the perfect place to pause and appreciate a little art. We like to think it's a nice location for hanging something meaningful on a wall that might otherwise be ignored. Extra credit for a bench where you can grab a moment of peace while passing through.
4. Paint the walls a contrasting color.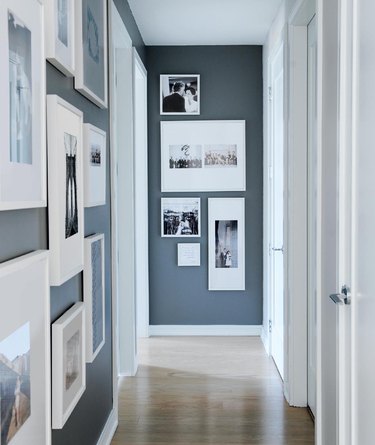 Putting all your personal photos in white frames of various sizes is never a bad idea in our book. Take it to the next level by painting the walls in your hallway a darker shade, like graphite gray or blue, to showcase the gallery with a super cool color scheme.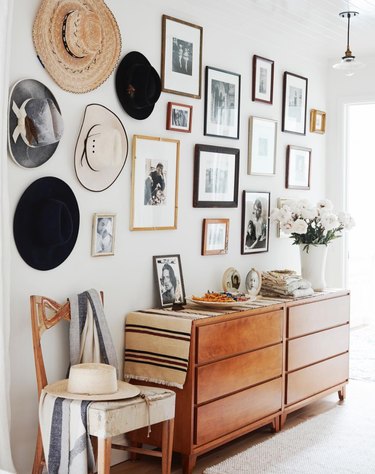 The biggest rule about coming up with a hallway gallery idea is that there are no rules. Put your personal style first, and don't feel daunted about only hanging the perfect pic. We like this entry hall because it has a unique style and seems so intimate. From cowboy hats to multigenerational photos in mix-and-match frames, it just feels like home.
6. Pick a theme, and go all in.
Do you love botanical prints? Or vintage watercolors of birds? Art collections don't have to be museum-worthy to create a gallery that will make people stop in their tracks. Here's proof. This display is featured in a stairway, but it could easily work in a hall. The assortment of floral paintings and prints create a major vintage moment.
7. Add a shelf for your tchotchkes and greenery.
Want to add more than just black and white family photos to your gallery wall? Mount a simple shelf that will give you space to display your favorite home decor pieces and plants. Got little vases and statues? This is their time to shine.
8. Showcase all artists in residence.
If you've got kids, hang their favorite creations for a hallway gallery wall that's an eclectic reflection of the whole family. Pick sturdy frames, so you can switch out stuff from time to time. You'll have a living collection that remains fresh and fun.
9. Turn a corner into a gorgeous gallery.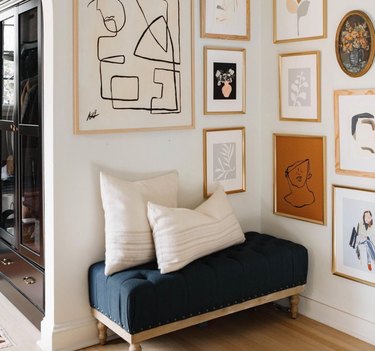 Got a small entryway or tight hallway near the living room? Don't settle for a blank wall. Instead, load up a corner with a collection of prints you love for a cozy gallery that makes a major impact. We appreciate how this space feels super high brow but can be recreated with some simple DIY frames and Etsy finds.