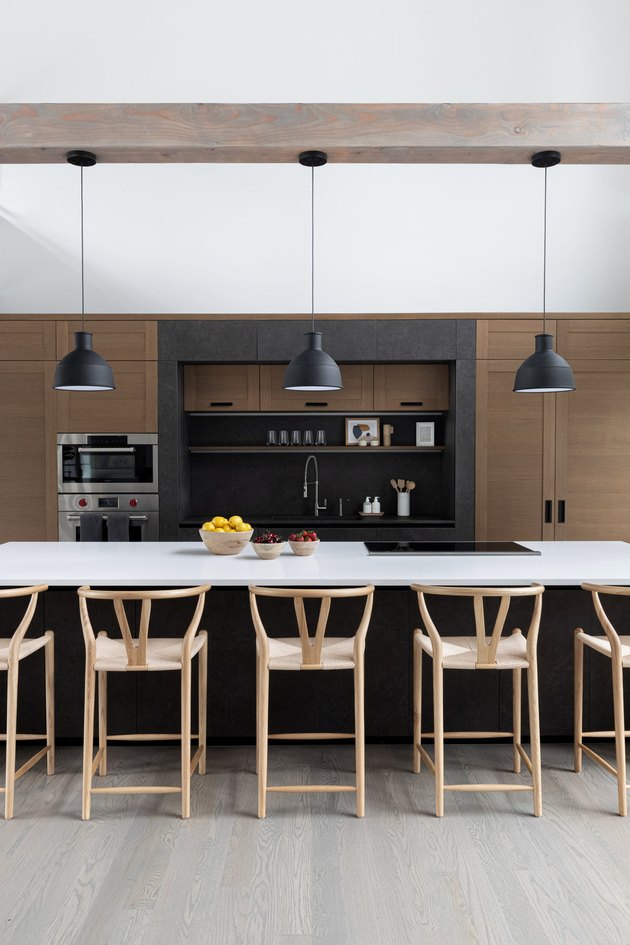 Have you found that no matter how big your kitchen is, there never seems to be enough room? That no matter how you rearrange or redesign, you're still bumping into your partner or tripping over your children's feet? We feel you. Convenience is key for a seamless kitchen design, though — think storage galore, appliances within reach of one another, and plenty of working space. One convenience we particularly love, and maybe one you haven't considered before, is an island stovetop.
A stovetop on an island? Oh yes. Consider an island the perfect home for a stovetop, one where you can cook up dinner in front of your family or guests instead of turning your back on them. Be warned of a few downsides, though: You'll need to keep your cooking contained (as there's no backsplash) and smoke to a minimum (as there is often no range hood). You're also sacrificing some island space.
Still intrigued? Scroll on for eight beautiful kitchen islands with stovetops that'll inspire you to start construction tomorrow.
What's white, wooden, and chic as hell? This kitchen from Regan Baker Design that features a white quartz island with a stovetop, as well as a singular open shelf which forces you to stay organized. Housing your stovetop on the island turns the whole space into a social hub, so you can cook and entertain simultaneously.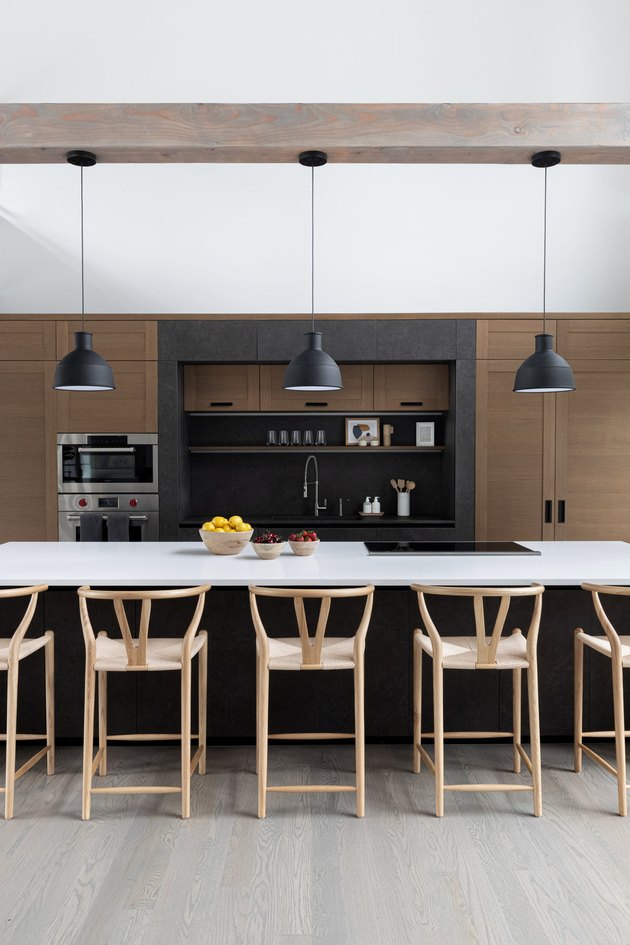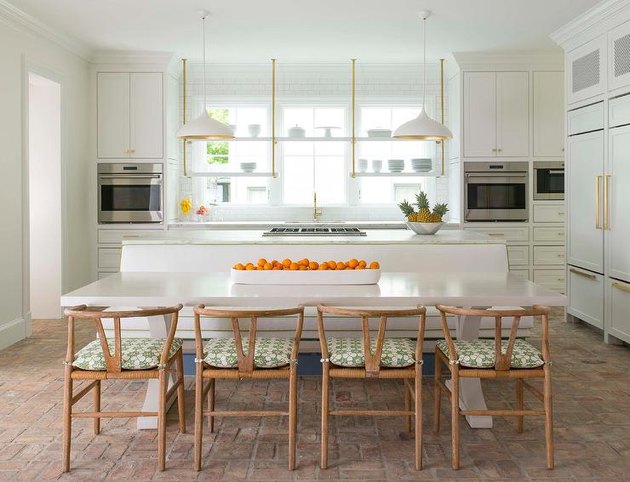 The symmetry of this bright and white kitchen, designed by Jenkins Interiors, is so satisfying. If you place the stovetop in the middle of the island and parallel to the sink in your own space, you'll be able to move easily from washing dishes to pan-frying with just a turn of a heel. Plus, an adjoining table that merges with the kitchen island will make it so you don't lose any sit-and-eat real estate.
5. A Stovetop for Every Style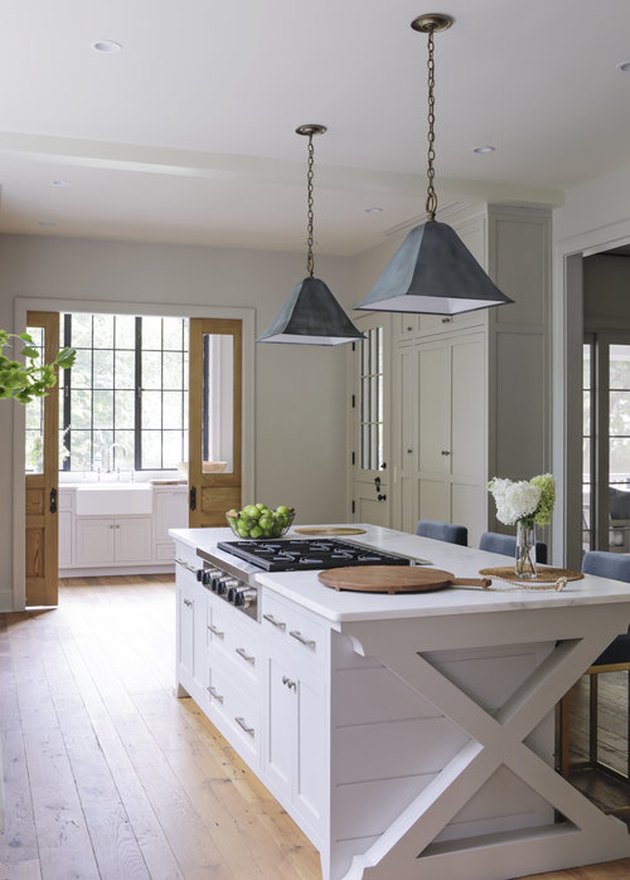 Is your home aesthetic more farmhouse than modern? An island stovetop will pair well with a rustic look too, as evidenced by this Rachel Halvorson kitchen. (Hello subtle shiplap, we see you!) Here, a gas range makes for a social island where you can whip up dinner while your family or guests gather 'round.
If you're prone to setting off the smoke alarms while cooking (no judgment), consider installing a range hood over your island stovetop. This Case Designs kitchen did just that, giving it the perfect pro chef vibe.
7. A Spot for Catching Up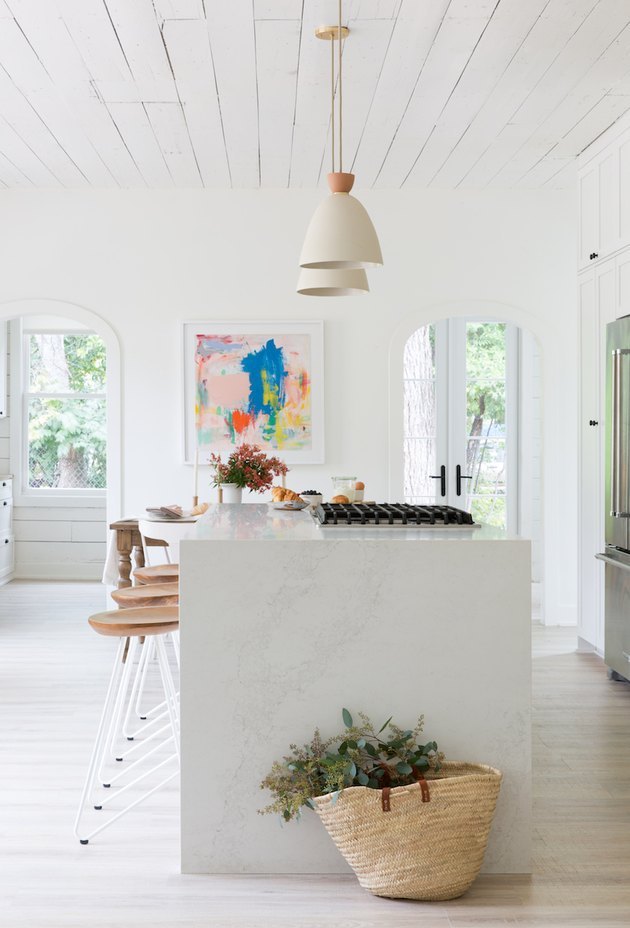 If you're the entertaining type, you'll especially appreciate an island stovetop, so you can mix and mingle with your guests while putting the finishing touches on dinner. This Camille Styles design proves it's worth it to invest in quality counter stools, too. That way your guests (or the family) can slide up to the island for daily catchups.
What's not to like about this Krissy Peterson kitchen? The glass pendant lights, sleek farmhouse sink, and integrated island stovetop all work together. Plus, the neutral shades, from light (the backsplash) to dark (the island) to in between (the wood floors), are so classic. The look feels current now and will still feel fresh a decade from now.
---
Megan writes about design, travel and wellness for Domino, Lonny, Wit & Delight and more. Her life rules include: zipper when merging, tip in cash and contribute to your IRA. Be a pal and subscribe to her newsletter Night Vision.
View Work