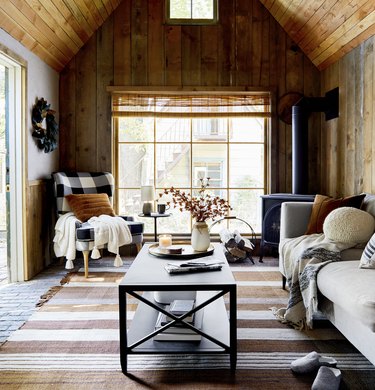 Family rooms drum up feelings of warmth, which isn't that surprising considering they're primed for movie marathons, game nights, and connecting with loved ones. Traditionally meant to function as an informal alternative to a living room, nowadays, the two can be one and the same. So when it comes down to decorating, few aesthetics have the ability to emulate the essence of comfort like farmhouse style. While the bucolic approach is typically preceded by either modern, coastal, or scandi these days, isolating its core essence means focusing on its rustic roots.
In a farmhouse family room, you can expect to find traditional furniture, rich textures, soft lines, and lots of reclaimed wood. Neutrals are a staple of the style and you'd be hard-pressed to find anything too frilly or extravagant. In short, simplicity always reigns supreme and functionality follows suit.
If you're curious to see how all of that plays out, read on for seven cozy farmhouse family room ideas that channel the best of bucolic living.
1. Add shiplap to the ceiling.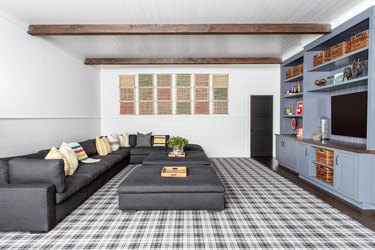 Chip and Joanna Gaines brought renewed interest to shiplap, and as a result finding a farmhouse style home without it is harder than you might think. Cue this sizable family room, designed by Chango & Co., that features the signature paneling on the walls and ceiling, and note how the area feels more defined thanks to that subtle detailing. The on-theme plaid rug adds visual depth, while a pop of color by way of the built-in media cabinet keeps things feeling fresh.
2. Mix and match materials.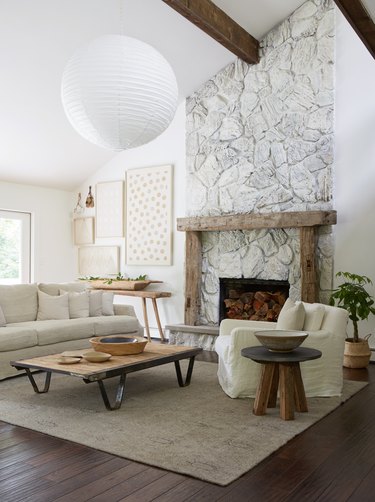 This farmhouse family room by Leanne Ford digs deep into the bucolic scheme, channeling the quintessence of the style. The combination of iron and reclaimed wood is a hallmark of the aesthetic and the low-set coffee table here is a perfect example of making it work. Follow the designer's lead and surround raw, industrial materials with soft textiles and a light color palette.
3. Be generous with texture.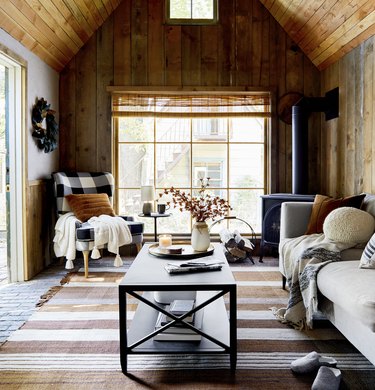 This farmhouse family room designed by Emily Henderson takes cozy to the next level. It's all about thoughtfully layering a rich assortment of textures — think throws, rugs, pillows — to create an atmosphere fit for lounging. Refresh your space for the season ahead by integrating deep jewel tones and offset them with plaid or checkered pieces to fit the theme.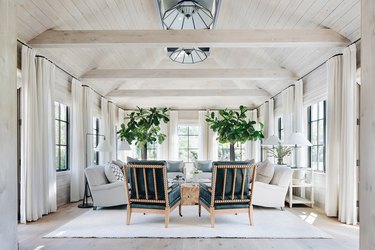 5. Get creative with fabrics.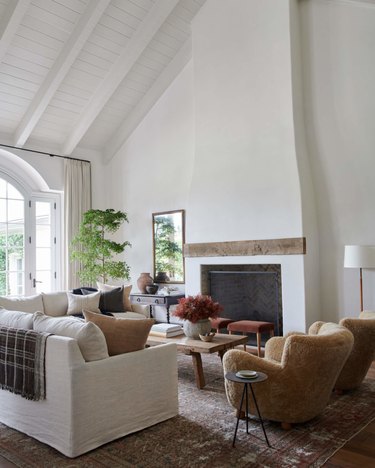 In this family room, Amber Lewis pairs farmhouse with a Belgian-inspired approach and we couldn't be more in love with the combo. Neutrals set the groundwork while reclaimed wood accents define the space, allowing the bold medley of textiles to tie it all together. The fur-lined club chairs not only stand out in color and texture, but they offer a non-traditional riff on the classics.
6. Designate a focal point.
A farmhouse family room wouldn't be complete without a fireplace that can double as the main attraction — and a functional one at that. This dreamy layout spotted on Farmhouse Living allows the hearth to remain the center of attention with its floating wood mantel and the vintage mirror up top. Dried florals or even tall stalks of wheat can help drive the look home.
Studio McGee's take on a farmhouse family room means plenty of seating options for the whole crew. Note how the space is roughly styled out in the shape of a square with a diverse array of options at each side. While the sectional takes up the majority of the space, the X-benches can be easily moved around to accommodate more people when needed. The upholstered ottoman-turned-coffee table in the center is a bonus.