While there is no consensus on a single best time to buy a new mattress, several opportunities for an amazing deal arise each year. Look for the best options around long holiday weekends and in late spring, when older models are cleared out of retail stores to make way for the new. Haggling may also net you a better price at a mattress shop when you really need to buy that new mattress during a non-sale period.
The Month of May Means Good Deals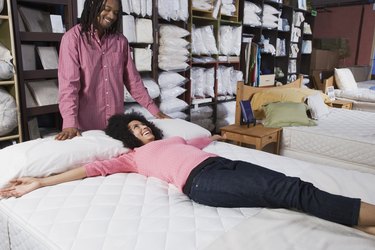 The mattress industry rolls out many of its new products in June or early in summer, which means that both online and brick-and-mortar stores need to make space for new inventory. Check prices starting in March or April, as some retailers clear out inventory earlier than others. This way, you'll be pinpoint exactly when the price drops on the model you're considering. If several shops are within short distance of your home, try out a few mattresses to see which suit your sleep needs. Ask the store representative when older models are marked down for clearance. In some cases, old models and floor models may stay on sale for several months or until they've sold out. Pay close attention to the regular retail prices to ensure you're getting a good deal when your favorite mattress type goes on sale.
National Holiday Weekend Savings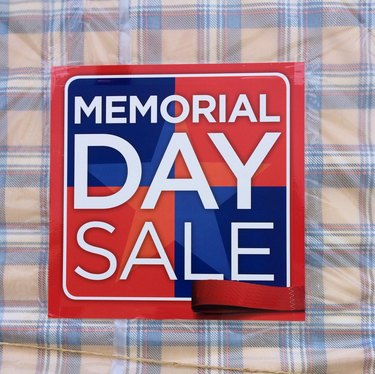 Major government holidays such as Memorial Day, Labor Day and even Presidents Day are excellent times to buy a mattress. Retailers tend to offer significant savings on mattresses and major appliances during these extended weekends, since many people have an extra day off work, which means an extra day to shop. And couples are more likely to have time to shop together on holidays, which is an ideal scenario for mattress shoppers that share a bed. Since government holidays don't generally involve gift-giving or massive family feasts, shoppers have a little more time and money to spend on themselves and their homes than they have during the usual holiday-season sales. Even though July 4 doesn't always mean a three-day weekend, mattress retailers also offer good sales during this holiday period. Check the ads to see how long the deals last; they may cover the nearest week (or at least the weekend) that falls nearest to Independence Day.
Online Equals Better Everyday Prices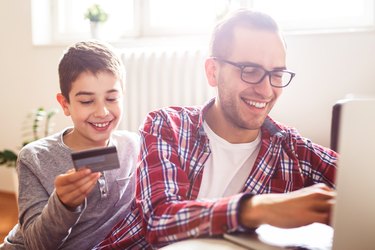 Online retailers tend to offer better everyday prices on mattresses than their brick-and-mortar counterparts. Because shopping online isn't limited to the usual retail store hours, prices remain fairly consistent from month to month with online retailers. For best results, narrow your options down to several models and brands that meet your sleep needs, then compare prices through several online retailers and brick-and-mortar stores. The online price may be better up front, but be sure to read the fine print about shipping charges, taxes and return-shipping fees, should you need to return the mattress for any reason. Read reviews about the online retailer to ensure you're shopping with a trustworthy company.
Be aware, too, that a major-brand mattresses may carry different model names for different retailers. This is a way for retailers to offer what appears to be an "exlcusive" mattress, even though they are virutally identical to mattresses carrying different model names at other retailers. To accurately compare, look closely at the precise specifications of the mattresses offered by different retailers. A particular mattress from a major manufacturer may go by two or three different names at different retailers.
Haggling Sometimes Works
If you've had your eye on a particular mattress and know that it has been offered at a substantially better sales price at another retailer, mention this to the sales clerk. Thanks to the massive markup on everyday mattress prices, some retailers are able to offer up to 50 percent off during their planned sales events. The retailer may be willing to offer you a similar deal if you're ready to make a purchase on the spot when the mattress isn't on sale. Quoting an online price—or proving it by showing the store clerk a web site print-out—may well cause the store clerk to drop the price on the spot.
Haggling works best with actual brick-and-mortar mattress shops. Big-box stores and warehouse clubs may not be willing or able to lower prices at your request.
Black Friday Sales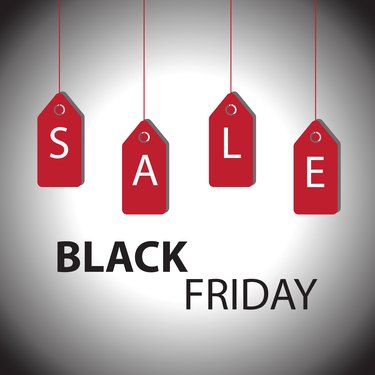 While just about everything goes on sale for Black Friday, it's not necessarily the best time to buy a mattress. The mattress deals found during Black Friday sales aren't typically greater during this season than during any other mattress sale; furthermore, loads of people are out shopping for gifts. If it's time for a new mattress, it's still worth your time to check the Black Friday ads or ask about sales at your local mattress stores. In some cases, they may offer bundles as well, such as a free box spring or foundation with mattress purchase. Proprietary online-only mattress companies are less likely to discount mattresses for Black Friday since they already sell items with less markup than the average brick-and-mortar store. If you're eyeing a few mattresses from an online company such as Purple or Saatva, sign up for their mailing lists or check their sites for deals leading up to Black Friday.
---
Kathy Adams is an award-winning writer. She is an avid DIYer that is equally at home repurposing random objects into new, useful creations as she is at supporting community gardening efforts and writing about healthy alternatives to household chemicals. She's written numerous DIY articles for paint and decor companies, as well as for Black + Decker, Hunker, SFGate, Landlordology and others.