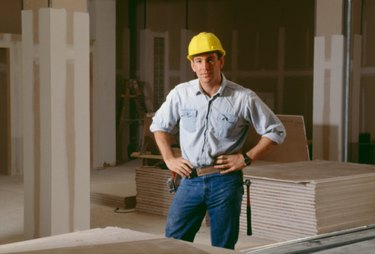 The Housing and Urban Development (HUD) branch of the federal government regulate the construction techniques and materials of manufactured homes. Manufactured homes provide a convenient and often less expensive way to own or rent a home. In years past, manufacturers constructed walls from wood or vinyl paneling to cut down on the weight of the overall home. However, drywall is far more commonly used in manufactured homes because the walls insulate better and are easier to paint, paper or decorate.
Function
The walls inside manufactured homes cover the exterior structure of the home and hold the exterior insulation in place. The wall studs also provide support for the drywall, windows and roof. The most common material is a 2 x 4 for interior and exterior walls, but manufacturers can use 2 x 6s, which increases the exterior cavity, making room for higher insulation levels. Walls also hide plumbing and wiring. Some manufactured homes use half-walls or knee walls to provide partial separation from rooms, like a knee wall between a dining room and a kitchen.
Considerations
The price of the home can be the major determinant when manufactured home builders decide to use drywall in these homes. A few entry-level manufactured homes still have vinyl paneling since it is less labor intensive to install and requires fewer construction process to complete. One of the considerations builders make when constructing homes is to look at the performance of products over time, especially those covered by warranties. Vinyl walls crack less frequently during the delivery, set up and settling process, reducing the indirect cost associated with manufactured homes. When manufacturers install drywall, they have to tape the joints and finish the walls with texture to hide inevitable imperfects that occur with all drywall installations. Buyers who want to paper a wall need to ask the manufacturer to leave it smooth.
Benefits
Both drywall and vinyl paneling have benefits. Drywall is easier to paint than vinyl paneling, but the paneling is easier to clean, since its surface does not absorb liquids as easily as painted drywall does. Drywall provides more design options for builders, like arched doorways, rounded corners and built-in entertainment centers. Drywall also has a slightly higher insulating value compared to the thinner vinyl paneling.
Warning
New manufactured homes, whether built with vinyl panels or painted drywall can have unhealthy levels of volatile organic compounds (VOCs). If you buy or rent a recently completed manufactured home, you can ask the dealer or manufacturer through the customer service department what kind of VOCs to expect from the walls. Many manufactured homes are tightly sealed and the fumes can build over time, so opening the windows when the weather permits helps dissipate the fumes as the home ages.
---
Jackie Johnson is a published writer and professional blogger, and has a degree in English from Arizona State University. Her background in real estate analysis prepared her for objective thinking, researching and writing.