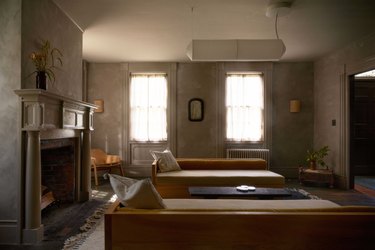 You might not expect two adrenaline junkies to seek out a second home in the calm Hudson River Valley of New York, but that's exactly what designer Nick Spain's clients did. The classic car and motorcycle-loving homeowners purchased a 19th-century farmhouse on the banks of the Hudson River in Stuyvesant, New York, and enlisted Spain, founder of the interdisciplinary design studio Arthur's, to help update it. "They really appreciate the slower lifestyle; however, I think given their proclivity for things that are fast-paced, they knew they didn't want the typical country aesthetic," says Spain. "So we lead with the idea of creating a palette and a home that is true to a more rural aesthetic, but that doesn't necessarily bring in some of those things that might be a little bit more expected."
Spain says that he and his clients wanted to approach the project with a sense of fearlessness, particularly when it came to mixing contemporary elements with the carefully-preserved historic details. "Even when we did skew very contemporary, we tried to make sure that there was something in the material that had a tactile quality to it, was earthy, or was simple overall in its ethos or construction," says Spain.
The designer took inspiration from the Hudson River and Barbizon School art movements of the mid-19th century, particularly their earthy color palettes. In an entryway, Spain used Benjamin Moore's Dragon's Breath on the walls and Farrow & Ball's Martin Kesselman White on the ceiling and upper wall. "A lot of the Hudson River School [paintings] had these cloud breaks in them where there are beams of light coming from above, and it's supposed to be very divine," explains Spain. "There's a mark in the way they divide earth and sky in those paintings, so we actually wanted to be able to demarcate that you are ascending — physically leaving the ground and ascending into the sky, which is why that line cuts across and then you will be shifted to a white upstairs."
The earthy color palette continues into the living room, where the designer applied Sydney Harbour limewash in Grey Pepper to the walls. Spain designed the custom pine daybeds — which were made by Peter Thorne — taking inspiration from the work of artist Donald Judd and designer Alexander Girard. "Even though we designed them to be a little bit more contemporary, sexy, and loungey, they're ultimately in this very humble material," says Spain. He added another modern element with the Tekio pendant, which casts a warm glow on the space.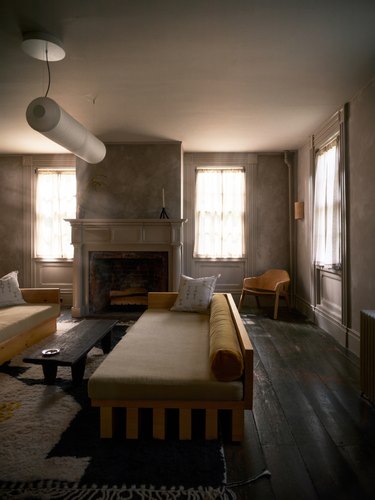 For the dining room, Spain looked for a wallpaper that felt "a little bit flashy, but in a way that feels true to the home itself," settling on Flat Vernacular's Full Bloom, which reminded him of an old daguerreotype photograph. CWilliams Contractors repaired the historic rafters, and Spain counterbalanced the rustic elements with a Design Within Reach table, Industry West chairs, and West Elm pendants.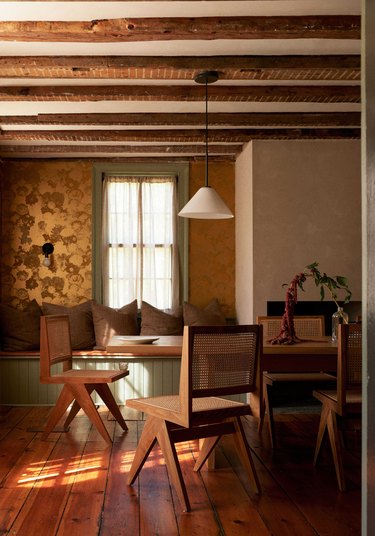 The room's trim was painted in Benjamin Moore's Raintree Green, a nod to the deep hunter-green floors in the living room. Spain and his clients couldn't come to an agreement on what art to hang over the credenza, so the designer installed a spare piece of burlap that the wife could use to dry flowers. "What's lovely is that they can go out in the field behind the house and pick goldenrod or asters or whatever is living seasonally," he says. "It's a living art piece. It's always changing and evolving."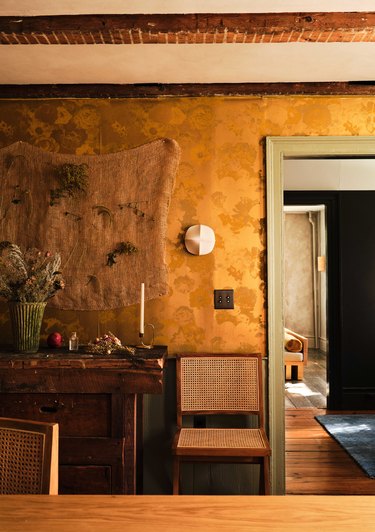 An old shed that had been added off the kitchen was removed to make way for the wall of windows. "We actually used burlap for the wallpaper [in the kitchen]," says Spain. "There's a lovely textural quality to it, and it's humble and unexpected."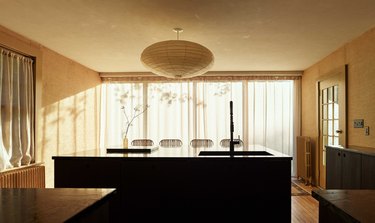 The kitchen couldn't be oriented toward the windows, but Spain still wanted the clients to be able to enjoy the views while cooking, so he installed a mirrored backsplash. Spain opted for mirrors with a bit of a patina so the material wouldn't feel jarring in the space. He also installed deep green soapstone countertops and a contemporary brass hood.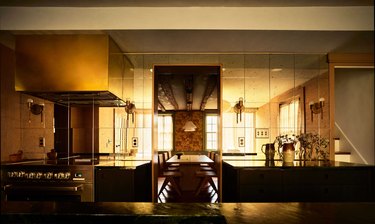 Spain used sunset-inspired hues in the primary bedroom, painting the walls in Farrow & Ball's Peignoir. He found vintage checkered rugs on Etsy and placed them throughout the room. "We choose the checkered rugs in there to riff again on some of the illustrative qualities of [Alexander] Girard and folk art." The lounge chair is from Sun at Six and the floor lamp is by Isamu Noguchi.
Spain says the primary bathroom is the smallest primary bath he's ever done. "Because of its size, that is the one room where we chose to keep it white," he says. Nemo Tile porcelain tile lines the walls and Artistic Tile Broken Joint Mosaic tiles were used on the floor, adding texture and a rustic feel to the space.
"This bedroom is actually a good size, but the roofline is very complicated," says Spain of one of the guest bedrooms. "What made the most sense was to put two beds under where the roofline doesn't allow you to really walk." The designer added two alcove beds, a twin and a queen, and installed curtains custom printed with motifs from Alexander Girard's design of La Fonda del Sol in New York City. "We didn't have money for art," he says. "And I thought, 'Well, why can't curtains be the art?'"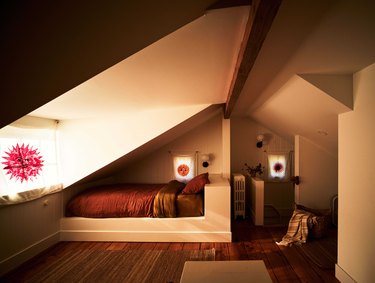 Spain continued the use of green in a downstairs bathroom, coating the walls in custom verdant concrete and paving the floor in Daltile mosaic. "We weren't just looking at humble materials from a 19th-century standpoint; we were also looking at humble materials from a 21st-century standpoint, too," he says of the concrete wall treatment.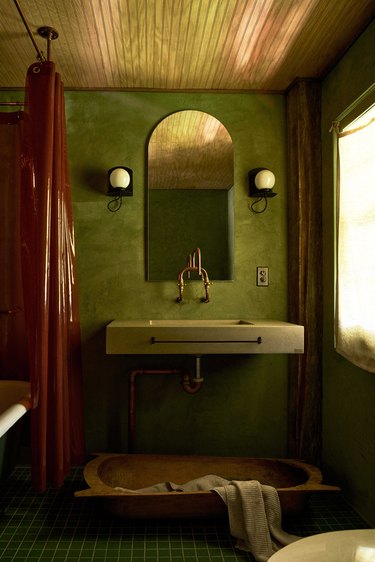 In the end, artful influences and a mix of historic and contemporary elements came together to create a stylish retreat for Spain's adventurous clients, proving that sometimes design risks can be almost as thrilling as the open road.