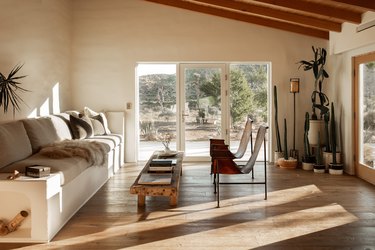 For Sarah Solis, Principal Designer at Sarah Solis Design Studio, the renovation of a Pioneertown, California, home was all about calm. Her client, a photographer and director, wanted her desert retreat to be a restorative space away from the city. Designer and client both wanted to retain the home's original adobe structure — one of the first ones built in Pioneertown — while bringing in a bit of Scandinavian style.
Solis chose materials that would complement the original structure. "We wanted earthy elements that spoke to the adobe," says Solis. "Plaster was a natural choice, and the concrete floors felt modern but also a complementary stone surface that would stay cool in the hot summer months." The plaster was hand-applied to mimic the look of adobe, and the ceilings were lined in hemlock to add warmth to the rooms.
Solis used a natural palette inspired by the surrounding desert landscape. "Choosing to blend into the environment, rather than looking to stand out, allowed a natural calming effect," she says. Antiques mix with new finds for a collected look and linen textiles add to the relaxed overall feel. Solis kept the walls bare, letting the desert landscape outside and the beautiful light within provide natural art. By keeping things simple, the designer was able to celebrate the desert setting and its architectural traditions while creating a relaxing home away from home for her client.