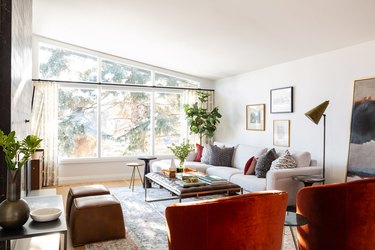 A family's 1950s-era home in Calgary was full of midcentury details, but it also hadn't been updated since it was built, meaning it was time for a major refresh. Designer Aly Velji knew she wanted to save some of the original elements that worked with the clients' lifestyle — such as the wood-burning fireplace, huge windows, and abundant natural light — while making the layout more open and better suited to modern living. "We love the midcentury style and did not want to take this away as this was the heritage of the home," she says. The designer worked to create a design that was "midcentury with a twist," adding bold details, such as geometric tiles in the entry and an eye-catching fireplace surround in the living room.
First, she completely reworked the interior and exterior. "It was basically a full gut of the home and we took it down to the studs to rearrange the upper level plan, update the kitchens, bathrooms, and exterior," she says. The clients entertain frequently, so the dining area and kitchen were top priorities. For the kitchen, Velji installed black cabinets and a long island that can be used for prep, serving, and dining.
While Velji used light wood and black accents throughout the home, she balanced the modern elements with a warm color palette to give the home a cozy and welcoming vibe. "We chose a gorgeous burnt orange, olive green, and mustard as accent colors for the home which really helped to warm up the overall feeling in the space." The end result blends the best of midcentury and 21st century style for a comfortable family retreat.