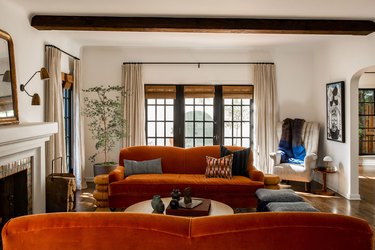 A house built in the 1920s has plenty of stories and designer Sarah Solis wanted them to be at the heart of the renovation she did for a creative couple with a toddler in Los Angeles's Hancock Park neighborhood. "The existing 1920s architecture had been touched many times throughout its life," says Solis. "So our goal was to restore a Mediterranean thoughtfulness to the details and lean into the revival of the special details that were significant such as the exposed wood beams and numerous arched passageways."
To bring a feeling of history to the home, Solis incorporated reclaimed materials, such as the salvaged marble tile in the entry, as well as pieces that would develop a beautiful worn look over time, including the copper tub in the master bath. The designer was influenced by Italian and Portuguese villas, and found inspiration in her clients, who asked for a space that felt personal and unique.
Solis filled the space with plenty of custom pieces and vintage finds. She stuck to a fairly neutral palette, but her clients weren't afraid of a little color. "We had so much fun exploring a color palette inspired by the earth tones and turning it up for more vibrance, or saturated tones," says the designer.