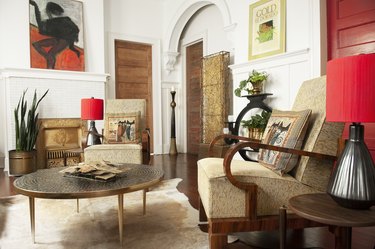 There are plenty of hidden treasures on Facebook Marketplace and designer Carly Sioux, founder of No Era, found a real gem: a Craftsman-style bungalow in the Lower Garden District of New Orleans. Outfitted with stained glass, tiled fireplaces, and ornate arches, the home was designed by Louisiana architect Thomas Sully and had been renovated by the owners. So Sioux moved into a historic, turnkey rental that she could use as a showcase for her eclectic style, which she describes as "high-contrast and genre-bending" with lots of layering of time periods.
Sioux painted the dining room a deep shade of gray but kept the rest of the apartment white. "My challenge was how to keep that drama and exuberance of No Era through a neutral [color] palette," she says. "This is what I now refer to as my White Phase." To produce a theatrical atmosphere, the designer incorporated bold, sculptural pieces and arranged them so they would create distinct areas within each room. "There is an abundance of curated moments, nooks, and points of interest throughout the space that can all stand on their own as well as work together as a cohesive statement," says Sioux.
The designer also layered vintage pieces from different time periods and styles throughout. "My home is mostly furnished in 1920s and 1930s Hungarian art deco, mixed with 1970s Italian swag," she says. "Due to the fact, they share the foundations of exuberance, clean lines, and high-end finishes, they blend together seamlessly. I also have elements of postmodernism and some midcentury modern, as well as some 19th-century art and objects thrown into the mix."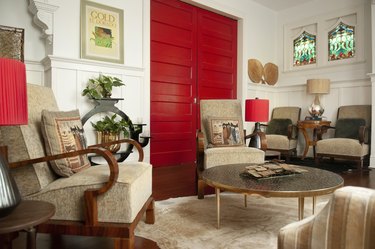 Sioux knew she wanted to use the Great Room to make a strong first impression. She created a formal seating area with a 1970s sofa — found on Facebook Marketplace — as well as a 1970s mosaic-topped coffee table from an estate sale and a pair of 1930s Hungarian art deco reclining chairs. She added a reading nook by the red pocket doors with another set of art deco chairs, a Biedermeier side table, and a chrome lamp from Renaissance Interiors.
"The furnishings in this room are more grand and masculine due to all of the upright art deco chairs," explains Sioux. "Since acquiring those art deco pieces, [the Great Room] has evoked the tropical grandeur of Ernest Hemingway-meets-‌In the Mood for Love‌, with all of the chinoiserie touches, colorful stained glass windows, and modernist leanings."
Sioux says the dining room is the space that feels most true to her firm's signature style. "There are a lot of divas in this room, so dinner is never boring," she jokes. The designer painted the walls in Anonymous by Sherwin-Williams and placed a pair of early 20th century hand-painted Japanese screens in front of the windows in lieu of curtains.
A Chromcraft tulip table was paired with 1970s Calligaris dining chairs. "I love how the green Calligaris swivel chairs bring the tropical outdoors back into the space by mirroring the banana trees just outside the dining room windows," says Sioux. The Milo Baughman chairs are another favorite of Sioux's, who set them on either side of a postmodern mirrored table found at Renaissance Interiors.
Three Fred Press busts modeled after Degas' works are arranged on the mantel. "I always have something that's a little off or a little peculiar in my spaces," she says.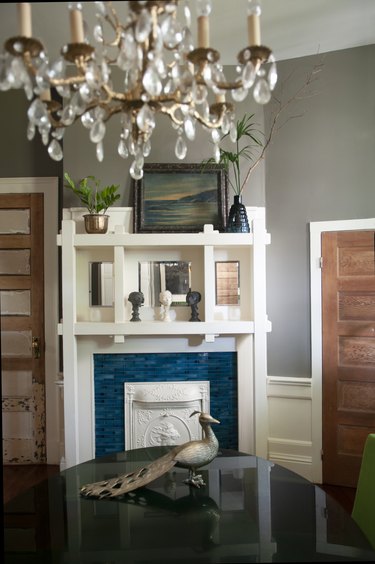 The Picasso Room, which features a lithograph by the artist above the sofa, is the designer's favorite space to entertain. "Its cozy, low-slung layout makes it a very comfortable place for my guests to sit and relax as we share wine, cocktails, and small bites," she says. "The Lane coffee table centers the room, and we mostly sit on pillows and sheepskin rugs on the floor around the coffee table."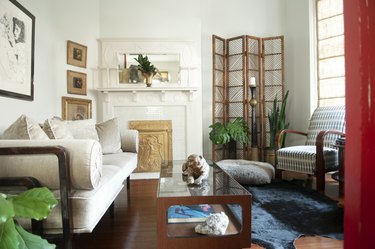 Sioux sold the Picasso Room's 1970s chrome bar cart but missed it so much that she made a trade to get it back. Two 1930s skull studies by Hungarian artist Barta Gyula hang above the bar cart.
"I love to leave the big red pocket doors open, but closing them makes the space feel more intimate and snug," says the designer. A 1970s Maison Jansen brass banana tree sits beside the entrance. "I drove three hours to the middle of nowhere [in] Mississippi to get that, " she says. "You don't come across the seven-foot banana tree very often."
"The bedroom inspiration is a Japanese mirrored music box boudoir," says Sioux, who used a soft palette of whites and browns. "I love how understated this room is, if you don't look close enough you would totally miss its naughty and playful undertones. At first glance, my bedroom appears soft and sweet, but when you spend enough time there, you notice that it's all erotic art and strategically placed mirrors." A 19th-century erotic Japanese woodblock artwork hangs above a Brutalist nightstand found at The Pink Elephant.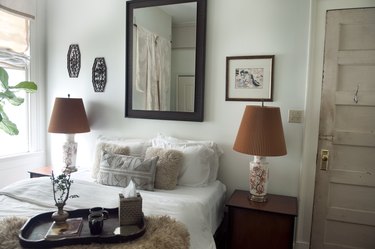 Sioux hung an early 20th-century wedding kimono on the bedroom wall as a nod to her grandmother, who was from Nagoya, Japan.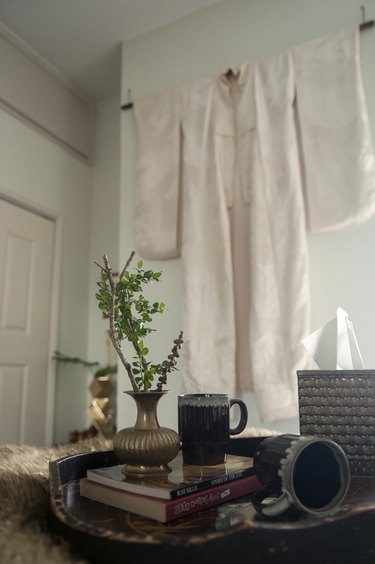 An Ello mirrored cabinet, art deco tulip mirror, and Gaia Lipstick mirror sparkle in the bedroom alongside a bentwood and cane chair and a Sonneman Lollipop floor lamp.
Using a curatorial eye, Sioux was able to transform the rental home into a space that reflects her style and can serve as a showcase of her design talents and the furnishings she sells on Chairish. Says the designer, "I feel so fortunate to have found this magical space as it continues to give me inspiration in the art of living."