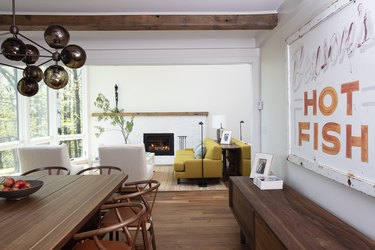 After completing a renovation of the 1960s ranch-style home on Lake Superior that they share with their two teenagers and two Bernedoodles, a couple felt there was still something missing. "The interior design overhaul came about a year after remodeling was completed," says Victoria Sass, Principal & Design Director of Prospect Refuge Studio. "The homeowners loved the architectural foundation they'd built, but the hodgepodge of hand-me-down furnishings wasn't working for the family."
Sass wanted to create spaces that were comfortable for both adults and kids. The oversize living room, which has views of the lake and the garden was divided into two. "The garden side area was kid-centric and flanked with poufs and a piano," she says. "Meanwhile, the lakeside sitting area is peaceful and meditative." The designer relied on plush rugs and deep sofas to add to the relaxed, warm vibe of the home.
The walls were kept bright white and Sass incorporated plenty of neutral hues, noting that the earthy tones and textures keep it cozy during the long Minnesota winters. But she wasn't afraid to use a few bold accents, too. The living room's sunny yellow sofas serve as statement pieces in the light-filled room and a pink velvet sofa is a grace note in the main bedroom.