Things You'll Need
Building permit

2 by 4 or 2 by 6 boards

Air hammer

2-inch nails

4-inch wall screws

Plywood

House wrap

Siding

Roofing material

Backhoe

Concrete

Forms for concrete work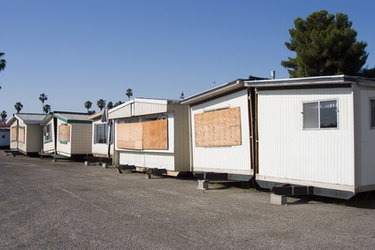 A single wide trailer may need a garage, storage room or sun porch attached to it for enhanced usability. A ready-made structure can be attached to a single wide trailer and easily double the trailer's space. Building your own new wall frames will give the trailer a custom look and be exactly the way you want it. Even adding onto the structure to make the existing rooms bigger will make a single wide trailer more comfortable.
Step 1
Check with your local building codes department about updated building codes and permits that will be required before you start a project such as this. Working with a trailer involves specific codes.
Step 2
Dig a foundation and footers to the size specified in the plans for your single wide trailers project. Some additions, like a three-season room or a sun porch will not need an additional whole foundation. The smaller structure will need to be anchored to the ground like the original trailer.
Step 3
Build wall frames for the new structure from 2-inch by 4- or 6-inch boards. The 2 by 6 boards will give you more room for insulation. The frame will include a bottom plate and top plate. The wall studs will be nailed to the plates every 16 inches on center. This means the measurement of 16 inches falls in the middle of the 2 inches. Nail the studs through the bottom of the frame before uprighting the whole wall frame.
Step 4
Screw the frame to the existing house with 4-inch screws. The screw needs to go through the 2-inch frame and into the 2-inch stud of the existing house.
Step 5
Connect the roof of the old house with the roof of the addition at a perpendicular angle that will not create a snow or moisture problem. The slope of the new structure's roof will ease into the present house's roof. Angles will need to be continuous and not stop, abruptly creating valleys in the roof for snow or rain to cause a problem. This is a good time to consider roofing the entire house as one whole roof.
Step 6
Finish the outside of the addition with plywood, house wrap and new siding to match the old.
---
Mitzi Saltsman has been writing children's material for church and Sunday school lessons since before 1980. Her work writing how-to articles earned her a trip to San Francisco and a spot on a commercial. Saltsman holds a Bachelor of Religious Education from Great Lakes Christian College.