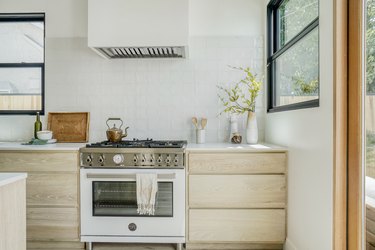 Ah, the humble stove vent — can't always live with them (visually), can't live without them (functionally). For anyone dreaming of a kitchen remodel, the stove vent can be a major point of contention. How do you include one without it sticking out like a sore thumb?
Here are a few strategies to help you out.
1. Coordinate with the cabinets.
In this utterly charming Spanish-style home, nestled in the low-slung hills of Highland Park, Los Angeles, the open kitchen design gets a traditional feel with stately blue cabinets. And that treatment extends to the stove vent for a truly cohesive look.
2. Hide it in plain sight.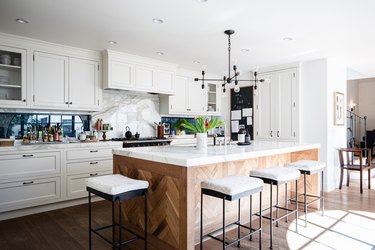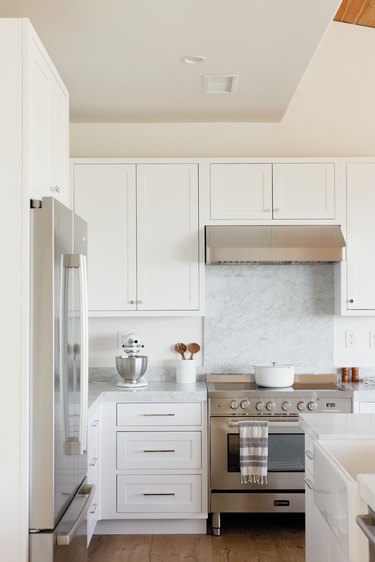 4. Go for a two-in-one option.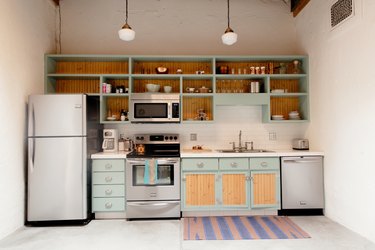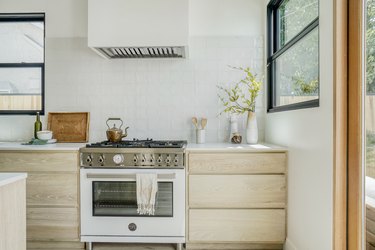 In sleek, modern kitchens — particularly open plan designs without traditional upper cupboards — you need to be smart about your stove vent. How do you embrace its functionality without having to, well, look at it? We like the solution from this fresh remodel in Los Angeles that uses a chic, simple white vent. It almost disappears against the white backsplash and matching wall paint.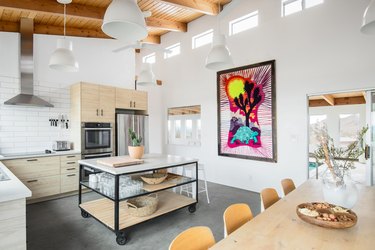 In kitchens with vaulted ceilings, you can't always hide or disguise the stove vent — and that's actually okay. Just go with it — like the designers of this contemporary desert getaway did. A long, skinny vent sits against the subway tile and helps create a visual anchor along the far wall.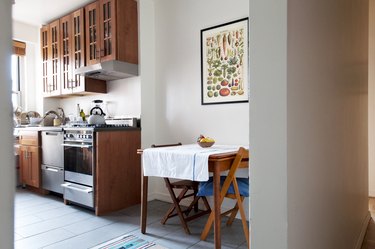 In apartment kitchens, you might not have the luxury of a ducted hood, so a sleek undermount stove vent that cleans and recirculates air is the way to go. In this Lower East Side apartment, the vent doesn't overwhelm the brown upper cabinets that are necessary for storage.
8. Don't be afraid of the island.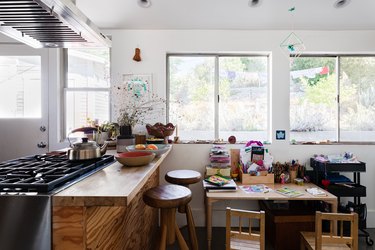 If your cooktop is on your kitchen island, that's where your stove vent needs to be as well. Luckily there are plenty of chimney-style range hoods to choose from. In this family-friendly, Eagle Rock kitchen, the vent helps define the workspace in the open room. And it gives the cook a perfect view of the kids.