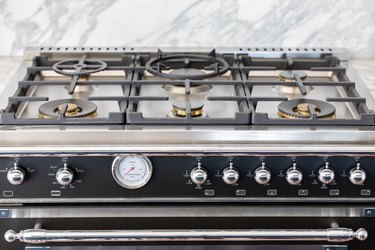 Let's face it, there are plenty of reasons to go with a gas stovetop in your kitchen, not least of which is the fact that they can be easier to use. In comparison to electric, gas ranges heat your dishes more evenly, allow you to have more control, and cool down at a quicker rate. Check out our guide on choosing and caring for a new stove if you need more deets. Alternatively, carry on here for the gas stovetop inspiration you've been waiting for — these nine kitchens combine function with form.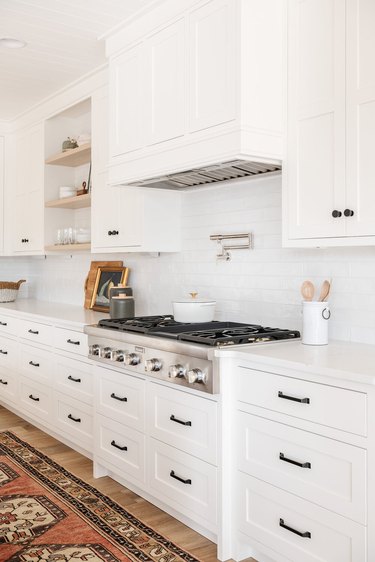 If you've watched ​Dream Home Makeover​ on Netflix, you'll know the Studio McGee team members are masters of the simple and classic kitchen. This minimal yet warm design is no exception, and the traditional gas stovetop complements the stunning cabinetry.
Your gas stove has the potential to stand out, or blend in, so you better decide how you want yours to look. Rebecca and Bruce Meissner went the latter route, opting for a darker stove with a stainless steel top set against olive green cabinets and crisp white walls.
3. Think about control knobs.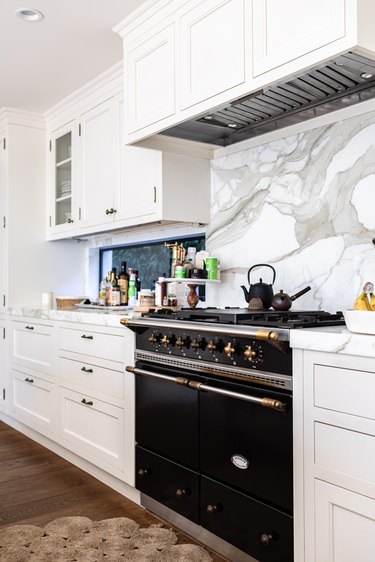 It's the little things that make the difference, and the control knobs for your range don't need to blend in. Just take a look at the gold fittings on this sleek black gas stove with an electric oven. Don't you think the brushed brass makes all the difference?
4. Match your stove hood vent.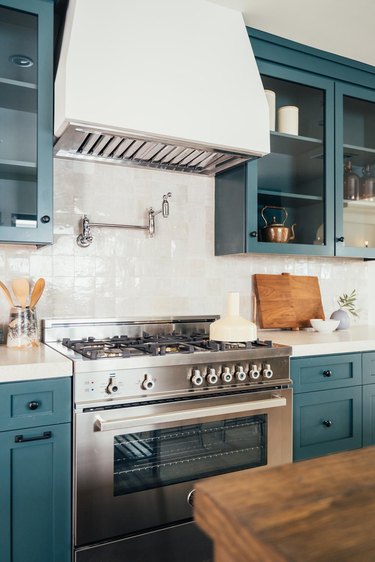 With any gas stovetop, you're going to need a hood vent to extract fumes and steam. Don't just opt for any old fixture, though. Match your vent to the stovetop, even if it's just with a stainless steel accent.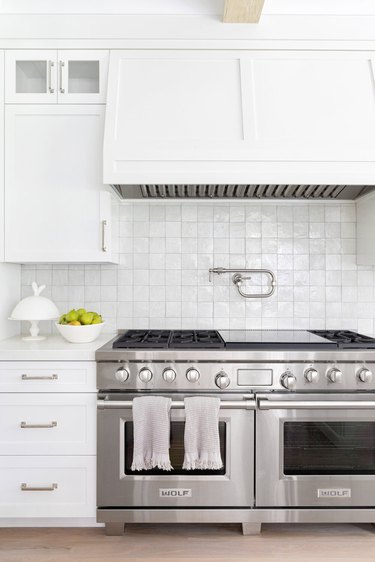 6. Make your backsplash count.
A statement backsplash will shine the spotlight on your gas stovetop. The boho Mediterranean-style tile here, which also leaves room for a wall-mounted knife rack, works hand-in-hand with this gas range. And the result is mesmerizing.
7. Hang your utensils up top.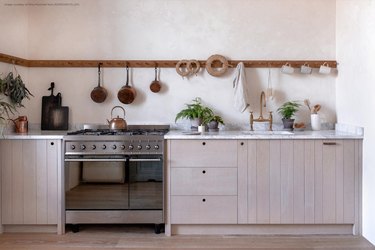 We love a country farmhouse look in the kitchen, and hanging your pots, pans, and utensils above a gas stovetop is a surefire way to achieve this style. Nina Plummer of the boutique online homewares store Ingredients LDN did exactly that in this soft and textural kitchen by adding in a peg rail that can fit every essential.
8. Work your stove into the island.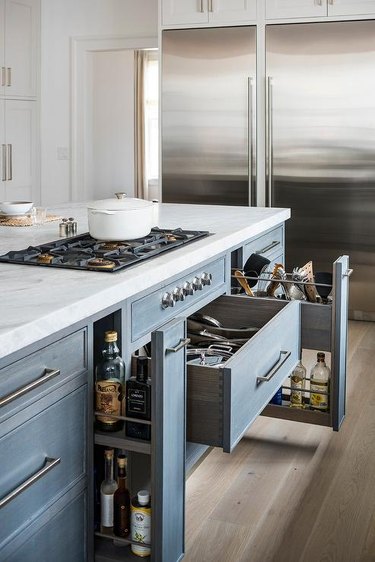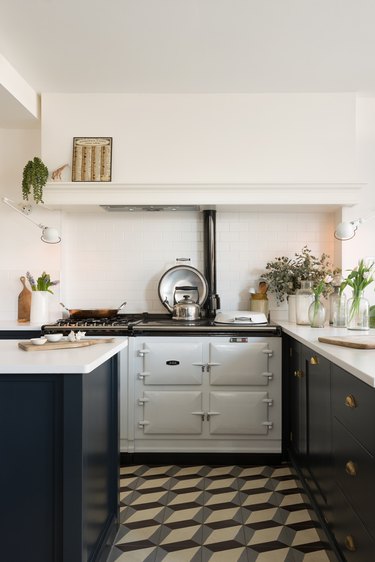 Gas stovetops are known for being more traditional than electric, so don't be afraid to fully embrace that look and opt for a retro AGA range. The classic white one in this kitchen from deVol marries the white walls, navy cabinetry, and geometric flooring but also acts as its own focal point within the room.