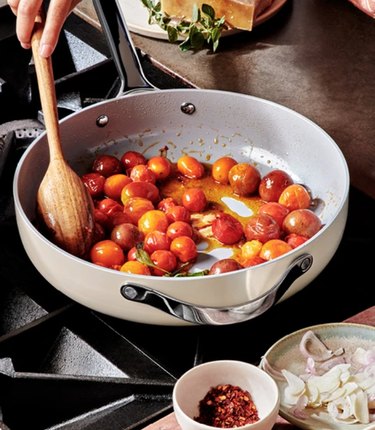 So before you trade in your existing skillets, here are some important things to keep in mind.
They're not really ceramic, but that's okay.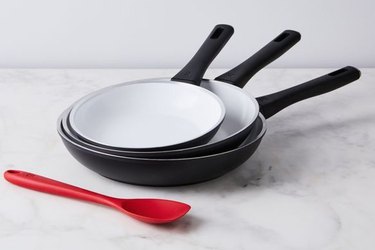 Ceramic pans are actually made of metal and glazed with a finish that uses silicon to prevent sticking. The coating is made of sand and can be bonded to just about any kind of metal. Most ceramic pans have either a cast iron, aluminum, copper, or stainless steel base.
Are they actually healthier?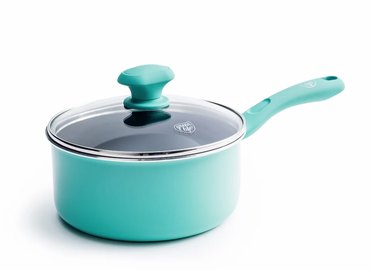 There's some debate about whether ceramic pans are healthier to cook with than traditional nonstick options, but it all really depends on how old your existing cookware is. In the past, the coating process was made with PFOA, an acid that's been known to cause health issues when it shows up in water sources. This substance has been completely phased out since 2015 and is no longer used to make nonstick products. So check the manufacture date on your pots and pans, and go from there.
You have to be careful with them.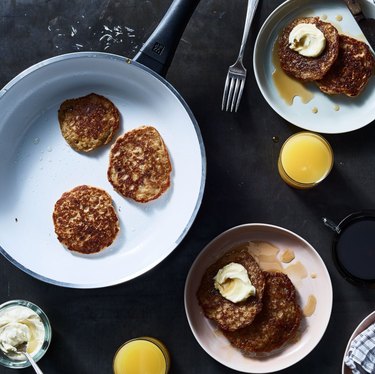 Right after purchasing, clean your shiny new pans in warm soapy water, rinse, and dry thoroughly. You'll want to remove any dust or particles that settled on the surface during manufacturing and shipping. After using your ceramic skillets, let them cool down. Then wash them by hand. You can let the pans air dry on a rack or dry them with a soft dish towel.
Invest in a good brand, and be kind to your cookware.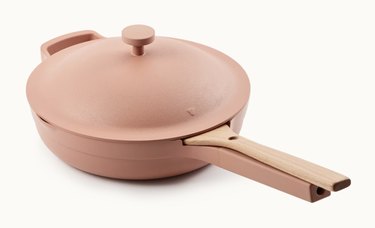 While there are many ceramic pan options out there, you'll want to invest in a reputable one, like the ultra-popular piece from Our Place that will stand the test of time. Not only does a good brand usually guarantee that the cookware has more layers of the silicon finish to improve durability, the added weight also protects the coating from heat. Reputable brands also use material that meet FDA guidelines.
And once you make the investment, take good care of your ceramic cookware. Always hand wash. Don't use abrasives other than baking soda. Allow the pan to cool before cleaning it. And never use metal utensils that can scratch the surface of the pan — use silicon, wood, or nylon instead. Moreover, don't use knives to cut food in the pan; they will leave scratches on your surface.
Go with oil or butter for cooking instead of sprays which can stain the surface. And finally, when storing your cookware, don't stack your pots and pans. Or if you do, use pads or towels in between to protect that beautiful coating for years to come!