Things You'll Need
Dish soap

Nylon or plastic scouring pad

Powdered cleanser

Rags

White vinegar

Baking soda
Tip
Avoid using metal scouring pads or bleach or ammonia-based cleaning products on stainless steel pans.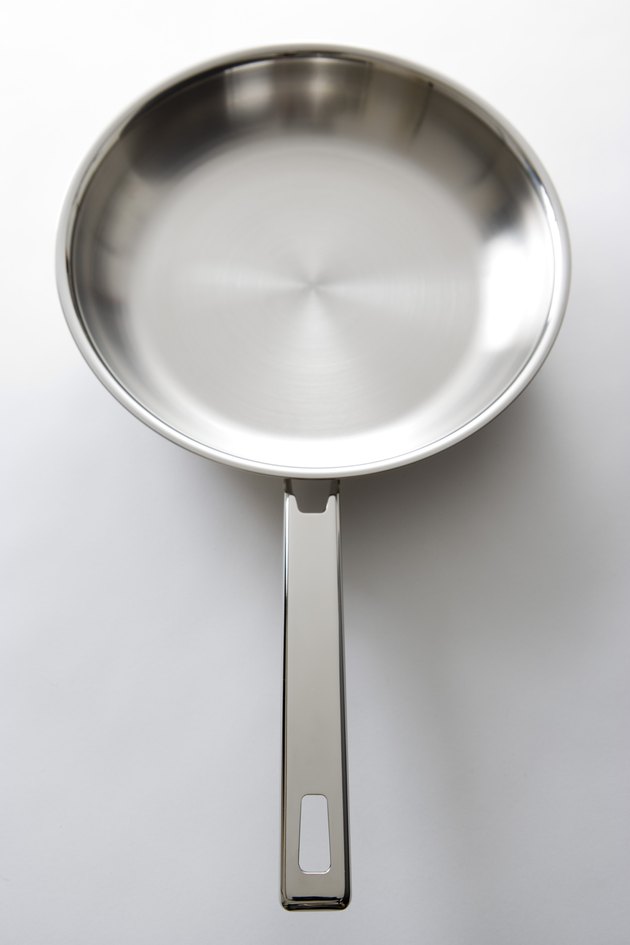 Stainless steel pans are versatile cooking tools. Whether you are making a pot of soup or frying up chicken, your stainless steel cookware evenly distributes heat to allow the food to cook properly. It's also possible to overheat your stainless steel pan while cooking, which can result in stains. These burnt stains in the pan can interfere with cooking in the future. Remove the stains properly to ensure the pan is not damaged in the process.
Step 1
Wash the pan well with hot, soapy water and a nylon or plastic scouring pad to remove some of the burnt stains. Rinse it well to remove all the soap suds.
Step 2
Fill the pan with enough hot, soapy water to cover the stains. Let it soak for an hour. Put it on the burner and let the water boil for about 10 minutes. Discard the soapy water and rinse the pan.
Step 3
Sprinkle a powdered cleanser into the pan over the stains. Add a small amount of water to create a paste and scrub with rag in small, circular motions. Rinse the pan well with clean water. If the stains are gone, wash the pan well with warm, soapy water. If they are still there, proceed to the next step.
Step 4
Fill the pan with enough white vinegar to cover the stains. Let the pan soak for 30 minutes. Rinse well and wash with hot, soapy water and a nylon or plastic scouring pad.
Step 5
Sprinkle baking soda over any remaining stains. Pour white vinegar over the baking soda and let it sit for 30 minutes. Scrub with a nylon or plastic scrubbing pan until the stains are gone. Rinse the pan and wash it in hot, soapy water.
---
Kimbry Parker has been writing since 1998 and has published content on various websites. Parker has experience writing on a variety of topics such as health, parenting, home improvement and decorating. She is a graduate of Purdue University with a Bachelor of Arts in organizational communication.