Stained glass may strike you as dated, reminiscent of medieval or even Victorian eras, and best reserved for places of worship. But we're here to dispel that myth with a modern revamp that might make you a believer. Enter art deco stained glass, a reimagined twist on the classic look featuring iconic motifs from the Golden Age.
Fan-shaped palmettes, geometric emblems, and the classic sunburst are all hallmarks of the aesthetic that was all the rage during the roaring '20s and into the '30s. But when it comes to translating these patterns into glass form, you'd be surprised how seamless it can be, not to mention how contemporary it looks. Need a little more convincing? Scroll on for six art deco stained glass ideas that breathe new life into an old-school trend.
1. Make it small but impactful.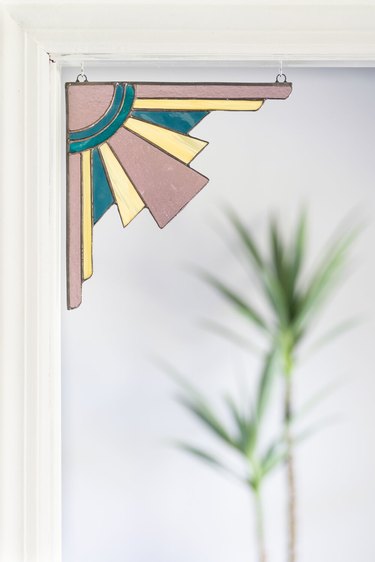 Consider this your art deco stained glass starter piece. Adoni Design's cheeky corner hanging depicts a quintessential motif from the era, and it can be hung in the nook of any door frame or window for a vibrant layer that won't go unnoticed.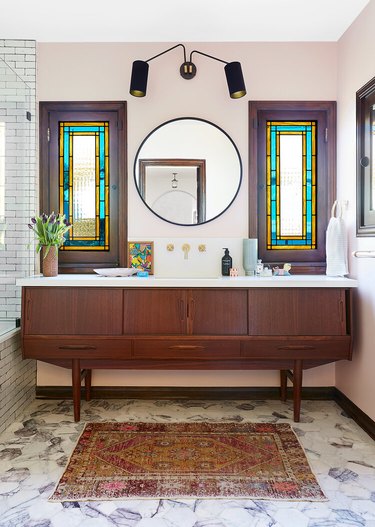 When it comes to art deco style, symmetry and geometric shapes often go hand in hand. And by the looks of this bathroom, it would appear that the team over at Black Lacquer Design got the memo. A pair of identical stained glass windows overlooks the vanity cabinet, adding a dash of color and a whole lot of vintage charm.
3. Set a good first impression.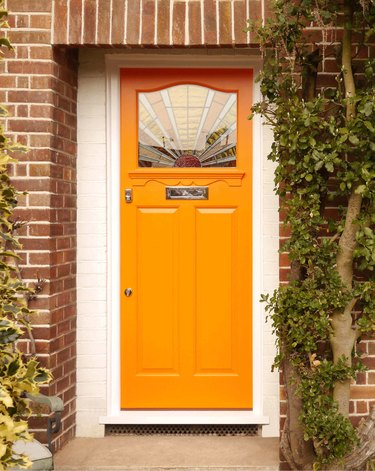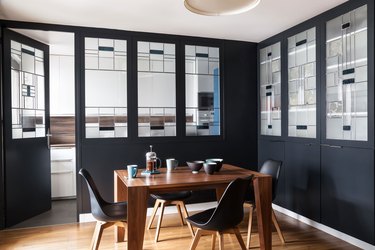 Designer Marc Grossriether of Mise en Verre preferred to emphasize sleek and stylized shapes, as proven by the windows in this art deco dining room. They feature a pared-down palette of charcoal gray and frosted glass, demonstrating that not all stained glass needs to be an over-the-top display.
5. Experiment with shapes.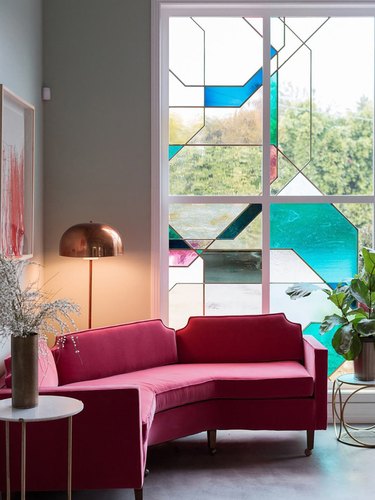 Designed by Emily Henderson,The Fig House in Los Angeles is much more than an Instagrammable event space, it's a colorful oasis with an eclectic design scheme that proves just how versatile art deco stained glass can be. Flanking the front entrance of the venue, the rainbow-hued work of art showcases an array of trapezoidal shapes that beautifully complements the colorful furniture.
It's not art deco if you're not making a statement, and the oversize arched window in this French apartment by Gaspard Ronjat certainly fits the bill. The signature motifs are framed by black trim that not only punctuates the glass work of art, but also adds just enough contrast.